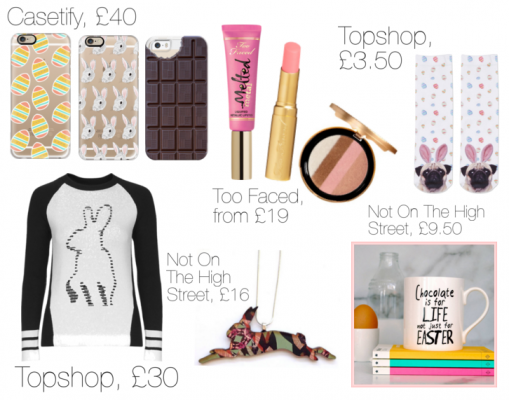 Want to add some fun Easter accessories into your life this Spring? Are you buying for someone else this Easter? Well, if on the rare chance you are sick of all the chocolate eggs, we've found some fashionable alternatives to gift this easter!
These cute phone cases from Casetify.com are a great way to spring into Easter. From £35, they are available in adorable prints including colourful eggs, white rabbits and a looks-good-enough-to-eat chocolate bar.
If you are an makeup junkie and would rather have beauty products than chocolate, then these products from Too Faced are perfect for you! This Melted Metallic Long-wear Lipstick in the shade Melted Metallic Bunny is the perfect shade for SS16; its a semi-opaque light-medium pink with cool, blue undertones and pink and gold shimmer (£19, at Debenhams).
If you are after something a little more subtle, then this super hydrating La Creme lipstick in the shade Marshmallow Bunny is more sheer than the Melted Long-wear Lipsticks, with a softer light-medium peachy-pink pigmentation and subtle yellow undertones (£18, at Debenhams).
Prefer face products? Too Faced have you covered with that too. Their popular Bronzer in the shade Snow Bunny is perfect if you are after a sun-kissed golden glow to your cheeks (£25, at Debenhams).
How about adding some Easter fashion to your wardrobe with these cute Pug Bunny socks (£3.50) and this Monochrome Bunny Print Jumper (£30) both available at Topshop.
Not On The High Street is guaranteed to have beautiful seasonal pieces, so it was no surprised to see they had an endless choice of rabbit earrings, bracelets and rings. We've chosen this leaping bunny necklace, priced at £16, due to its unique geometric pattern and on trend earthy colours.
The last favourite from Not On This High Street was this quirky mug, priced at a very affordable £9.50: "Chocolate is for life, not just for Easter" is a mantra we should all follow!
What are you hoping to get in your Easter basket this year?
Tweet us @Fashion_North and let us know!