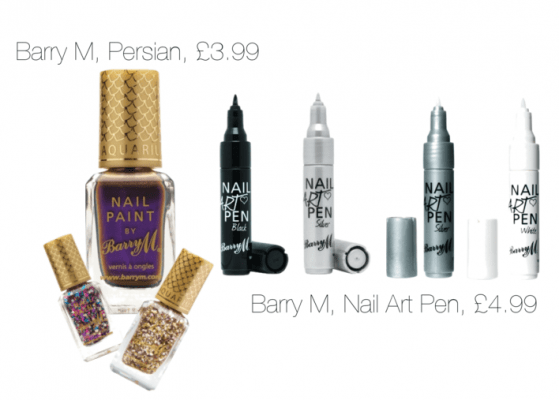 Barry M Nail Art Pen, £4.99
I have always envied other people who have the ability to create beautifully neat and precise nail art of all sort of patterns and when I first heard that Barry M were launching their very own nail art pen I knew I had to go and check it out.
It comes in four different colours; black, white, silver and pink, the pens work by pumping the tip a few times until the colour starts to flow out and then you're ready to get creative.
With the consistency of the paint being a lot thinner than regular polish, it gives you a lot more ease when wanting to create those more intricate patterns.
The paint also dries extremely fast meaning you can easily layer patterns on top of one another without waiting hours for them to dry. I think it's perfect for any nail art lover.
The only down side is the lack of colours, compared to the nail polish line, only four colours is disappointing; where are the golds and glitters, what about blues, greens and purples?! Hopefully they will release more colours soon.
Star Rating – 4/5 
Barry M Aquarium Nail Polish in Persian, £3.99
Known for having a wide selection of polishes with different effects, the new Aquarium collection from Barry M contains beautiful mirror two-tone nail paints and creates a multiple colour shine effect which can be seen from different angles, creating the ultimate mermaid look. There are four polishes available with the mirror two-tone and we tested the 'Persian' polish.
When I applied the polish and let it dry, I could instantly see all of the different colours which caught the light as I moved my hand. The polish lasted about a week until it started to chip slightly, which was rather impressive compared to other nail polishes at this price.
It's ideal for those who want to add a bit of glamour to their nail look for the evening without messing about with glitter.
However, I had to apply numerous coats of the polish in order to see all of its colourful effects, as just a couple of coats still wasn't enough. If you're in a rush before going out and want to quickly paint your nails, this wouldn't be the ideal choice of polish, as you definitely have to take your time when applying it.
Star rating – 3/5
Both available at Superdrug and Boots.