Pinterest– the site all about finding inspiration and sharing new ideas, has just become even more exciting. With a new update to their site and app, users can now find the best beauty and makeup styles to suit their own complexion and skin tone.
Whenever we have been looking for the best makeup looks and hair styles, we have always had that one moment of sad realisation that the makeup looks you are scrolling through won't suit your skin tone. Those days are over, with Pinterest's new way of searching. It means that you can now click into a match pot of skin tones and complexions at the top of the search bar to narrow your searches.
Pinterest users have been longing for the day the site becomes more inclusive and diverse towards our own individual skin complexions, and change couldn't have came sooner. With around 322 million active users each month, as of 2019, the site has finally listened to the need of more diversity.
Site and app users can now search terms like- "Winter makeup" and "bold makeup", plus many more and choose to filter 'inspo' pictures based on their skin tone range. Each range consists of four palettes of a certain skin tone type that you can click to see the best looks and pins to suit you.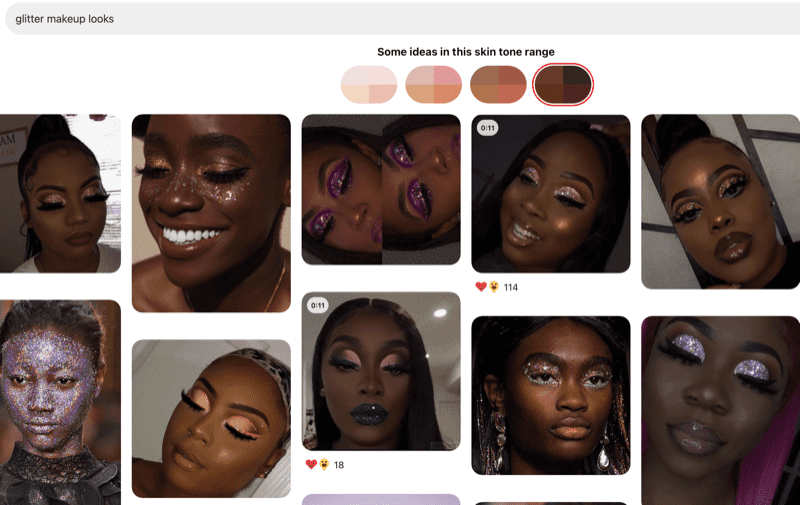 This leap into a more site with more diverse content is applauded by users and the tool makes it so much easier to find the best style and beauty 'inspo' to suit and celebrate our skin. From a day when we had to endlessly scroll and narrow down our searches to find something to suit our skin, we can now find the perfect looks to test and try within two minutes of logging onto the site/app.
In a time where most of our time is spent at home, this tool couldn't be more convenient. Where we are trying new viral crazes on TikTok and Instagram, the new search tool allows us to find specific pins that can help us create flawless looks to promote on social media and even on video calls with friends!
This new skin tone tool allows us to celebrate the skin we are in and feel proud about who we are as people, as we all have our own individual characteristics and traits. Well done to Pinterest for making our time on the site easier and more enjoyable, as you can now scroll for hours on end looking at looks that will best suit you.
As well as this, Pinterest are slowly releasing new content to their existing "lens" tool on their app, which now allows you to see what a  makeup product will look like on your face, such as lipsticks and gives you a direct link to a site where you can purchase the item. More and more products are being released for you to try such as Estee Lauder's Pure Colour Envy lipsticks.
To use the Lens Feature,- simply open up the Pinterest app, open the search bar and click on the camera icon. Once this has opened you can click on the "try on" button which takes you to the lens.
Let us know if you have tried or will be trying Pinterest's new skin tone tool or Lens tool on twitter @Fashion_North!