By Brooke Hewson
The fashion industry is currently one of the biggest sources of pollution to the environment after the oil industry. Many people are completely unaware of just how large the consequences of the convenience of Fast Fashion clothing items can be.
Not only does Fast Fashion production release huge quantities of toxic and harmful chemicals into the air and water systems, but huge amounts of left-over fabric are thrown away. Polyester is one of the most commonly used fabrics due to its durability and easiness to wash and dry. It is also relatively inexpensive for companies to buy, making it a cheap fabric to use for multiple purposes. Polyester's properties may make it a great fabric to use, however it is actually one of the most harmful to use. Its polymers are similar to those used in plastic bags, meaning that buying a cheap top, wearing it once or twice, then throwing it out, is just like going to the shop, buying five carrier bags and just throwing them out the window. These polymers can take hundreds of years to decompose, which means your wear-once-top can clutter up landfill sites and damage nature and wildlife.
Various effects are currently being done by online sites that are seen as 'fast fashion' companies to create recycled or more eco-friendly fashion pieces. Zara have seen how damaging polyester can potentially be when garments that may have many more wears to them are thrown out. They have created a new 'Join Life' range which features clothing recycled polyester and other fabrics. They allow for you to take your old, unwanted clothes to selected stores so that they can turn them into more nature-friendly, sustainable pieces. They say that one of their main aims is to 'ensure that all (their) products are sustainable in all aspects, from raw materials to the design and production process.'. It highlights Zara's passion for ditching this 'fast fashion' label they have, and their vision of a future where fashion is no longer the second biggest source of pollution.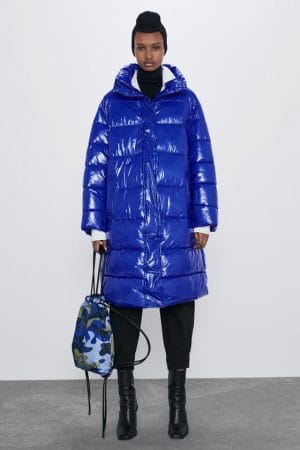 The Blue Puffer Coat (£89.99) is one of Zara's new pieces, made entirely of 100% recycled polyester which has come from recycled plastic bottles. It is a sleek, wet-look, long length coat, which features a high neck collar and front welt pockets with fastening zip. It was also made using less water and less energy making this garment really set the standard for how sustainable fashion should be.
Another brand eager to put a stop to this issue, is online company PrettyLittleThing. They have recently just launched a new 'Recycled' range where they have taken recycled t-shirt cut offs, factory waste and recycled plastic bottles to form a collection of everyday clothes at an affordable price. It claims to contain a range of wardrobe staples that can be invested in so that they are no just worn once or twice. By purchasing from this collection PrettyLittleThing are saying that you are updating your new season style but you are also doing your bit to make the world a better place. They are also offering an incentive for recycling your own clothes by giving out gift vouchers for doing so.
One of my favourite pieces from PrettyLittleThing collection is the Recycled Nude Pinstripe Two Piece. Top (£12) Bottoms (£15)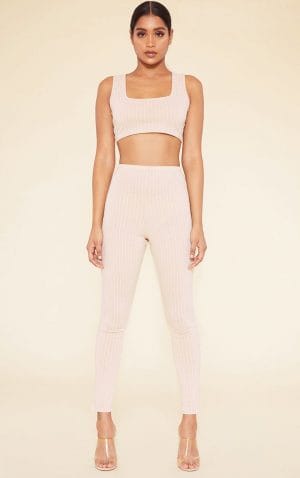 The nude two piece would be a wardrobe essential as it could be dressed up or dressed down to suit any occasion. The design of the trousers would be extremely flattering on any figure due to them being high waisted and the top could be swapped for some jeans or skirt to make an alternative look. The pieces were made from recycled factory waste and recycled plastic bottles. Which PrettyLittleThing states is 'taking one small step to making the world a better place.'
These are just a few of the things the fashion industry is doing in order to help improve the way people use and dispose of their clothing. Although a lot is being done there is still many environmental issues surrounding the fashion industry and it is very unlikely that this issue will be resolved any time soon due to there still being so much needed to do.