We all deserve a little bit of self-care and, looking after your skin is such an essential part of helping you feel good. One celebrity who always has flawless skin is Alesha Dixon, whether it is on TV or social media, she is always looking very glamorous and, it is almost a mystery to find out what the Britain's Got Talent judge uses in her every day. 
The 42-year-old has teamed up with OK! magazine to bring you her very own Beauty Edit filled with all her holy grail products she likes to use. Here at Fashion North, we thought it was time to review one of the beauty boxes and if they are worth the money. 
The packaging 
First of all, let's start with the packaging. The small red box arrived in the post packed full of self-care treats. Written on the lid was 'The Beauty Edit by Alesha'. This instantly made it feel luxurious and a personal gift from Alesha herself. Upon opening the lid, it was packed full of products and tissue paper – the perfect gift if you ask us.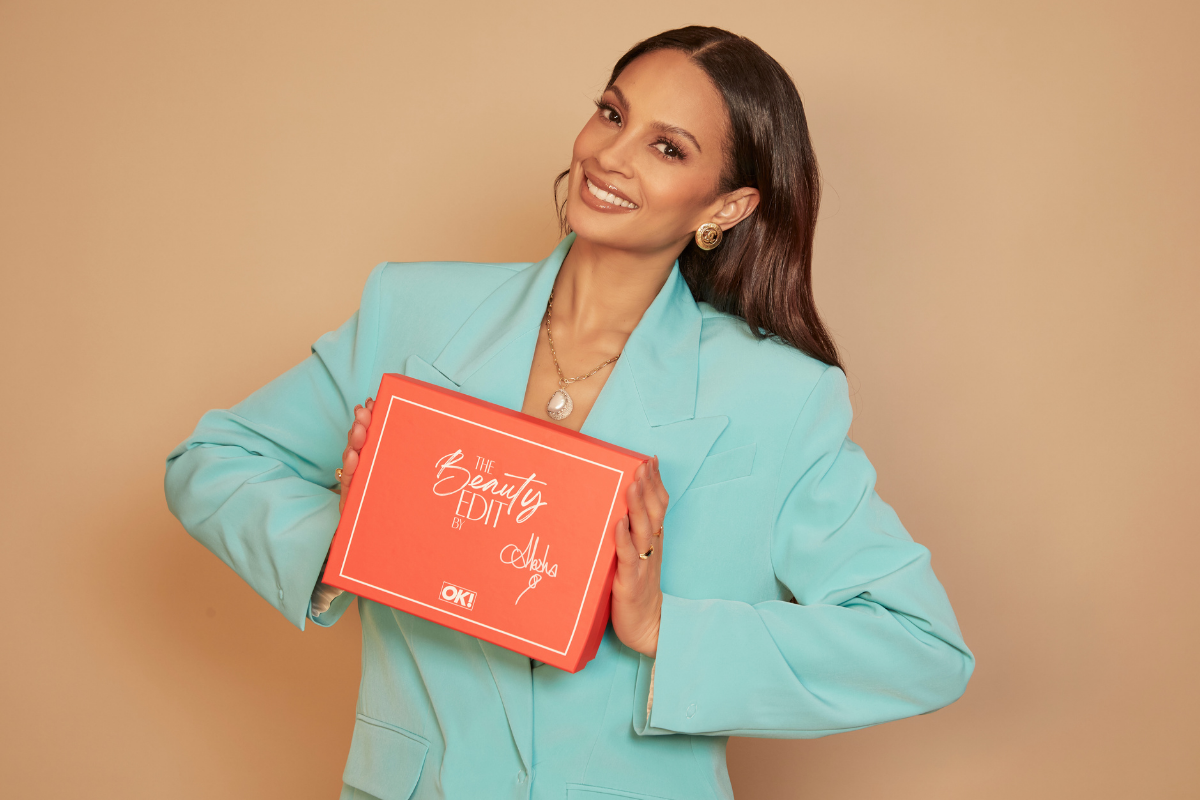 Image credit: Karis Kennedy
The contents
Alesha had handpicked nine of her favourite beauty must-haves to go inside her edit that included brands such as Avant, Elizabeth Arden and a product from her very own wellness brand, Nobleblue. However, you may be wondering what is good about these products, and why has Alesha chosen them to go into her beauty edit?
Murad Vitamin-C Triple Exfoliating Facial, full-size RRP £67
NobleBlu Beauty supplements, full-size RRP £35
Elizabeth Arden Eight Hour Cream – The Original, luxury sample size RRP £2.90
Dr. PawPaw Overnight Lip Mask, full-size RRP £8.95
Avant Skincare Pro-Radiance Brightening Eye Final Touch, full-size RRP £98
REN Clean Skincare Bio Retinoid Youth Serum, sample size RRP £10.33
Able Skincare Prestige Anti-Ageing Retexturing and Resurfacing Duo Moisturiser, full-size RRP £104
Alumier MD Eye Rescue Pads, one pair RRP £7
Emolyne Lipstick, choice of six shades RRP £23
OK! VIP Magazine – beauty and lifestyle magazine only available to OK! Beauty Edit by Alesha customers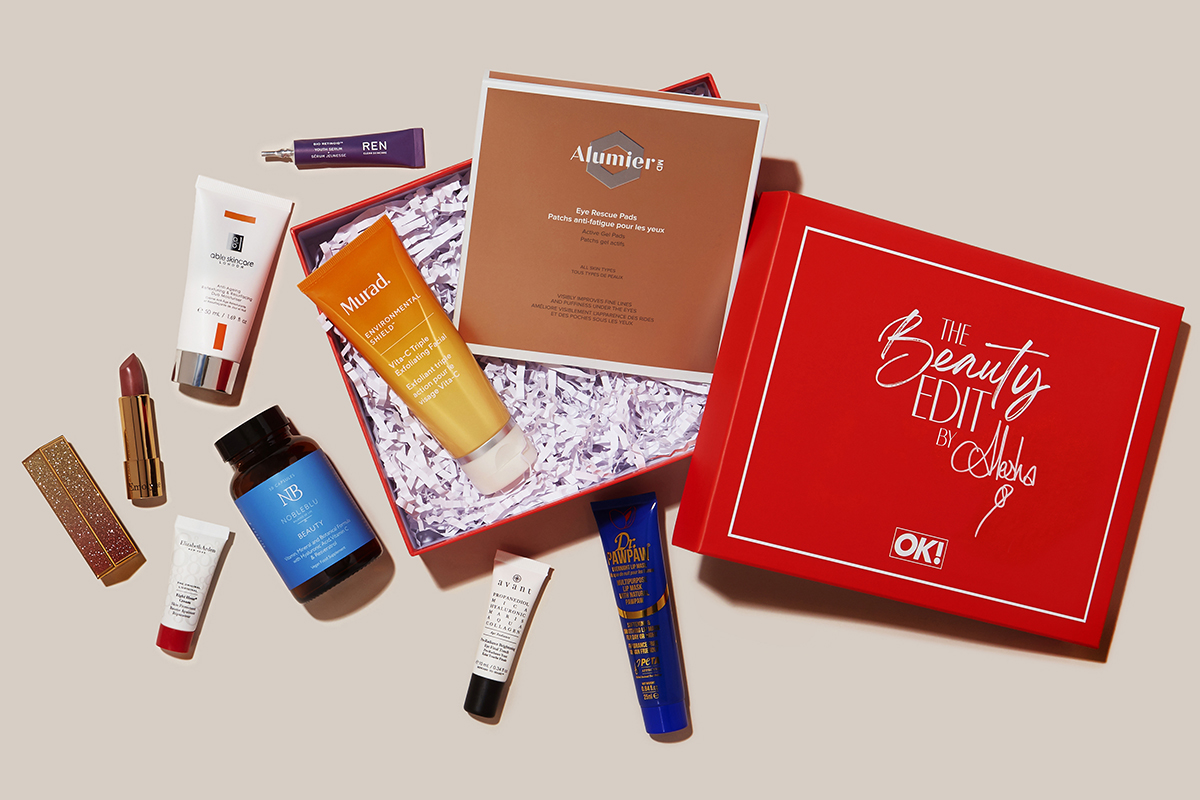 Image credit: Megan Bramley | OK! Beauty Box – Alesha Dixon Limited Edition
As you can see, there is a lot to choose from and one of our favourite parts of her edit is that it is perfect for people who don't like to wear make-up. The contents of the box are very skincare based apart from one lipstick therefore it shows she is trying to capture the message of looking good from the inside out. Its all about what you put into your body and how this reflects on how your skin looks and feels.
"I look at beauty products as the icing on the cake. If you're drinking lots of water, working out, eating well, and carrying good energy, then your make-up moisturiser or supplements will just be enhancing this," said Alesha. 
Like many of the products in the box, the Elizabeth Arden eight hour cream is a staple in Alesha's household and is her 'favourite product of all the ones here'. In an Instagram live with OK! she said: "It is a product I have used for years. Literally, in my house, there is one next to my bed, one in my handbag, one downstairs and I also have to have a spare one in the cupboard in case it runs out." We all love a bit of Elizabeth Arden and, this shows the buyer that she has truly enjoyed the product and received the benefits of it therefore we trust her judgement.
Another favourite of the box that she has included is the Murad Vitamin-C Triple Exfoliating Facial. Alesha described the product as: "sunshine in a bottle" in her interview with OK! magazine. Once we tested out the product, we discovered it has a slightly gritty texture therefore it helps get rid of dead skin cells and leaves you with a natural glow, an amazing product for the summer. 
However, one of our favourite products in the box has to be the Emolyne Lipstick. The packaging is incredible and if anything it had sold us before even seeing the lipstick. She has included six different lip shades to choose from therefore there is something to suit every skin tone and preference ,which is always a bonus. Not to mention, the lipstick instantly glides on your lips and leaves them feeling hydrated and glam. It is perfect for wearing to work everyday or you can transition it to a night time look such as going out for drinks with the girls.
However, let's address the burning question that is on everyone's mind – is the edit worth the money?
Overall, we were very impressed with the edit and Alesha is a great celebrity choice for one of the limited edition boxes. We can agree that you are getting a selection of high-end beauty products for a great price. Alesha's limited edition box is £45 to buy and, the contents are worth over £350 which a winning offer in its self. This shows you are getting great value for your money in contrast to going out and buying the products individually at retail price.
Although, we do think some of the products are more pricy than others, for example, £104 on a moisturiser or £98 on eye cream. However, since Alesha has included them in the box, it helps provide a sample of the product if it's worth it or not. Yes, it may help your skin but the downside to some of products is the price tag is not worth it. 
Catch up on OK! magazine's Instagram live with deputy beauty editor Zoe Cripps who interviewed Alesha on her beauty edit which you can watch here.
What are your thoughts on Alesha's beauty edit? Tweet us @Fashion_North.