As Prime Minister Boris Johnson announces that all coronavirus restrictions could soon end, PRIYA NICHOLAS argues it's time to reset and renew – and look to an unexpected style icon from our Netflix lockdown favourite Schitt's Creek for our post-Covid fashion choices
The dictionary definition of renewal is 'an instance of resuming something after an interruption'. Over the past years, we've faced a major interruption like never before.  However, after a series of lockdowns, we now begin to cautiously hit resume.
When we think of a reset, we think to set again or differently. To me, it's 'differently' that is the most important as we resurface.
These past years, we've all had the time to re-evaluate our lifestyles. For many, this has involved thinking about how you want to dress moving forward. Personally, after spending most of the time in pyjamas and tracksuits, I've been looking to magazines and TV shows for inspiration on how I'll be dressing when I can socialise again. One show that I discovered that's helped me through the lockdown period is Schitt's Creek. 
The last season came to Netflix at the perfect time: when we all needed some joy and escapism.  Since then it has gained recognition from multiple fashion platforms, such as making the Vogue top 10 best dressed list.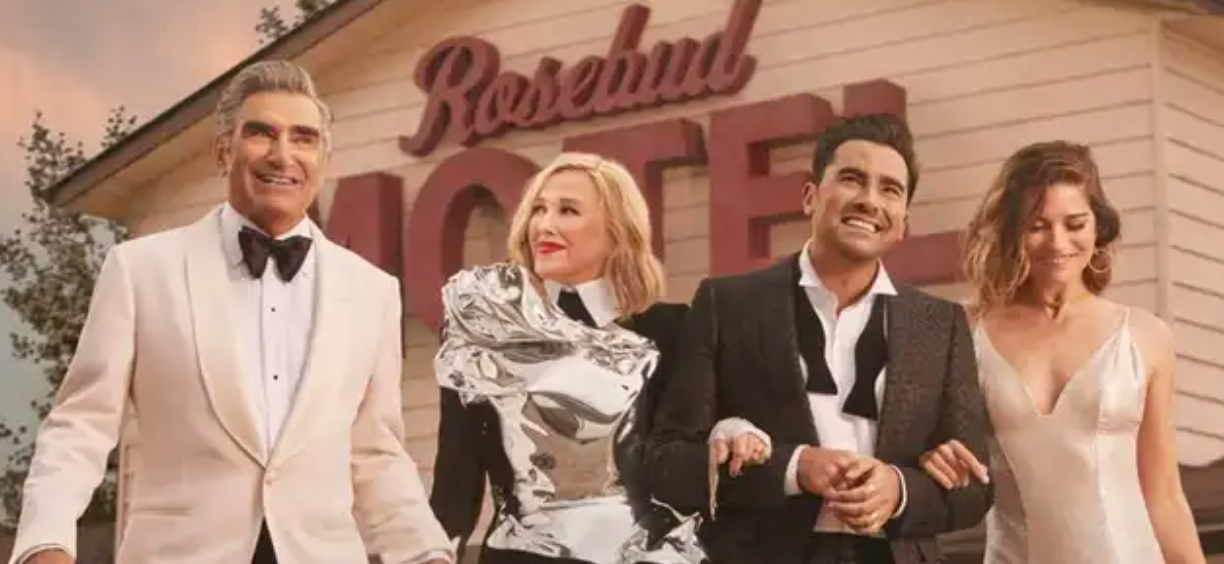 In the documentary that followed, Virginia Smith described fashion as being 'inherent to the show'. For those that have seen the show, this is apparent from the very first episode, especially through the character of Moira Rose.  When Moira Rose (played by the mesmerising Catherine O'Hara) is forced to move to the town of Schitt's Creek, she uses statement designer clothing to keep her dreams alive. And surely during the pandemic, the dream that many of us have been having is to once again be surrounded by opportunities and socialising, rather than masks and hand sanitiser.  So why not start by expressing these hopes through the clothes that we wear? 
Over lockdown, celebrities have shared on social media what they've been wearing to feel comfortable. For some, it's been elasticated waistbands all the way; but others have turned to their finest pieces to feel positive. Think Victoria Beckham's Instagram posts of her vinyl trousers, or how Beyoncé and her children would dress up every Friday. In the December 2020 issue of British Vogue she described it as being 'an opportunity to handle this crazy year together'. 
This shows how fashion can be used to create special moments. Arguably, no character does this better than Moira Rose. When her movie premiere is held in Schitt's Creek, she still chooses to wear a stunning Pamela Roland gown that is reminiscent of an Old-Hollywood red carpet, to make the moment feel equally glamorous despite its setting.  Even though it's been hard to find occasions to dress for since March 2020, John Galliano said that 'the joy of dressing is an art'.  Why not treat dressing as a fun activity in itself now the world is opening up? After all, it's creating the image of yourself that you can share with the world. 
View this post on Instagram
Many people will be feeling either a little or very anxious to go back into the world and start socialising again after the lockdown period. Even dressing for work, coffee dates and everything in-between may seem overwhelming for some. A suggestion that I have is to start treating clothing as your personal armour, just like Moira Rose.
I marvelled at how in every episode the clothes that she wore would give her the confidence to take on new challenges. In one episode, Moira attends her first candidate's breakfast while running for town council, in a fabulous gold dress. Despite the fact that most of the town's people are rooting for Jocelyn, she still shows up in her political-best and even influences Jocelyn to rethink her style choices.
Costume designer Debra Hanson has revealed that Moira's fashion and character is heavily influenced by Daphne Guinness.  This is clear in the way that she uses fashion and jewellery as her armour.  Guinness once described jewellery as being 'a protection'.  What does this mean? Well, the way in which she and Moira often chose to layer chunky gold necklaces gave the impression of a bold, confident woman.  And surely we are all looking to feel and appear confident as we start socialising again? 
View this post on Instagram
Whether you now feel like purchasing a statement  dress and some chunky jewellery, or if you feel confident in a more simplistic outfit, such as a staple pair of jeans and a shirt, your renewed wardrobe should act as your personal armour that will give you the confidence to resurface. Remember that what you wear has the ability to spread a message of hope. If you dress with the intention of creating special moments, those moments are more likely to become a reality.
Look no further than Moira Rose, and how her continuing enthusiasm that was reflected in what she wore contributed to her rebuilding a happier and more loving life.