By Abi Farebrother.
We had the pleasure of meeting stylists Emma and Elena from the John Lewis Newcastle personal styling team, where we got an insight into the job requirements and specifications, what they do, the challenges they face and how they help everyone who walks into their consultations come out looking the best version of themselves.
As well as sharing their expertise and tips and tricks within their professions, Emma and Elena set us their own challenge; to create an outfit showcasing one of three SS19 trends, which were prairie girl, suiting and utility. They encouraged us to think about John Lewis' own brands when building our outfits and to be conscious of our choices, able to talk about each garment or accessory and why it brings it back to these key trends.
Personal styling is situated on the third floor of the John Lewis Newcastle branch, with a team of five stylists who are on hand to help with anything fashion related. Customers, both women and men, can book free consultations of up to two hours for whatever they need; from holiday outfits, to workwear, finding the perfect pair of jeans or even a full wardrobe refresh – these passionate stylists will rise to any challenge and go above and beyond to make sure their customer is satisfied, and it's their personable, understanding and knowledgeable approach that keeps customers coming back for more.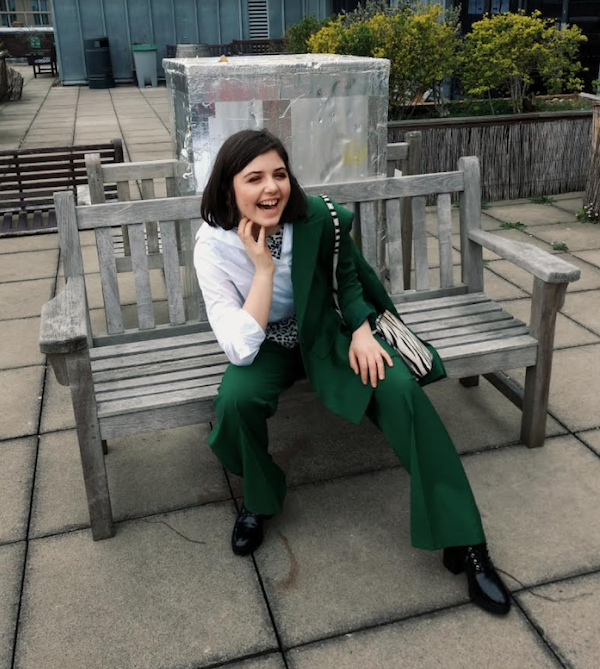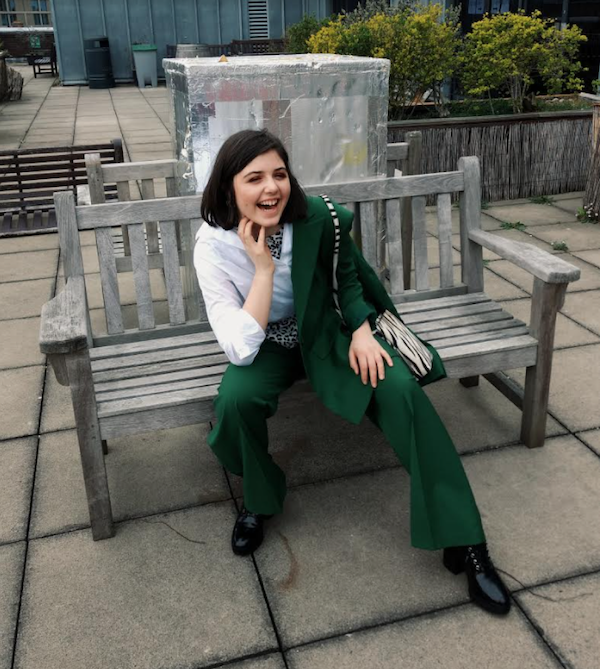 The job isn't easy; there are particular challenges and circumstances they need to take into account with each individual, and every consultation is unique.
Emma said: "It's essential to be sensitive and to build the customers trust, gauging exactly what they want from the consultation and listening."
They get an initial idea of each customer prior to their appointments from a form they fill out online or through a quick over-the-phone interview, which helps for them to have a starting point, with information like measurements, hair colour, eye colour and height. This means that they will have some options straight away, of which the customer can say 'yes' or 'no' to and build from that.
Part of the job is encouraging the customer to step out of their comfort zone a little and try something they wouldn't usually go for, but whether this means wearing a busy print when they're used to block colours, or just trying a statement earring – if they're not comfortable going all the way, it's completely dependable on the individual.
A personal stylist would never force anyone to wear something but they help them to get in the mood to reach out a little further and create a safe and fun environment where everybody can get excited. As Emma said: "It's kind of like a friendship, it's like therapy" – which we totally agree with.
Alongside personal styling consultations, the team hold events in store including daily style talks and fashion shows which are great for customers needing inspiration, as well as collaborating with brands and bloggers and posting styling tips and tricks, outfit ideas and promoting John Lewis' own-brands and in-store brands on their own social media handles.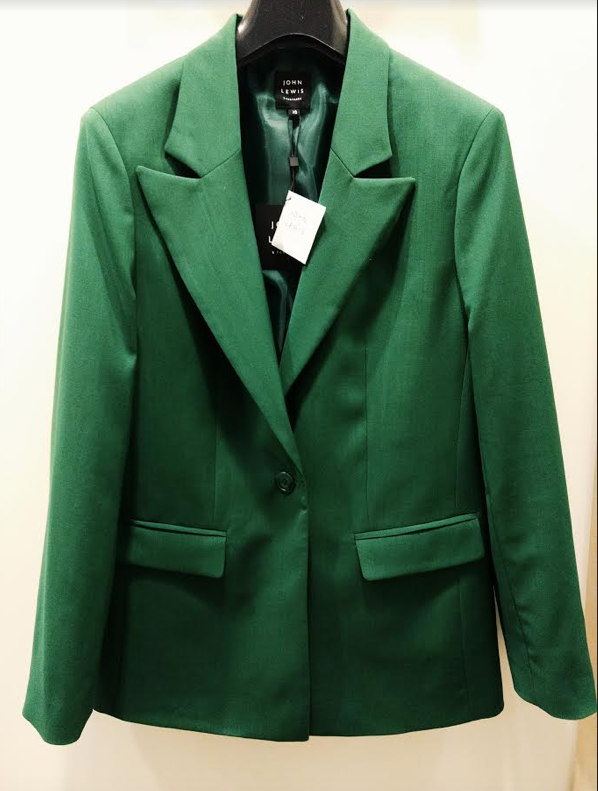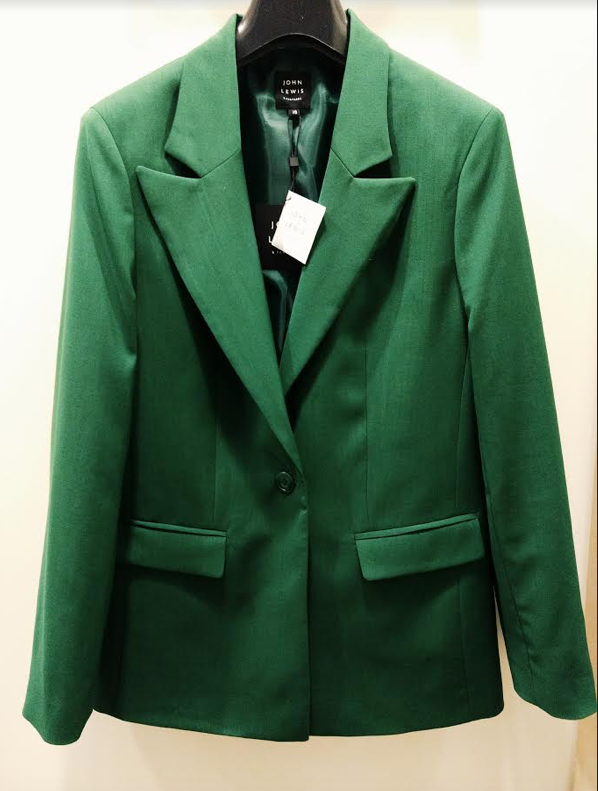 The styling challenge was a great way to get creative and put a spin on the trends. I mean, who doesn't get excited by picking up as many beautiful clothes as physically possible – trust me, my arms were about to drop – and combining them all together into a wonderful concoction of colour, print and boss-girl vibes?
I chose suiting as the trend I worked towards, for I absolutely love this trend and think it can be so wearable and downright fabulous. Suits aren't just for the office anymore; they can be worn everywhere and anywhere, dressed up or down for day-to-night power dressing. Available in so many colours, shapes and materials, the versatility of a suit is endless. You can team a suit with a slogan tee and converse for a casual everyday look, or be bold with bright colours and matching courts. Clashing knows no limits, but at the same time, colour-blocking can be just as head turning.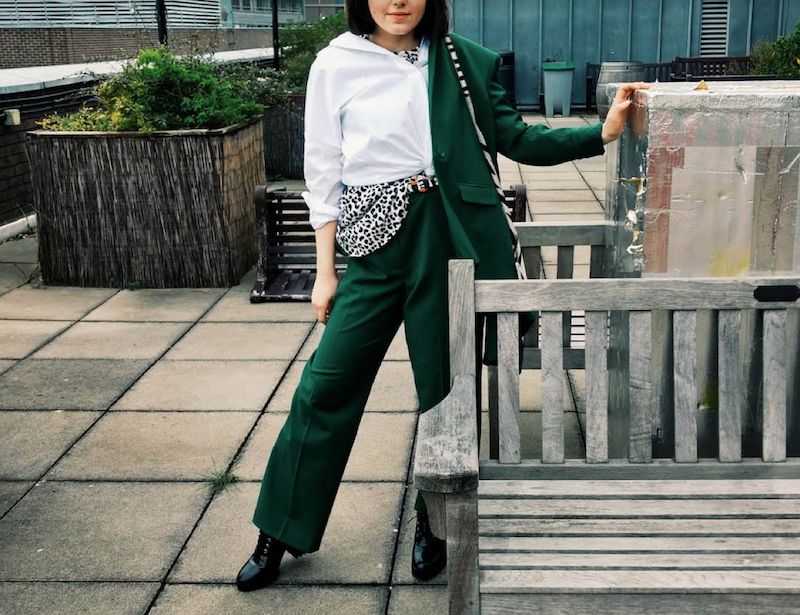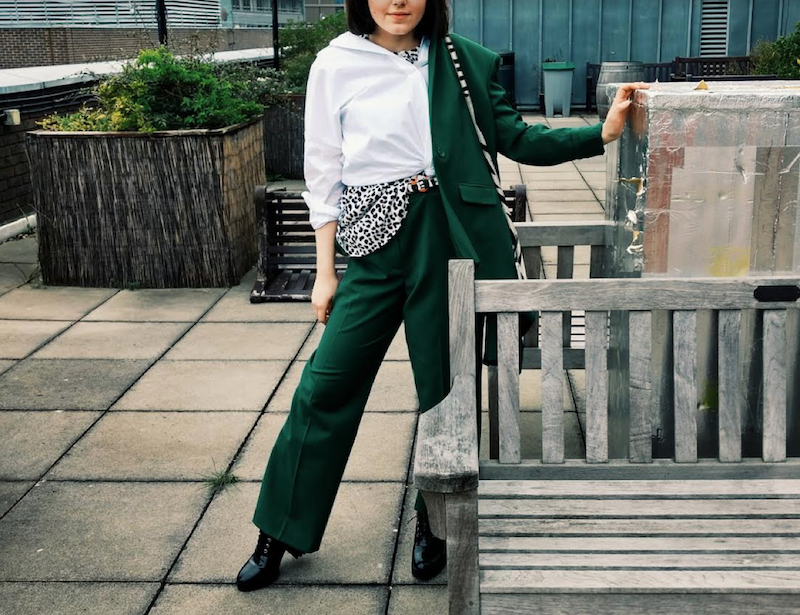 When picking out my outfit, I instantly thought back to the striking green John Lewis suit that was left imprinted in my mind from a mannequin we passed earlier on in the day and knew I just had to put my own take on it.
With the suit-in-hand, I set about sourcing printed blouses and shirts to bring the look to life, selecting a sleeveless black and white, leopard-print blouse by Hobbs and a gorgeous sleeveless, fuchsia, frilled blouse by Ted Baker. As well as these, I picked up a crisp, white linen shirt by French Connection and then set about choosing accessories. Among the pick were a zebra printed shoulder bag by And/or and a zebra printed skinny leather belt by John Lewis, also taking a couple of statement necklaces, but decided against them when they were just an item too much.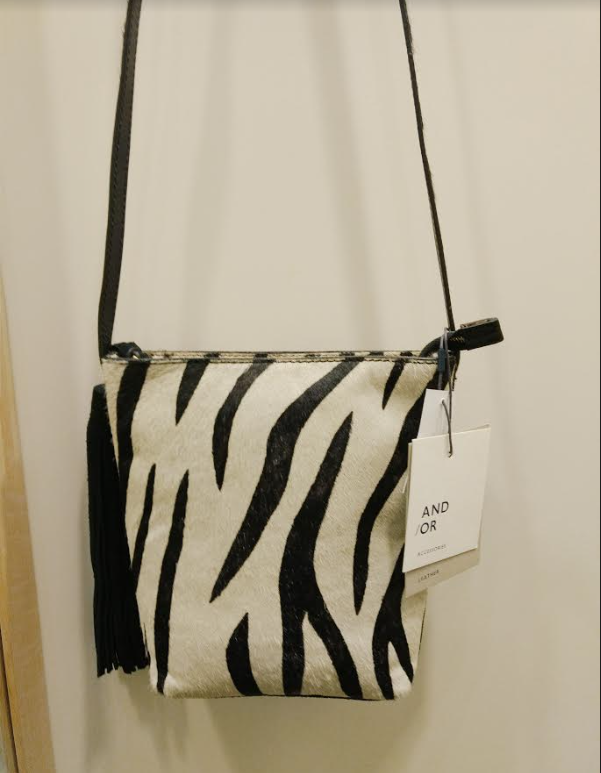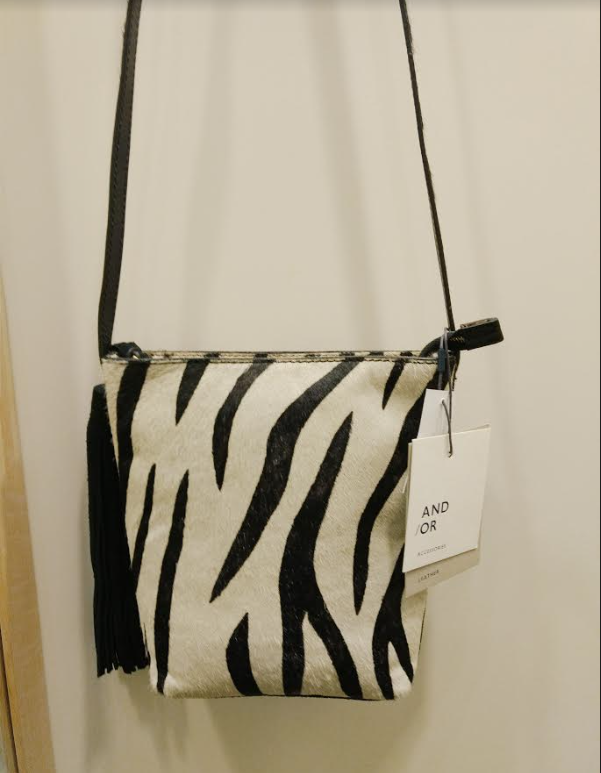 With arms aching from the weight, we headed to the fitting rooms and started bringing the clothes to life. Brimming with ideas that were outside the usual norms of everyday wear, I experimented with the concept of colour-play and contrast. I layered the black and white blouse with the linen shirt, both shapes and materials contradicting each other, and wore the shirt tucked in but the blouse left untucked, in order to make each top visible. I liked the fact that the shirt was stiff and oversized in contrast to the floaty-yet-fitted blouse.
The belt worked well against the green trousers, matching with the shoulder bag to ensure that the black and white ran throughout the whole look, picked out against the green to make every element have its moment. The wide-leg suit trousers worked really well with my existing chunky black shoe-boots from Zara and gave the whole look a quirky edge. I wore the blazer on one arm, to show off the layered tops on the other side.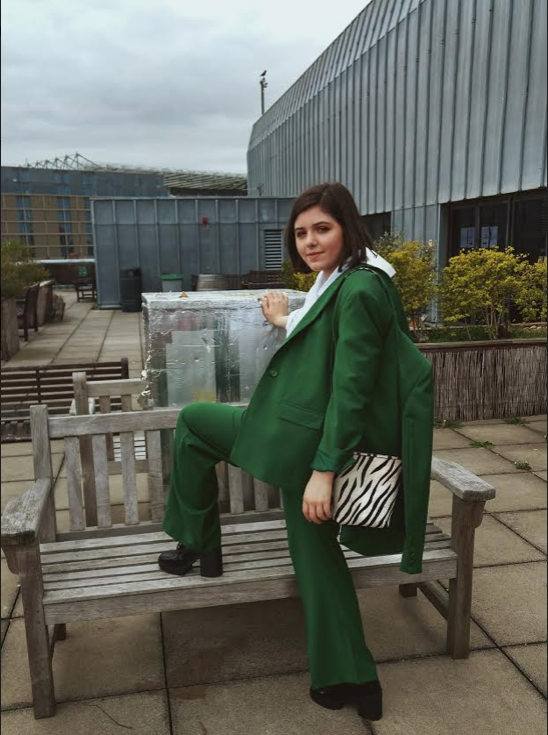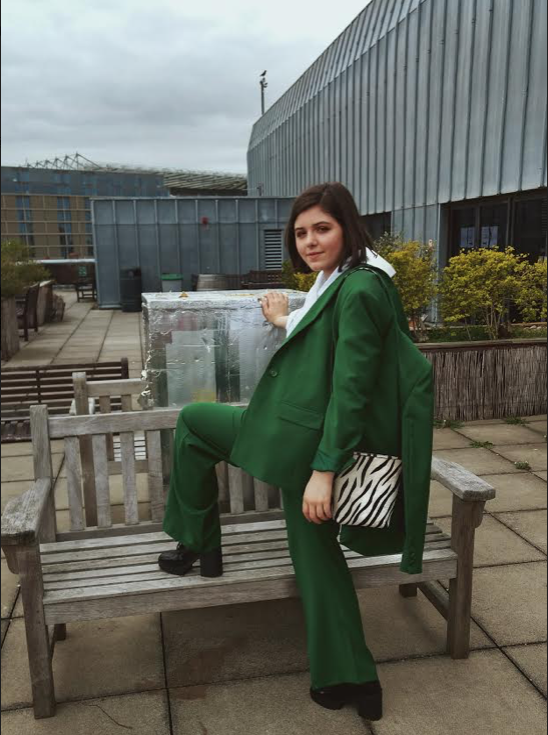 As it was a styling challenge, there were no specifications as to whether the look actually had to be wearable, and the look I was going for was more suited toward that of a fashion editorial, that could be simplified down into wearable everyday looks. It's a statement, a 'pick and choose' look that encapsulates a vision and a motive, which provides a source of inspiration more than anything.
For everyday styling, you could wear either the shirt and suit or the blouse and suit, as either go equally well with it. As for the accessories, I believe they really complement the green and play into another huge trend of animal print, which I'm also loving right now, but a plain black shoulder bag or clutch would go just as well.
The look can be dressed up with a bright pointed court shoe, or worn with a chunky shoe-boot or flatform shoe to get the best out of that magnificent wide leg trouser. I won the challenge, and was kindly gifted with a goodie bag worth £40 from Emma and Elena, for daring to be different.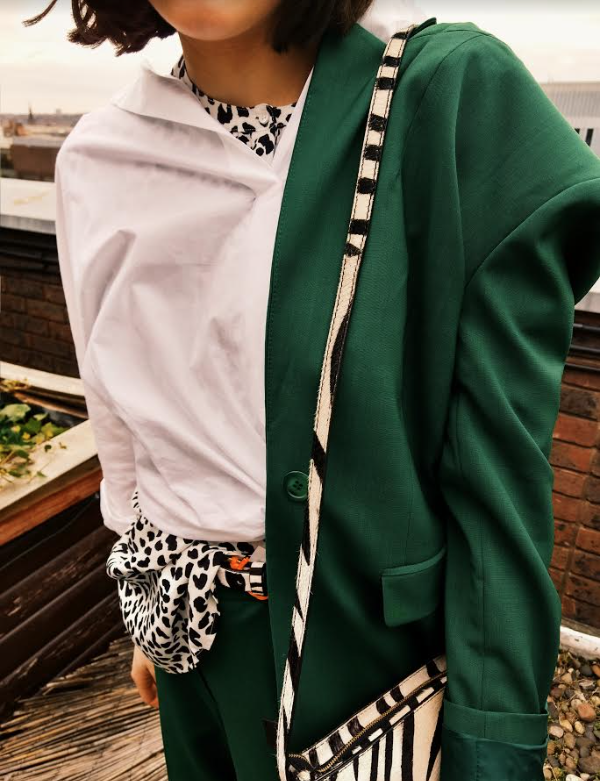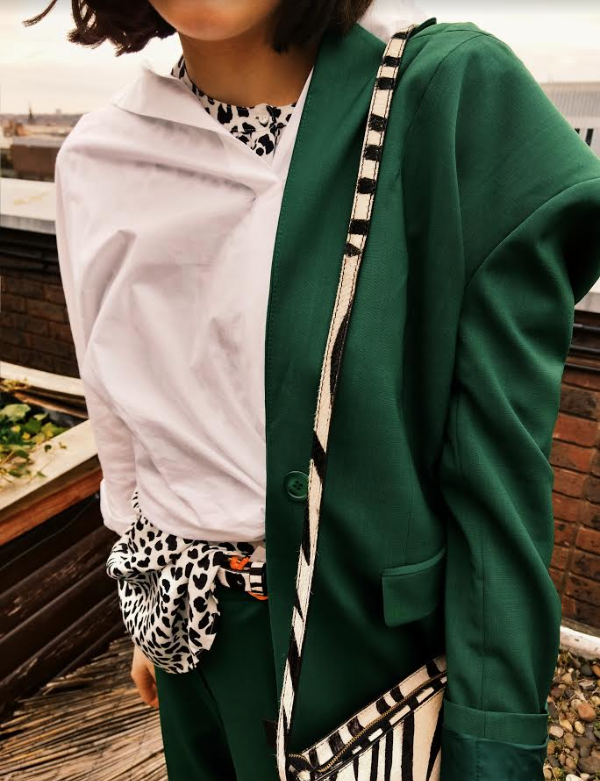 All items are available in store at John Lewis Newcastle or online at johnlewis.com.
What do you think of this winning look? Tweet us at @Fashion_North.