Self isolation is making us all feel a little bit not like ourselves. In 'normal' times we would just go out to the salon and we would be sorted in a few hours, but times have changed and we are having to adapt to these changes which means no more salons (the horror).
At Fashion North we are trying to help you through the tough times and although there are more important things than having your nails, hair, eyebrows and eyelashes done, they're still pretty important and would make this situation more bearable. Just because we aren't going anywhere fancy, that doesn't mean we shouldn't feel fancy. So to make it easier for you we have put together some nice and easy nail art for you to try at home when you're bored of everything else you've tried!
1. Multi-coloured.
This might sound like an absolute nightmare to some but once you see it executed, it is wonderful. Simply find five colours which go together and paint each nail a different colour. There are so many combinations to choose from, neon, pastel or different shades of one colour. The multi-coloured look will make you feel like summer has come early!
2. Gems.
Gems are a nice way to top off any nail look. All you need is to paint your nails, any colour that takes your fancy and add a few gems on top. You can add as many or as little as you would like, more is more, more is less, who cares? All you need is some nail glue (the kind you would use for false nails) and some kind of tool to place the gems on properly, I tend to use tweezers.
3. False nails.
Yes, the nail salons are closed but false nails can easily be purchased online! Ebay have a range of false nails of all different styles from stiletto, coffin, almond ect. These nails come with nail glue, a nail file and of course the nails. False nails aren't for everybody but if you're used to having your nails done professionally, these are a great (and cheaper) alternative.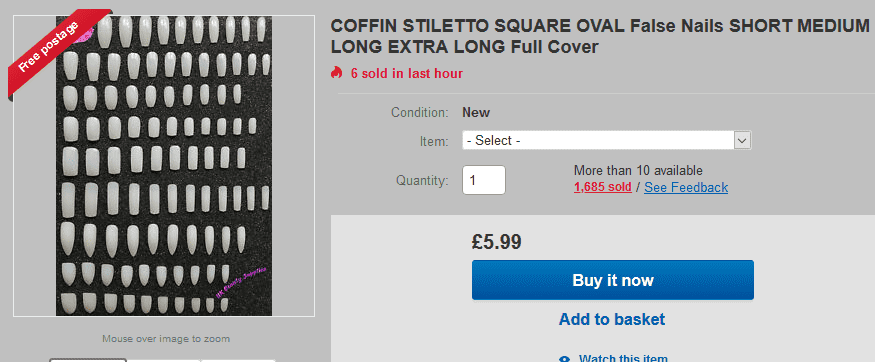 4. French tips (if you're feeling brave)
French tips are beautiful and can be quite difficult to execute but we all have so much time on our hands so why not give it a go? If it goes wrong just start over. Templates can be bought online which makes it easier to get a rounded line. Traditional French tips are white but why not mix it up and chose a brighter colour?
5. Alternative colours.
If you want something easy but not traditional, you could try choosing two different colours and simply paint alternate nails. There are so many combinations, from pink and blue, orange and red, black and green. The list is endless.
6. Stickers.
Stickers can again be ordered online and are easily applied. There is so many to choose from all you need is a nail colour of your choice, the stickers and something to apply them, again tweezers will work just fine.
7. Ombre.
Ombre can be difficult but there are thousands of video tutorials to follow. Ombre will give you a real just-been-to-the-salon-feel. All you will need is a nail colour and a sponge, the sponge is dipped into the varnish and then blotted away from the tip (or base) of the nail to create the ombre effect.
View this post on Instagram
8. Spots.
Dotted nails are a simple way to give yourself a great set of nails. All you need is a nail colour and a thin brush or stick to add the dots on top. For larger dots you could just use the brush from another nail varnish.
Tweet us at @Fashion_North with some of your nail art!