The date the UK will leave the EU has been announced, March 29th, 2019 is the date set for Brexit. Britain will leave at 11pm UK time.
Brexit isn't something you would tend to associate with fashion. Think again- with the return of the iconic Katharine Hamnett we can now voice our opinions on the matter through the medium of fashion.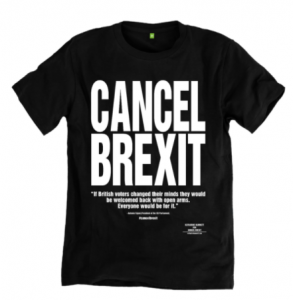 On June 23rd a referendum was held, where 51.9% of the UK voted to leave the EU. However, this brought a lot of backlash from Remain supporters.
The fashion industry is somewhere we are definitely seeing this, some famous Remain supporters include: Vivienne Westwood, Ashley Williams, J.W Anderson, and Alexa Chung (to name but a few).
British Fashion Council revealed that 90% of British fashion designers were supposedly to vote Remain in the referendum. Concerns were also raised by the British Fashion Council concerning the future of the fashion industry. These were trade, investment, talent and skills, and EU funding.
Katharine Hamnett famously created t-shirts in 1980s that expressed her political opinions and explored issues within the world. Thirty years after her last designs the 70 year old designer has returned with a collection expressing her views on Brexit.
The collection was released in September and the t-shirts retail for £19 on her website: katharinehamnett.teemill.co.uk/…/campaign-t-shirts