All aboard the SS Love boat as Valentine's day is officially on its way. We can admit it may not be the most favourited holiday among us, but whether you are looking for a romantic gift for your loved one or a self-care treat from yourself to yourself then Lush have you covered.
Each year Lush always bring out a signature, exclusive range for their Valentine's day lovers which features a ray of their favourite products including bath bombs, shower gels, soaps and bubble bars. This year there are some returning favourites as well as some new additions to try, and there will be something for everyone to choose from.
Bath bombs and bubble bars
Blow me a kiss
This bubble bar is a new edition to the range and let me tell you we have fallen in love. This bubble bar is to create crimson, peach waters while making your bathroom smell of uplifting bergamot and fruity davana oil bubbles.
How to use:
Hold under running water to create bubbles or blow through when wet for an airborne bubble show and once done pop on the side to dry and reuse next time. Absolute genius if you ask us.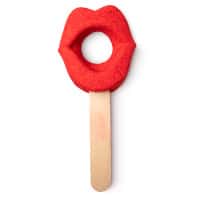 Available to buy for here for £5.95.
Heart Beat
Another new edition to the collection; if you are a fan of the Rose Jam products then this will be for you. Bathe in the sweet water of heart beat which transforms your bath water into a pink paradise packed with moisturising golden hearts and a spoonful of popping candy to get the heart pumping. What's not to love?
How to use:
Run your bath and drop in your bath bomb to create a sensual treat for your perfect day.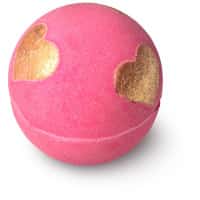 Available to buy here for £5.95.
Love me do
This Valentine's bath bomb is a treat to  yourself or a special someone. Once dropped in your bath it transforms your water into a fuchsia pink heaven filled with the scent of rose. Ooh la la!
How to use:
Release into a run bath, watch the colour unveil and relax! Once you've enjoyed, the muslin cloth, tag and raffia can all be composted. A treat for you and the planet. A win-win if you ask us.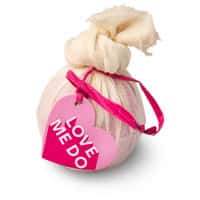 Available to buy here for £6.95.
Love Boat
The love boat is a reoccurring favourite for all the Valentine's day lovers at Lush as it promises something for everyone. Packed with the scents tangy orange sherbet and Sicilian lemon transforms us back to our childhood days with the memories of sweet scents and candy shops. Once popped into your bath it will transform your water into pastel pink and blue paradise.
How to use:
Release waves of vibrant colour into your bath and swathes of red hearts. Enjoy!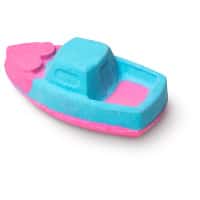 Available to buy here for £4.50.
Tisty Tosty
The return of a Lush classic for Valentine's day. This heart shaped bath bomb is packed full of rosebuds and folklore to transform your waters into a milky utopia. No love potion required once you have this bath bomb in hand so why not treat your loved one to a bloom of surprise.
How to use:
Run a bath and drop in this captivating combination of rose and lemon for a relaxing pamper.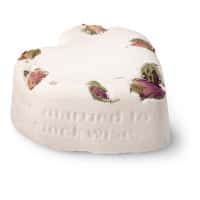 Available to buy here for £3.95.
Massage bars
Rose Argan
This massage bar melts into your hands the minute you pick it up so why not get closer to the ones you love, that means you too. Let's bring the spa to our homes this winter with the massage var containing ruby cocoa liquor, argan oil and rosewater which provides your skin with instant hydration. An essential for the colder months if you ask us.
How to use:
Strip off and glide over the skin for soothing, sensual hydration.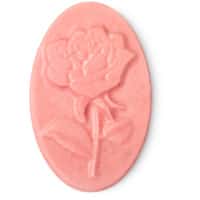 Available to buy here for £8.
Naked Attraction
No we are not referring to the Channel 4 TV programme, but we are in fact talking about this cheeky massage bar. It's time to get up close and personal with your own body which is full of the scents of  jasmine as you glide this bar over your (or someone else's) skin.
How to use:
Gently swipe over your skin for a soothing, sensual hydration.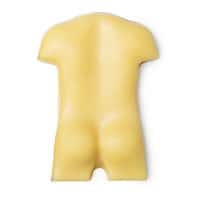 Available to buy here for £8.
Shower gel
Prince Charming
It is time to create your own happily ever after with this perfect Valentine's shower rinse. This vibrant pink formula glides onto wet skin leaving you smelling of fresh pomegranate juice to seduce your senses while marshmallow root rescues your skin.
How to use:
Smooth across your body in the shower and rinse away for a fairy tale that ends in soft skin.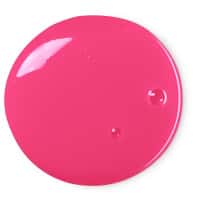 Available to buy here  in three different sizes £7 (120g), £14 (275g), £23 (550g). 
Gift Sets
This year Lush has a variety of exclusive gift sets to choose from if you are looking for a gift packed full of yours or your loved one's favourite products.
Big Hugs
This box contains: Comforter bubble bar, Sleepy body lotion and the Love me do bath bomb.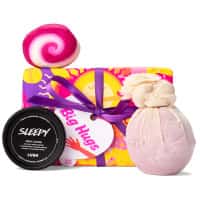 Available to buy here for £18.50.
You're so gorgeous
This gift set contains: sex bomb bath bomb and the love boat bath bomb.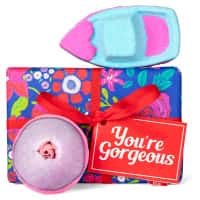 Available to buy here for £11.
Lots of Love
This gift set contains: Prince Charming shower gel, Rose argon massage bar, love me do bath bomb, Rose jam bubbleroon, Tisty Tosty bath bomb, French kiss bubble bar and sex bomb bath bomb.
Available to buy here for £45.
Knot Wraps
If you'd like to let someone know how much they mean to you, a Knot Wrap is the way to go. Made with organic cotton which you can fill with all their favourite products, you'll be forever in their heart once you present them with this bright multiple-use beauty!
Fashion North's top three knot wraps.
Let's get physical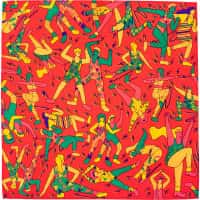 Available to buy here for £5.
You are my lobster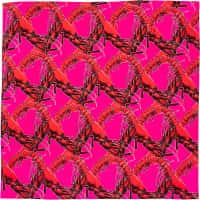 Available to buy here for £5.
The apple of my eye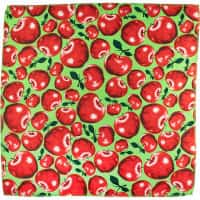 Available to buy here for £5.
What is your favourite Lush Valentines day product of 2021? Tweet us @Fashion_North!