Sarah Ball, a 42-year-old mum of two daughters living in Penshaw, says she has always been creative and, in a bid to tap into these roots, she set up Delightfully Denim in April 2018.
In an exclusive interview with Fashion North, Sarah tells us all about Delightfully Denim's journey in attempting to reduce the number of clothes going to landfills.
Sarah told us: "I have always been creative, studying art therapy at university, and have found it hard to find jobs that fit with my skills as a youth worker and teacher as well as giving me a good work life balance; which is important to me and my family."
Delightfully Denim gave Sarah something to do from home, which not only fits around her family life, but also works around her health issues
"I used to go to lots of craft fairs and was getting fed up of seeing lots of stall holders copying each other's ideas. It was like nobody could come up with a new or unique idea of their own. Every stall looked the same and often I didn't see anything that I would actually buy. I have been brought up by hoarding parents and with the attitude that we shouldn't throw something away if it still has a use. If I was going to be making something, I wanted to use some of the stuff I already had and find materials that wouldn't cost the earth, or a lot of money." After spending a lot of time thinking, Sarah realised that denim is something that the majority of people love and wear regularly. So, she dusted off her 21st birthday present – her trusty sewing machine – and started to make saleable items.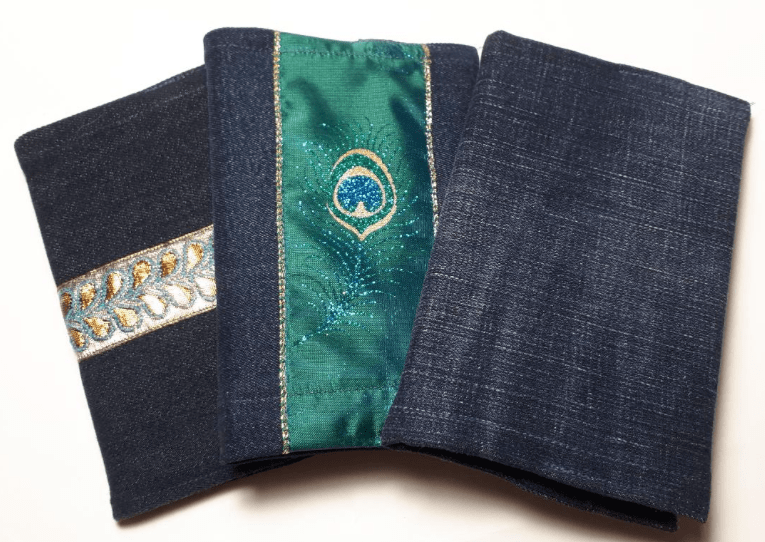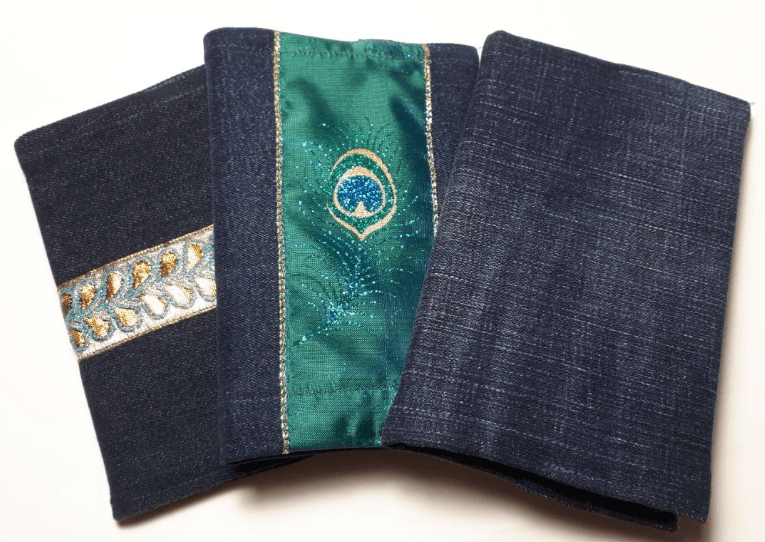 Like many people starting new businesses, Sarah did not have the money to invest in her unique and original idea. She couldn't afford to go out and buy new fabrics and denim items; "I know a lady who runs a local charity shop, and in chatting with her I discovered that they were getting so many jeans; including many that were raggy, stained, or simply unfashionable, that they were sending some to landfill. I ended up having a bin bag full of these unwanted jeans and this was my first batch of fabric. Since then I have not had to buy many more jeans as I have friends, family and customers who donate their jeans to me at fairs and even on the school run. I can sometimes tell someone the exact provenance of the jeans that have made a cushion or bag, and as I use other bits and pieces to embellish my designs I have been known to let customers know that their chosen purse is lined with one of my blouses or my husband's shirts."
"I have been lucky to have had some larger pieces of denim donated. One lot was from my husband's Grandma who had used it when doing youth club plays back in the 70s and 80s. This makes it easier to create larger pieces like the backs of cushions, although often I end up using sewing together patches of jean legs."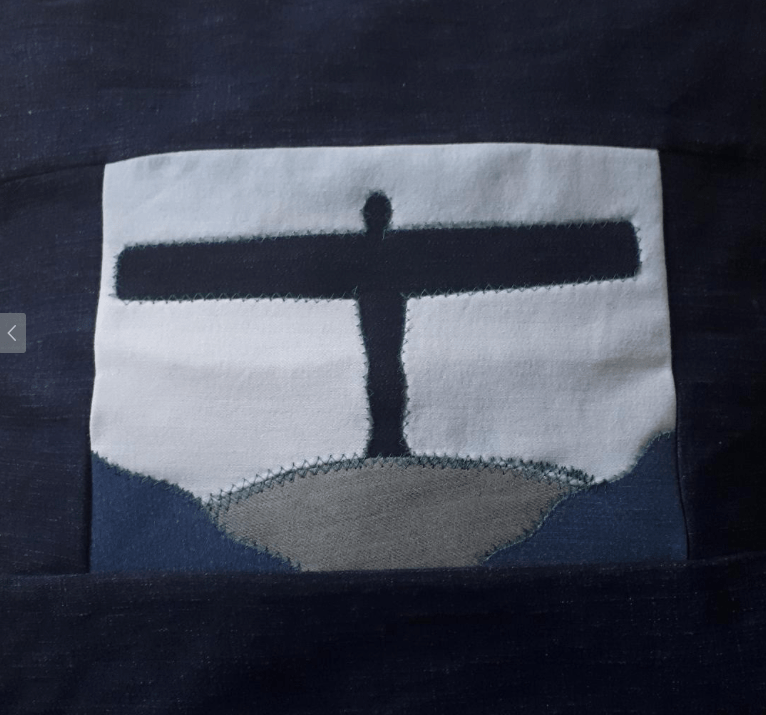 For the first six months, Sarah spent her time making a few sales to friends on Facebook, but by October 2018 she had enough stock to fill a table at local craft fairs and pop-up shops. This meant Sarah finally got the chance to make Delightfully Denim known to people beyond her Facebook friends.
In February, Sarah set up an Etsy store for her sustainable business: "It is slowly building into my online shop and increasing the range of people I can sell to."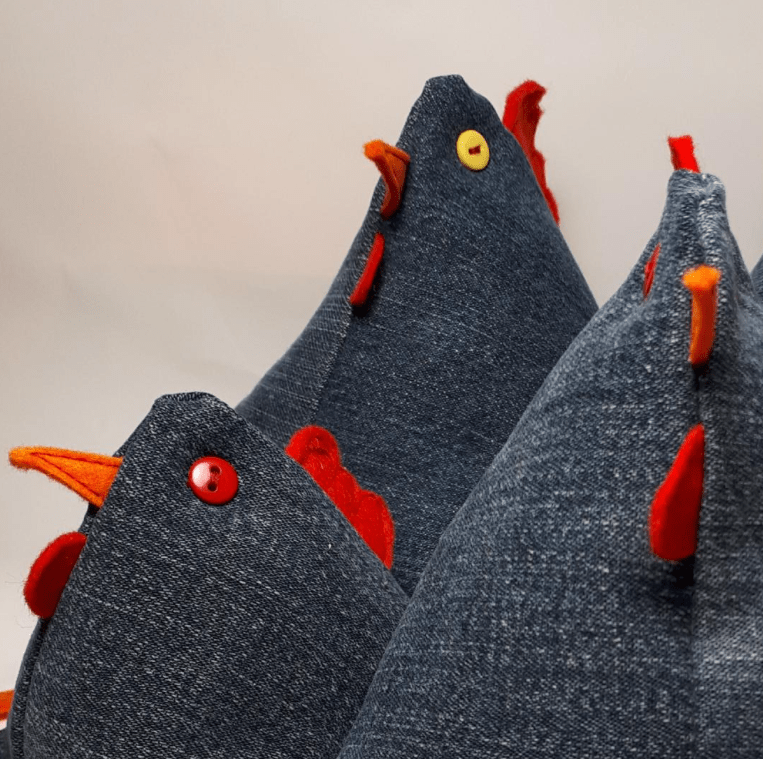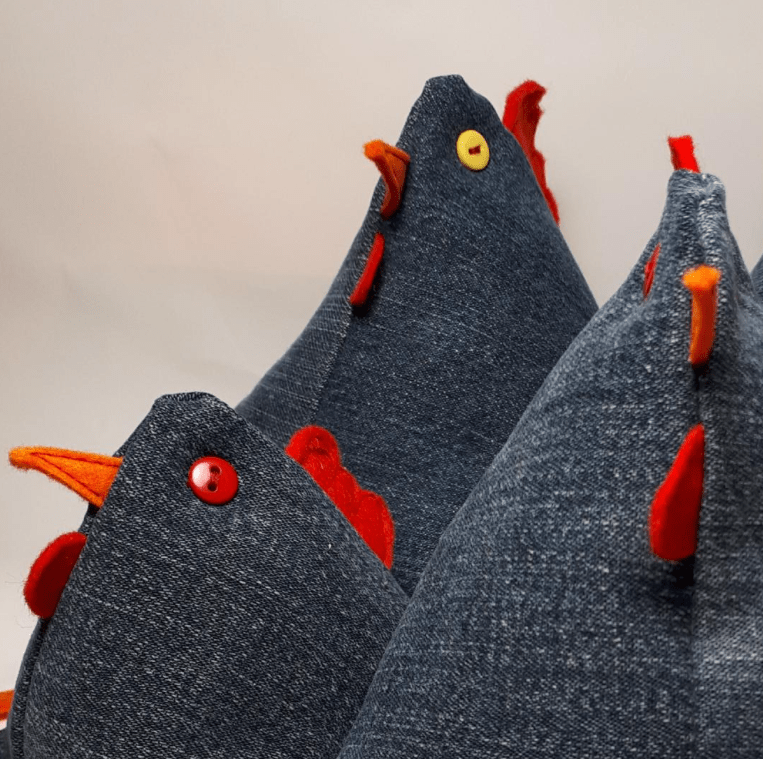 "I don't make toys or clothes, but I enjoy making items for the home and gifts for people using clothing that once meant something to someone. I make many designs of cushions – including one of my best sellers with the Angel of the North on it -, bags, bookmarks, notebook covers, coasters, storage pockets and everyone's favourite chickens! I have also been approached by individuals looking for something bespoke, such as a case for a photographer's stand and a bag to transport two 10kg weights for someone at my daughter's astronomy group. I am always up for a challenge and will give most things a try."
Visit Delightfully Denim's Etsy store here, and their Facebook page here.
Do you own any of Sarah's creations? Let us know on Twitter @Fashion_North!