Almost every industry has had to adapt and accommodate to the challenging circumstances provided by the pandemic, and the highly profiled haute couture week has took to digital platforms to deliver the same quality, hand crafted couture but in a pandemic safe manor.
The big brands have had to take a new direction and focus to sell there collections, the Haute Couture Week is known for its exclusivity and luxurious clientele. For the majority of us who aren't ordering custom one-off gowns, we are being delivered the fantasy and capturing the mood of Dior's Haute Couture show from the safety of our home.
For Dior's spring/summer 2021 Haute Couture, Maria Grazia Chiuri looked to tarot cards to create a medieval-influenced collection capturing the lavish fantasy of Italian art director, Matteo Garrone, for the pairs second collaboration.
For her haute couture collection she interpreted medieval silhouettes from the divinatory arts of the 15th century and the characters and motifs displayed on tarot cards. Historical references were identified throughout as Chiuri took her classic Dior silhouettes of tulle skirts but gave them a medieval refresh.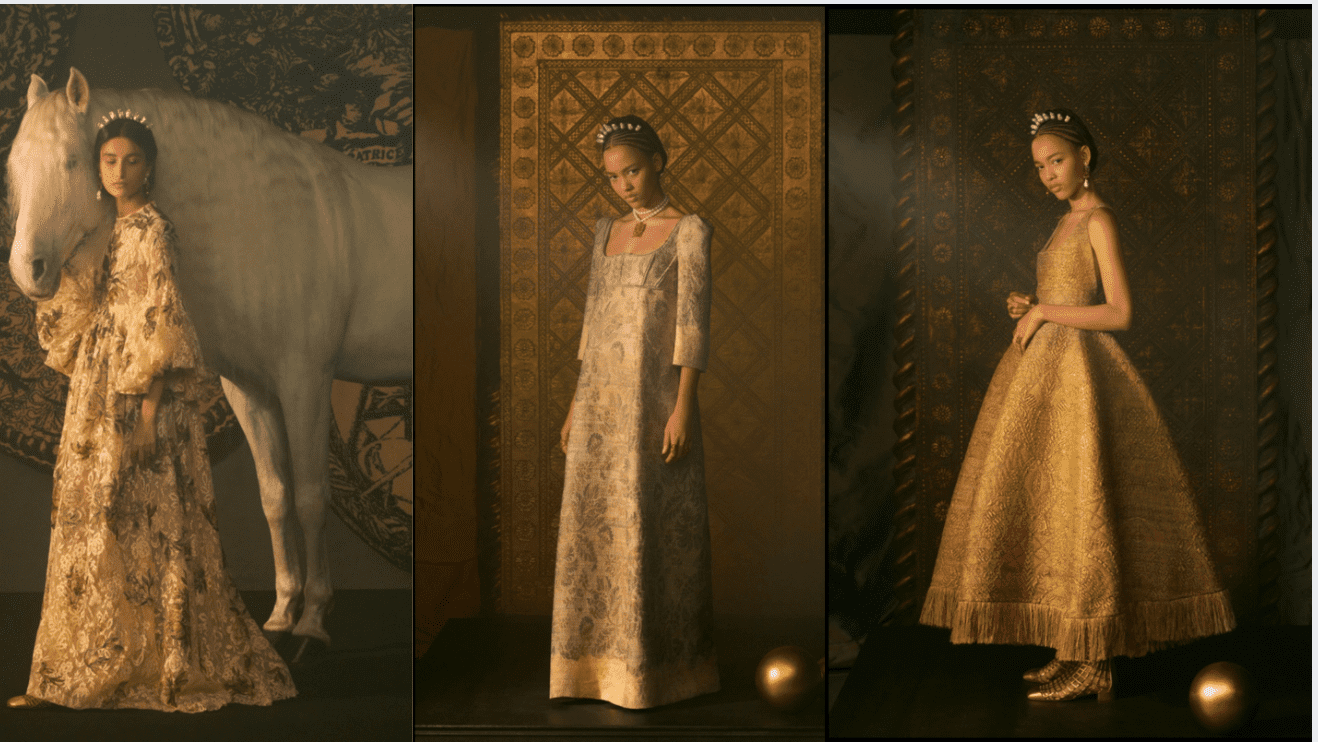 Chiuri expressed volume in less structured shapes, bringing together dusky jewel tones and old golds with embellishment and embroidered detailing. The collection featured an abundance of Empire necklines, all of which fit to be worn by the characters of Netlix's most talked about show of the year, "Bridgerton".
Chiuri reunited with Italian director Matteo Garrone on a short film, "Le Château du Tarot", the tale of a young women who goes on a journey of self discovery as she encounters a series of symbolic figures in a mysterious castle.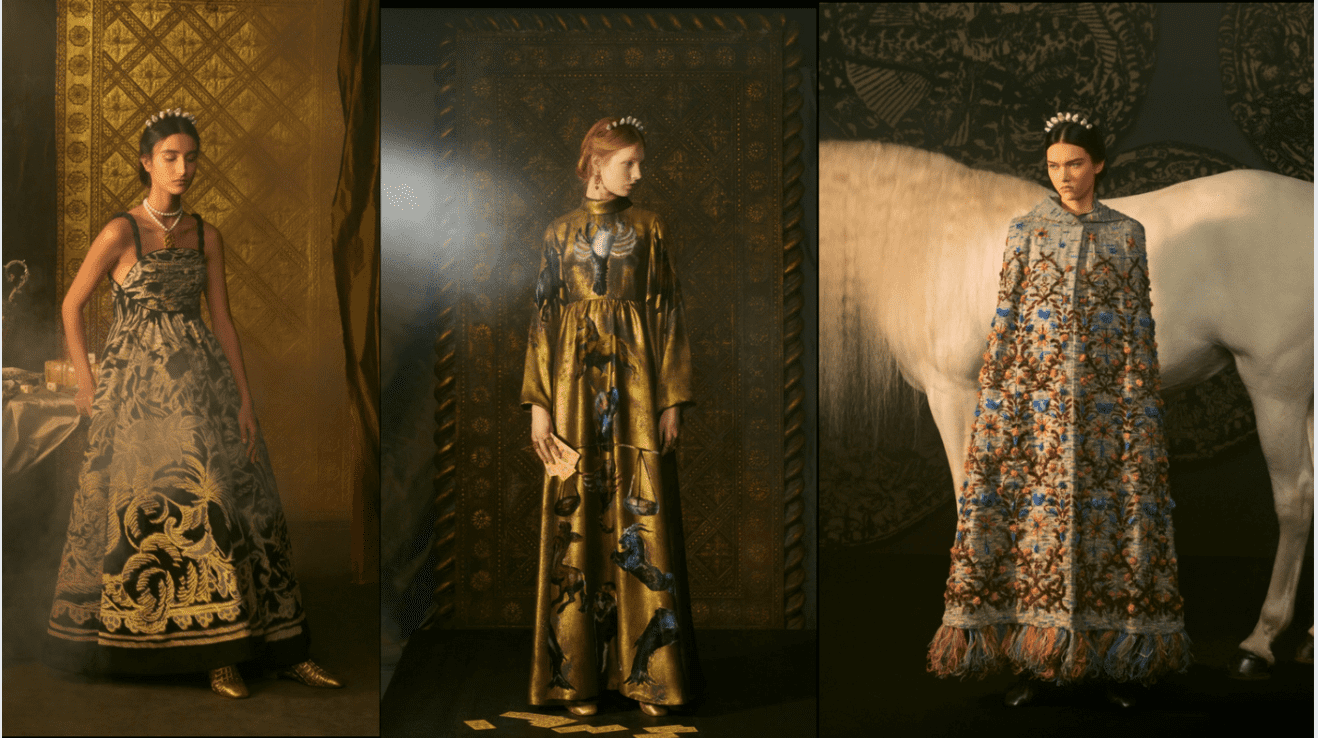 The typical couture silhouettes of sweeping dresses came with dramatic capes and matching translucent veils, the outfits embodied the medieval era and bought fashion and art together once again.
The collection bought 15th century paintings to life, the velvet dévoré dress was hand-painted with zodiac signs and the illustrations by Pietro Ruffo were worked into several designs.
Chiuri is known for exploring femininity throughout her collections for Dior as this season was no different, gold jacquard gowns and delicate gold embroidered ball gowns were accessories with giant pearl-encrusted headbands with matching earrings designed to be worn by any royal. On the other hand, high-waisted cigarette trousers were paired with organza sleeves.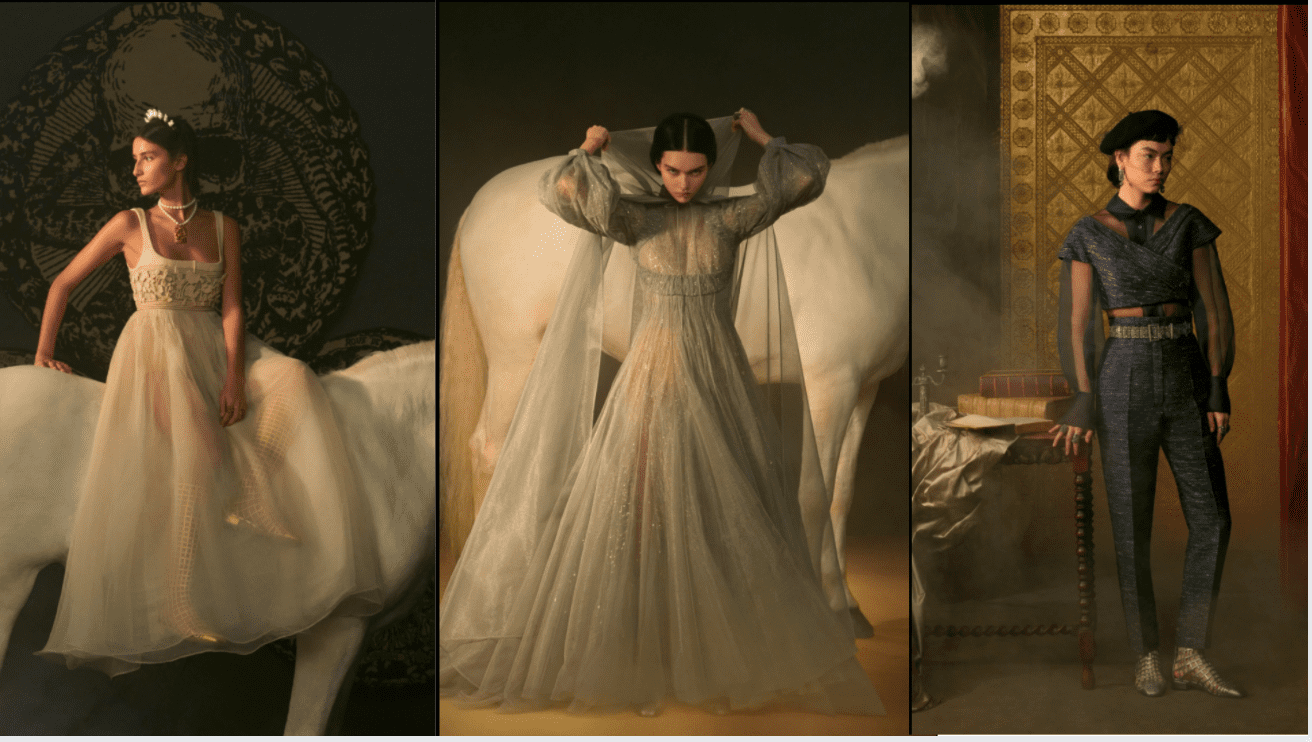 If only Maria Grazia Chiuri's tarot cards could predict when haute couture will be unveiled at a physcial show to give the craftmanship the recognition it deserves.
Explore the full collection below.
What are your thoughts on Dior's spring/summer 2021 Haute Couture show? Let us know on Twitter @Fashion_North!