The black and white stripes of my Newcastle United strip mean more than just
football to me, they say everything about my childhood as a tomboy.
There's always been two constants in my dad Barrie's life: family and football. A devoted fan since he was a boy and season ticket holder for 47 years he's seen Newcastle United at their best and worst and I guess they've seen him in the same way. He went to his first game in 1965 so by the time I came around in 92 it's fair to say he had a few matches under his belt and it came as no surprise when a lot of my clothes growing up were Newcastle United themed.
I have a couple of girl cousins around my age and when we were young at family parties, they would be looking all lovely and pink and poofy in little tea dresses with matching hairbands. Not me, I was there running wild in dungarees and high top converse chasing my three older boy cousins. My mam Susan says: "Sometimes I'd wonder where you were and then I'd see the lads in a pile on the floor scrapping and as usual, there you were on the bottom." So you see, I never was one for being 'girly' playing with dolls and doing my hair, so when it came to my Dad's love of football I was right there with him from the start.
At first school, I was pushed towards doing dancing lessons as all the girls in my class were, so I gave it a go. I lasted 3 months. I realised I wanted to be on the pitch having a kick about like I did at home so I started playing football and was playing up until I finished school at 16, even playing for Newcastle for a while.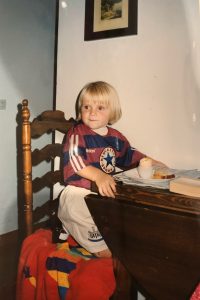 I'd had a few NUFC bits and bobs when I was little. Hats, scarfs, baby grows and a teeny tiny away strip but the piece I remember most and still makes me smile when I think about it is my first proper home strip. The unmistakable black and white stripes and Newcastle crest right where your heart is. I definitely couldn't fit into it now, I'm not quite as small as four year old Hannah. The strip was given to me in 1996 for my birthday when I turned four and read 'HANNAH 4′ on the back. Picking it up now I don't know how I used to keep the thing on, the material is all scratchy and if I was wearing it now I'd be sweating and itchy in no time!
But I loved the strip and the tie it gave me with my dad and when it came to match day I would put it on knowing that he would be leaving us for a few hours to go do his duty. The three of us would hop into my mam's car and we'd drop him off at the top of the street to catch the bus into town. Before jumping out he always used to ask me "So what chant do you want me to sing today?" I had a few personal favourites usually the repetitive "TOON TOON" but that was probably because it was about as much as I could understand at that age.
A lot has changed in football, even just in my 25 years but I know that the magic has gone for my Dad. He hates the money involved, the TV deals and the new age fans who just go to take selfies and wear Stone Island jackets. But most of all I think he misses his mates. His two best friends who have stood and sat either side of him for decades passed in the last couple of years and with them they took away his love of the game.
East Stand, Row L, Seat 104. That's now where I sit at St James' Park, it still has my dad's name on and I'll never think of it as mine but as my father's daughter. I will serve my time for this club through the best of times and worst of times. I'll always keep my NUFC strip, not because of the club and my hometown but because it will always be a reminder of the bond between me and my dad.