When you're younger, I think it's just one of those parent things that they love to dress you and your siblings in the exact same outfits every day. Most people hate it but for me, I loved it. Oh, and the other thing, we aren't siblings. We are cousins. The only sibling I have is my brother, who is 11 years older than me, so I was only young when he was in his teens so my childhood was pretending that my cousin was my sister.
When we were young, my cousin Kaitlyn and I were joined at the hip, not technically, but basically, we spent the majority of our time together and we used to copy everything each other did, including clothes, shoes, jewellery, the lot. It's obviously not like that now because I am now 19 and she is 20. It would seem a bit odd if we still went everywhere together in matching clothes.
Fashion from when I was younger amazes me when I look through old photographs. Some outfits I absolutely adore and some I get mad that I was allowed out of the house like that. Us two, we always had an eye for fashion, well, at the time we thought we did. But some of the outfits, I would never put my child in. We used to dance together at our local theatre school, so whenever we had the opportunity, we bought our dance costumes exactly the same and we would have our hair and make-up exactly the same too for our shows.
Out of all of the outfits we wore matching, the bright blue Von Dutch t-shirts decorated with gems are an ultimate; we actually wore those to go to a disco at Flamingo Land once, with matching white denim skirts (which were quite cute actually). I remember how much I loved that t-shirt, it's upsetting that I haven't kept any of my favourite clothes from my childhood; it would be amazing to look at them now.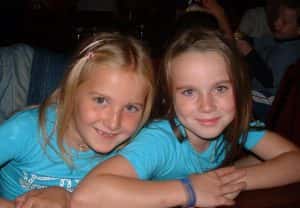 We also used to love our Dolce and Gabanna t-shirts. I haven't got any photographs of those, but I remember exactly what they looked like. Black, with white D&G writing written all over. It sounds rather tacky but they were fashionable back then, I promise.
One memory that I will never forget is one day I went shopping with my mum and she went shopping with hers, not together, separately. But I got home on that night and we went to my auntie's house. I took my new shoes that I was so happy with. I loved them. They were grey sneakers with a small wedge and Velcro straps. Thinking about it now, the word horrendous doesn't even explain. They are the worst things I have ever bought but hey, those things happen. I remember her telling me she wanted to show me some shoes she had bought too and as she got them out to show me, I did too. Shock, they were the exact same shoes. She had bought them on the same day from the same shop. I'm sure it's one of those twin telepathy things, except as you know, we aren't twins.
Actually, I have just found a photograph. Rewind. The Von Dutch t-shirts aren't my favourite. I mean I love them, but these are so much better. Again, at Flamingo Land (we used to go here a lot), we loved the Cheeky Girls, that much that we asked our mums to buy us Cheeky Girl costumes. Little pink tops and ruffle skirts with the word "CHEEKY" written across the front. I'm not quite sure who we thought we were, pop stars maybe? Wannabe Cheeky Girls? I can picture us dancing around Flamingo Land getting funny looks.  I would love to know where they bought these costumes from, who knows, but I loved mine. They had a little sparkly buckle belt around the waist on the skirt, sassy.
Although we are older now, I still never skip the chance to borrow her clothes. We have always had a very similar style and we probably will until the ages of 80. I can just picture it now, 80 years old, asking if I can borrow her knitted cardigan or whatever the fashion may be in 2078.