Every girls' prom dress is special to them, and mine is no different. I associate so many different thoughts and feelings towards my school leavers prom dress.
Going to prom meant the end of school, another chapter closed in my never-ending book that I'm writing/living. I liked school for the first couple of years, however towards the end I just felt like I was different, that I didn't feel like I fit in. Everyone was growing up and I still felt like I was years behind everyone. I looked like I could have been in year eight by the time I was weeks away from finishing secondary school. I'm not sure if saying my prom dress shaped my life for the next couple of years but it has been a defining moment in my life so far.
My school's prom was in late May 2014. I didn't want a huge "princess" type prom dress, I just wanted something subtle and pretty. I decided on a nude peach puffer skater skirt dress with lace detail on the top body half from Missguided. Looking back now, that was a dreadful decision as I was as pale as a ghost – no really, I could have blended into a white wall. I paired the dress with some nude suedette wedges from Primark and a red jewel, silver chained necklace and matching earring studs from Matalan. Overall my outfit probably cost just under £60, but it wasn't about how much it cost, it was about me going and feeling good about myself.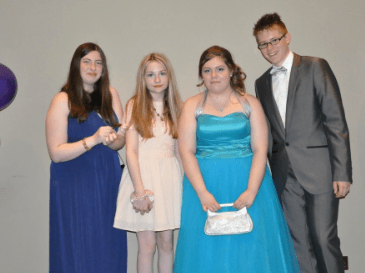 Prom was really the first time when I liked the way I looked, and how much I loved my outfit and the way I looked in it. I can remember when my dress had just been delivered, I was so excited I ripped the packaging open and instantly tried it on and I loved it. I loved the way it looked and it was the first time I had worn a dress and thought you know what I look really good in this. By this point I never wore make-up apart from concealer and mascara when I wore contact lenses. This was also the time when I went a bit over bored with plucking my eyebrows (what was I thinking, oh god?). I didn't have any fancy hairstyle, or make-up done. My mum straightened my hair, I wore minimal make-up, but it was a lot more than I usually would have on, on a day to day basis. I felt self-confident, probably the most I had ever felt in my life up until that moment. Although it wasn't just me, my friends all looked so nice, their dresses, make-up and hair. We all just looked so grown up for the first time in our lives. Yes, looking back even my friends look at the photos and think "oh my god, why did I think that looked good?"
From that moment onwards, I "grew up". I started to wear more make-up, started to really put effort and think about what I wore. But not only that, my prom dress just reminds me of that night when I was in a room full of the people I had spent the past five years with and it would be the last time everyone would be together. The venue my school held its prom was at a local hotel. We had multiple function rooms set up for us, there was a room for professional pictures to be taken, a range of food and drink in one room and then the main room had tables covered in silver sparkly table clothes, silver balloons and diamantes sprinkled on top of them. There was also a dancefloor where they had a band playing and then towards the end of the night someone from our year group had his own DJ set and everyone loved it, happily dancing the night away. It was such a happy atmosphere, I suppose looking back, it's almost a bitter sweet memory as it was such a lovely night but I'm also not in contact with all my friends from school, people move on and go onto different paths.
16-year-old me, in a dress that completely washed me out, eyebrows so thin and far apart you could parallel park a car in between them, but I couldn't have been any happier at the time. That night did a lot for my self-confidence, I never wanted to wear dresses or anything along the lines, but prom broke the rules. Such a small thing as a dress I suppose has changed my life for the better. I haven't worn it since, but it still lives in the back of my wardrobe holding all the memories of that special night.