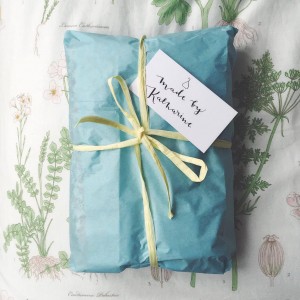 Katharine Elisabeth Oliver is sharing her creative passion for home grown fashion by unveiling her Etsy store, Made By Katharine. Originally from South Yorkshire, Katharine, 22, graduated from the University of Sunderland in 2015 with a degree in Fashion Journalism, but has had a strong interest in sewing since studying Textiles at secondary school. Katharine's love for home grown fashion inspired her to use this theme for her dissertation magazine, which featured online stores such as ModDolly and Vintage Style Me.
"While at school I use to make over the shoulder bags in big, bright patterns. I even sold a few when I was in year 10 which started off my love of handmade things and creating something unique that you can't buy anywhere else. I've always been a big believer in shopping independent and I'm so happy to finally have my own store to share my passion."
Katharine works full time in communications and works on making the garments and sourcing new fabrics when she gets home from work on an evening. Every single piece of clothing in Katharine's online store is homemade and can take up to an hour to make and package.
Since the opening of Made By Katharine in July, Katharine has been surprised at how successful the past three weeks have been, with continued support from friends and Instagram followers, who shared the store when it first opened. Katharine said: "A lot of my sales have been from Instagram, with over 5000 people following me I have had a lot of them messaging me asking for a skirt or a custom piece of clothing. I've loved being able to share my love for quirky patterns with other people."
Customers have fallen in love with Katharine's quirky homemade skirts, which has led to enquiries about childrens clothing which Katharine says is a work in progress. The unique prints are so popular, especially as florals are so timeless and classic. The skirts crafted from the bee print sold out in less than an hour! Katharine also hopes to add playsuits and dresses to her online store in the future.
While running 'Made By Katharine' alongside working full time, Katharine is grateful for the support she gets from her friends at work: "Everyone at my work is very supportive and it's an amazing place. I'm so happy to be able to work in such a great environment and have the support from colleagues with a couple having recently placed orders too."
Katharine hopes to continue running her business on the side of her career in communications, and hopes to teach sewing on a weekend. "I think it's such an important skill to have and can help with your confidence, patience, creativity and a lot of other areas. I'm very excited to see what the next year will bring and how I can grow my shop and expand my clothing on offer."
Katharine is kindly offering all Fashion North readers an exclusive 15% off with the code fashionnorth15 until the end of August. You can check out her online store and treat yourself to something gorgeous here at Made By Katharine.
All of us here at Fashion North are so proud of Katharine and wish her the very best with her new business venture!