Fashion North went behind the scenes at Luxe Elle's latest shoot for their autumn/winter collection. We had the opportunity to see the latest pieces from the range, produce some social media content and get an exclusive interview with model, mum, and full-time University student Aisha Allon.
Fashion North's Editor Lucy Britnell, Agony Aunt Megan West, and Contributor Abigail Blewitt all had the opportunity to assist on the shoot for the brand. This included helping style the clothing as well as producing behind the scenes content to promote the collection.
Luxe Elle is a clothing brand aimed and designed for busy women who want clothing to look and feel great. Each collection is designed to feature stylish pieces to transform your wardrobe and work seamlessly around your busy lives. From the perfect school run look to dressing up for date night, Luxe Elle puts its customer's needs at the forefront of the brand.
Meet Aisha Allon, 24, from South Shields, a Counselling student, part-time model and full-time Mum. Aisha is the perfect representation of an independent woman who can do it all. Editor Lucy Britnell, spoke to Aisha after the photoshoot to discuss her favourite pieces from the collection, her fashion inspiration and how she balances being a mum without losing her style.
Aisha is the perfect customer for Luxe Elle, showing that you can have it all. When asked about how she balances being a mum, working and studying towards her Counselling degree. She said: "Honestly, sometimes I look at myself and think how do I do it but in reality, I learn to prioritise what is most important to me."
"I am a big believer in self-care. It is so important to put yourself first every mum needs a break. No matter how much you love your child, having that time to yourself makes you feel good and is equally important. Juggling work, modelling, university assignments, being a mother and keeping a house as well as having a social life is hard. However, I believe if you want something, you will make it work and it can be draining taking on everything at once," she said.
Aisha started her modelling career after being entered into competitions as a young girl, and she grew a passion for it as it allowed her to meet new people. After falling pregnant young with her son Reuben, she stopped modelling due to a lack of confidence.
"When having a baby, your body changes, although it is a wonderful experience because you are carrying your beautiful baby," said Aisha. "Since I was young, I was almost ashamed that my body now has stretch marks and a mum tum but over the years, I have grown to love who I am but also worked hard on feeling more confident within myself."
Her passion for modelling has allowed Aisha to experiment with her style, and this includes looking on social media for outfit inspiration. Although, she still loves to be comfy but confident.
"I would say my style inspiration is just to be me. I like taking ideas from Instagram and pairing those with certain accessories but other than that, I think if you feel and look good in an outfit that you put together, it gives you the confidence to wear what you want even if others have opinions."
"Although I like to be trendy when it comes to being a mum and, on days I want to be me, I think my go-to style for winter would have to be a chunky boot with jeans or leggings than a turtle neck or basic hoody with a leather jacket or aviator. I would call that my mum look," added Aisha.
When asked about her favourite pieces from Luxe Elle's A/W21 collection, Aisha favoured the St Tropez summer wrap dress. She said: "That dress made me feel like a million dollars, I love how it can be worn so many ways, dressed up or down, from summer days out with my Reuben to bottomless brunch with the girls.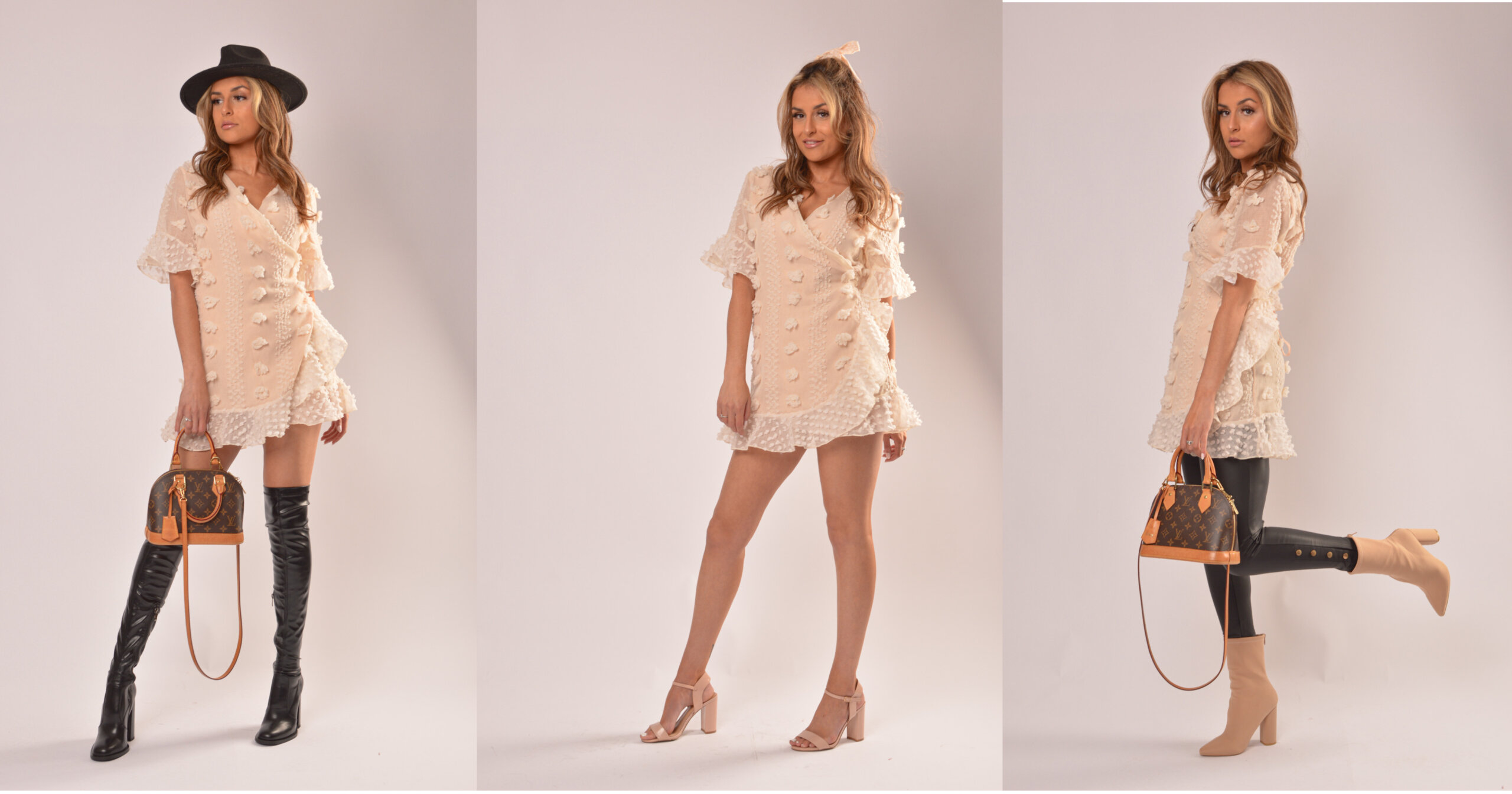 Image credit: Luxe Elle
"I also loved the three-piece oatmeal lounge set. As winter is approaching, it is perfect for a Christmas movie day with the family instead of the usual pyjamas, comfortable and trendy without having to make lots of effort," Aisha added.The collection is filled with staple autumn pieces, from everyday wear to statement evening looks. Each item is made to be versatile and can be worn in so many different ways. Take their three-piece knitted loungewear set in the colour biscuit which worn together the oversized knit and leggings make for the perfect lazy day look.
"I am a busy woman with different aspects in my life and, I think this collection fits a lot of my lifestyle. For example, I go to work as a Counsellor, and I would style myself with the blazers. However, when I'm going on a dog walk, I would go for the gilets, when having lazy days or for a dash in the morning for the school run, I would go for the more lounge pieces. Then for cocktails with the girls or date night, I would go for the dress and skirt vibe," said Aisha.
Luxe Elle has supplied endless evening options including a ruffled midi skirt in a monoprint which can be styled together with a black turtle neck, strappy heels and a statement bag for the perfect date night look. Take a look at LuxeElle.com to get some autumn/winter style inspiration.
"This collection is something I would be willing to add to my collection as it has everything for a busy mum. I enjoyed the shoot day, getting to try all the clothes before the launch day was amazing and, it was my first shoot with a clothing label. I enjoyed meeting some lovely girls who helped with styling and social media, they made the experience very positive. My favourite photoshoot to date," said Aisha.
What is your favourite piece from the collection? Let us know on Twitter @Fashion_North and shop the full collection at LuxeElle.com.