Today (May 21), Kate Middleton, the Duchess of Cambridge, attended the highly anticipated wedding of her younger sister, Pippa, in their home village of Chapel Row near Newbury, Berkshire.
Let's just say… I was disappointed. I'm getting so bored of the same look, time and time again. Although, thankfully she wasn't wearing a dress coat today.
To the wedding, Kate wore a blush pink design by Sarah Burton at Alexander McQueen, a brand highly favoured by the 35-year-old. But you know what, it was boring boring boring! McQueen, a brand known for its controversial and daring designs seems watered down to suit her more conservative style. I understand there's certain rules and regulations she has to follow, but come on.
So, here are four British brands I'd love to see Kate in:
Burberry: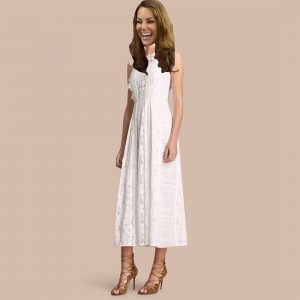 No longer the boring brand of trench coats, Burberry leads the way of British heritage design with a twist. Perfect for a Duchess, don't you think? With fans such as Adele, who on her recent 25 tour only wore bespoke Burberry, why shouldn't Kate join the Burberry revolution? See Kate above in a Sleeveless Macramé Lace Burberry Dress (£1,095).
J.W. Anderson: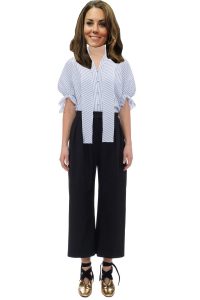 The Northern Irish designer famous for his androgynous styles brings together British craftsmanship with a futuristic edge. Who said Kate can't do her various charity commitments in a deconstructed J.W. Anderson Ruched Sleeve V-Neck Top (£400) and Highwaisted Culottes (£395)?
Ralph & Russo: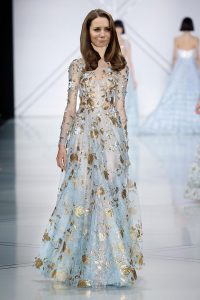 The designer duo of Tamara Ralph and Michael Russo celebrate their 10th year of Ralph&Russo. Ralph&Russo was the first British brand to be elected in almost 100 years by the Chambre Syndicale de la Haute Couture to show its collection at Paris Haute Couture Week. Look how great Kate looks in a couture gown from their SS17 range. I can hear it now, Cambridge's Couture. Oh, how we can only dream…
Victoria Beckham: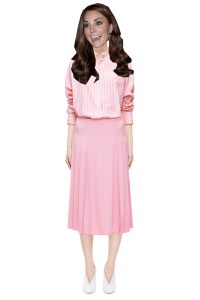 It's my belief that if Kate was a Spice Girl she'd definitely be Posh Spice – she is a Duchess so it's only right. Victoria Beckham's take on effortless, minimal British style makes it only a match made in heaven for Kate to wear the designers collection. Look how effortless she looks in a Victoria Beckham Grandad Shirt (£475) and Side Pleat Midi Skirt (£995).
In terms of fashion, we in Britain have so much to offer. I know we all have our favourite go-to brands, but Kate and her stylist need to take the plunge and change it up a bit!
Do you love or loathe the Duchesse's devotion to McQueen? Tweet us @Fashion_North with your thoughts.