What was your role in the movie?
"Well, I was actually just a glorified extra in this feature!"
Where did you study drama?
"I studied at the Chicago Academy of Performing Arts."
How old were you at the time?
"I believe I was around 36 but I looked more like I was 24 haha!"
How did you hear about the movie/get the role?
"At that time I was ready to give up acting and was helping out a friend who was trying to get into the industry, so I got some cheap head shots and walked through the process with my friend to show them the ropes. While doing so I was submitted for this project and even though it was just an extra role, it seemed like a great project to be on."
What was it like working alongside big names?
"When you work with big names it can be a hit or miss, but the actors I was teamed up with were truly amazing!
Anne Hathaway was the only real star at the time. Adrian Grenier (from Entourage) and Traci Thomas (from Rent) were just starting to become known. I had the privilege of getting to know Traci Thomas better off set because we were both being shuttled back together from the set and had more time to speak.
I was in the scene where Anne's character meets up with her friends at a restaurant and brings them gifts from her job. While filming that scene and in some down time it was mentioned that the CD release for the movie Rent just came out that day so Anne left set to go and purchase it for Traci since she was singing on many of the tracks. The production team also played her tracks on set while there was down time.
This was a big deal for Traci at the time because she was now in two major films and was on her way up. Just that act of kindness from Anne truly showed me how wonderful a person she really is."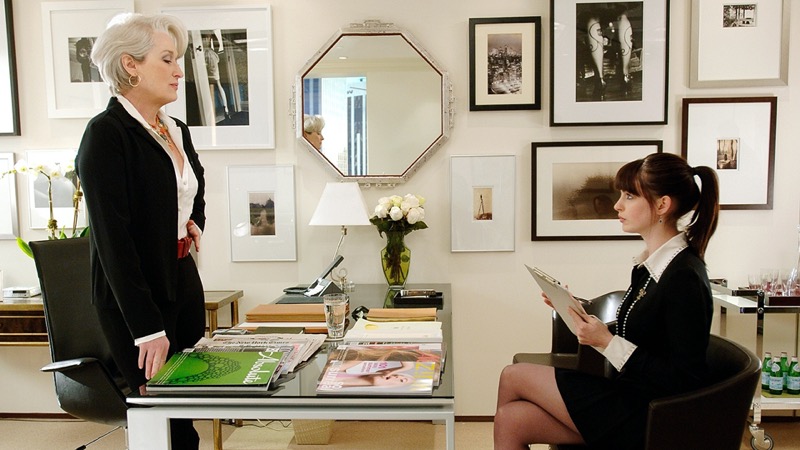 What are your memories of the cast and crew?
"Though I did not work directly with Meryl and Emily, I did hear that they too were very wonderful actors to be on set with. You can tell a lot about a set by how the crew reacts and runs the set. The set was very professional and a joy to be on."
What was the atmosphere like on set?
"Very laid back. Everyone got along and I did not hear anyone complaining. It was a great learning experience."
How did the movie shape your future career?
"It got me back into acting and more focused on the type of films I wanted to be part of moving forward."
Why do you think the movie was such a big success?
"Simple, it all comes down to the screenplay and talent. If you don't have a solid screenplay then it does not matter how great your actors are, the film will not be as tight. But when you have a strong screenplay and talented cast, that's the bomb! Also the vision of the director had played a big role. During the time this film came out, the audience really had not seen anything like it. Today it is still one of my favourite films because no matter how many times I watch it, I never get bored."
What did you enjoy the most?
"Being able to have a conversation with the core actors Anne, Traci, Adrian and Rich on set and not having them talk down to me. We spoke about fun stuff movie or not movie related. So at the end of filming, I did not feel like it was just a job, I felt I made some real connections especially with Traci since we drove back together from set."
What have you done since The Devil Wears Prada?
"Right now I'm more concentrated on producing great films that make a difference. I fell into producing in 2010 after writing my first feature screen play "Eyes Upon Waking". I did not realise how powerful film can be especially in this day and age with all the outlets. I have been very fortunate to have seasoned people in the film industry guide me in my process and so I try to do the same for up and comers. When you produce a film, it takes a lot of your time. I'm actually playing the lead role in Eyes Upon Waking along with producing. This is a challenge in itself. With this true story, I'm trying to change the stigma of depression so lives are saved and not lost."