Christmas Jumper day is just around the corner and, we have compiled some of the best and worst Christmas jumpers of the festive season. Whether you like something fashionable and stylish to wear to your local Christmas market or something tacky in time for your office Christmas party, here at Fashion North, we've got you covered.
Trendy but tacky Christmas jumpers
This is the ultimate tacky Christmas cardigan from I Saw it First £40, with bright colours and Christmas images plastered all over it. This cardigan is the best of the worst and will win you the tackiest Christmas jumper in your office.
If you want a less busy jumper, this one from Boohoo (£16.25) is perfect for those who want to wear a tacky jumper but want to be able to still look 'stylish'. The "Get Lit" slogan embroidered in the jumper keeps the funny side of Christmas alive and will certainly make you stand out this festive season.
If you love a tacky Christmas jumper that is comedic and fun, then this is the perfect jumper for you. From Ipernova on Etsy (£16.99) this Rudolph jumper will get people talking and for all of the right reasons.
For a more toned down, yet tasteless look this Christmas jumper is perfect for you. From Pretty Little Thing (£20), you can play it safe this Christmas but still draw some attention.
Fashionable yet Fun
For those who are wanting to wear something cosy and fashionable this holiday, these jumpers are ideal for you.
This fun yet fashionable jumper from M&S (£29.50) will keep you warm and toasty while you walk around your local Christmas market with a hot chocolate in your hand.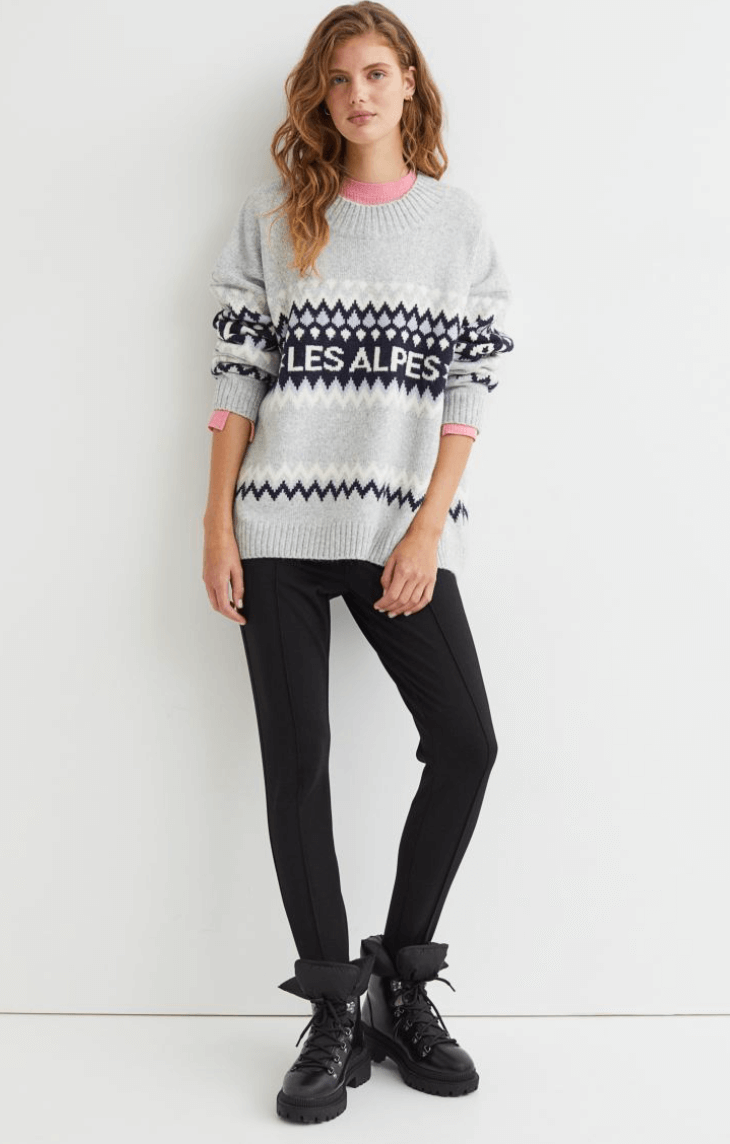 If you want to take part in Christmas activities like ice- skating, then this is the jumper for you. This Jacquard- knit jumper from H&M (£24.99) is chic and comfortable and will make you look stylish even when you're falling over.
For a more toned-down look, that you can easily dress up or down, depending on the occasion, we recommend this charcoal Christmas sweatshirt from Next (£28). You can also shop for the family and buy the full matching range available on Next online.
For something fun, fashionable and comfy all at the same time, this Christmas jumper is for you. With this powder blue, sequin snowflake jumper from Boohoo (£24) you, can stay stylish this festive season.
Not a big Christmas fan or just don't want to wear anything that screams Merry Christmas, try this Christmas jumper from Amazon (£22.99). It is the most "generic Christmas jumper" around.
For something along similar lines, but for those who still want to keep the fun element of Christmas, then this jumper is perfect for you. This black jumper from The Christmas Jumper (£21.99) will keep you comfy and stylish this Christmas, without feeling like you're missing out because garish jumpers aren't for you.
We want to see the Christmas jumper you're wearing this year, don't be shy and tweet us on Twitter @Fashion_North.