Netflix's Squid Games has fastly become one of the streaming platforms' most popular releases, taking the world by storm with its gruesome yet gripping storyline. We not only became addicted to the plot but were instantly connected to the actors portraying the contestants of the game. One in particular, Hoyeon Jung, known to us as Player 67 or Kang Sae-byeok, has become one of the most in-demand actresses of the moment.
But here at Fashion North she is a pretty familiar face. Starting her career as a model, she has appeared on the runways of some of the biggest brands including Jacquemus and Chanel. With the success of the TV show and her modelling career, Jung has signed as Louis Vuitton's latest Brand Ambassador after forming a friendship with the houses' Creative Director, Nicolas Ghesquière, and making her first appearance on the runway at his Fall/Winter 2017 show in Paris.
After its release, Squid Games was trending on all social media and the attraction to the outfits the players wear throughout the show grew in popularity ahead of Halloween. Amazon recorded the famous green and white tracksuit as being number one in the adult costume department, as fans of the show wanted to pose as one of the players.
Buy the costume from Amazon here.
View this post on Instagram
Want to become a player from the show this Halloween? Here's how you can get the look.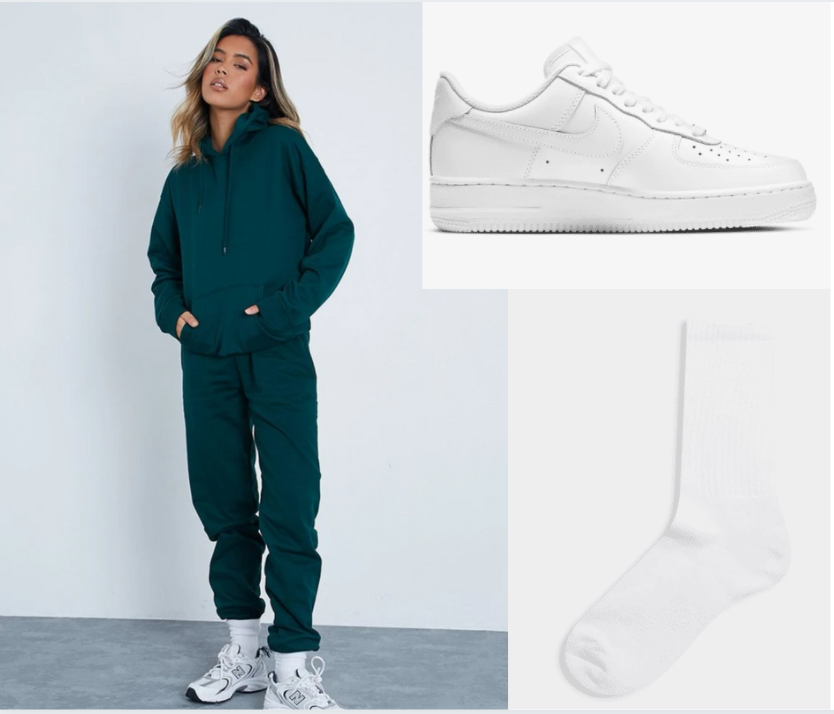 We all have an oversized jogger co-ord in our wardrobes, whether in a classic beige or a bold teal (as above). Any variation of the loungewear set can be used as your costume. If you're looking to add another jogger and hoodie set to your wardrobe for the occasion, then this two-piece sold separately from I Saw It First is the perfect dupe for the Player's costume in the show. Style together with a simple white sneaker, for example, a classic Nike Airforce (£99.95) and a pair of white sport socks from ASOS (£12).
If you decide to dress us as the players of Squid Games' this Halloween then make sure you Tweet us your looks.