Finding a passion in life can be hard but making a career out of it can be even harder. Fashion brand owner, Maeve Davies, shared with us how her passions in life inspired her to start her dream business.
With a background in advertising, event planning and working with her father, Maeve, 42, took the plunge and started her own online fashion brand. Opening up, Maeve revealed how modern society played a large role behind starting her own fashion brand: "We live in a society where everyone is very judgemental about the way we look, the way we behave and the way we do things – I really despise that. I think every individual should be able to live their lives the way they want to, regardless of how they look or what religion they're into."
It's clear that the harshness of society shaped the brand as Maeve went on further to say: "That's why I came up with Make no Apologies; it's telling people to make no apologies for who you are".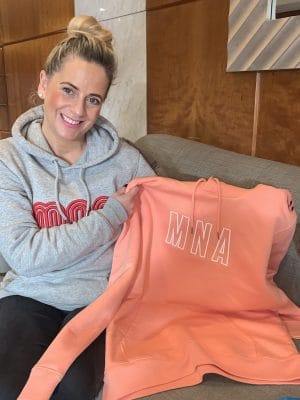 Keeping her personal beliefs and ethics at the very core of her brand Make No Apologies, Maeve makes sure that positive messages are shared to society through fashion.  Each of her designs have positive slogans printed on, making her values evident. When elaborating on her brand values, she said: "My brand values would be mostly about empowering women and giving women a voice. A voice and fashion combined are perfect.  Make No Apologies is a good, fashionable way to share positive messages to women."
However, for Maeve, her brand values go beyond the words printed on her designs. Sustainability and fair trading are more things that make the brand so great. The mum of two from Whickham, Gateshead created a vegan brand that uses and supports "organic cotton, recycled polyester and the Fair Wear Foundation."
The Fair Wear Foundation is an organisation that helps worker conditions in clothing factories. Maeve proudly went on to say: "this is really important to me. My brand absolutely works with the Fair Wear Foundation 100%. This goes back to spending time making sure that the manufactures' I work with are part of the foundation. I think it's really important that the money goes to the workers – there are no sweatshops. I don't want my brand connected to anything like that."
She added: "Sustainability and showing where it all started from is crucial. There is a story behind the clothing, and a good story at that. The foundation is so important, especially in the textile industry, because the textile industry has had such a bad reputation with sweatshops. We've all got to do our but to help everybody so I need to work with people who share my work ethic."
Sweatshirt: Make No Apologies
After proudly explaining what her brand is about, it was time to share how it felt starting a successful clothing brand: "It was very monumental. You can't just set up a brand for no reason, because you actually want it to work. If you fall at the first hurdle, then that becomes a bit of a nightmare. So, I'm lucky to say that I'm a year and a half down the line and I've only had two returns"
She also went on to say: "I felt confident too, because I know that I spent time researching my products."
Anything in life comes with the good and the bad, so when you own your own business it must be a rollercoaster. For Maeve, the limitless possibilities and stresses of social media appear to be the most difficult part: "For me, personally, I'm not great with social media. So, my biggest worry is making sure that I always stay on-top of my social media. Its 24/7 and I find that difficult and daunting. I've had to push myself out of my comfort zone, by posting often. It's about ensuring that you're not boring people and are finding new content. It's hard work."
Despite her hardships, Maeve has bigger plans for Make No Apologies. When asked about the future of the brand, Maeve said: "We've got a collaboration with Natalie Anderson and she has he own company called The Capsule in Leeds. She used to be an actress on the West End and Emmerdale. She started to sell Make No Apologies on her platform, which is really exciting. I'm at the stage now where I want to work with other brands and collaborate with other people to expand and get my products to more people."
So far, Make No Apologies has been a great success. The mum of two from a small town in Gateshead has managed to share uplifting messages and values around the UK and Europe, showing that with some hard work and determination you can reach your dreams.