WARNING: Gory Halloween images
Halloween is just right around the corner, the decorations are up and the costumes of various characters are on sale.
Instead of opting for cute characters, such as a cat or fairy, why not amp up the scream factor and go for full-on bloody, gory, and terrifying outfits to send shivers down everyone you meet.
October is all about dressing up to look your scariest and the thrill of being jump scared. So what better way to put your costume to the test in this year's Psychopath scream park, taking place here in the North East. Dress scary and match the energy
All costumes need to be soaked in blood for that extra gore factor. Here's a list of who you can be, and where can you buy the outfits.
1. Grace Le Domas in Ready or Not 
Ready or not is a movie that will make you question the idea of getting married because in some situations your newly-wed husband could also be in a demonic cult. Being absolutely clueless to the fact that is Grace a bride who was married an hour to go, only to be the main target of sacrifice.
However,  Grace is smart and swift and she tackles every family member to fight for her life. Her once snow-coloured white wedding dress and shoes are now dowsed in blood and ripped Not the wedding ceremony that you'd be expecting.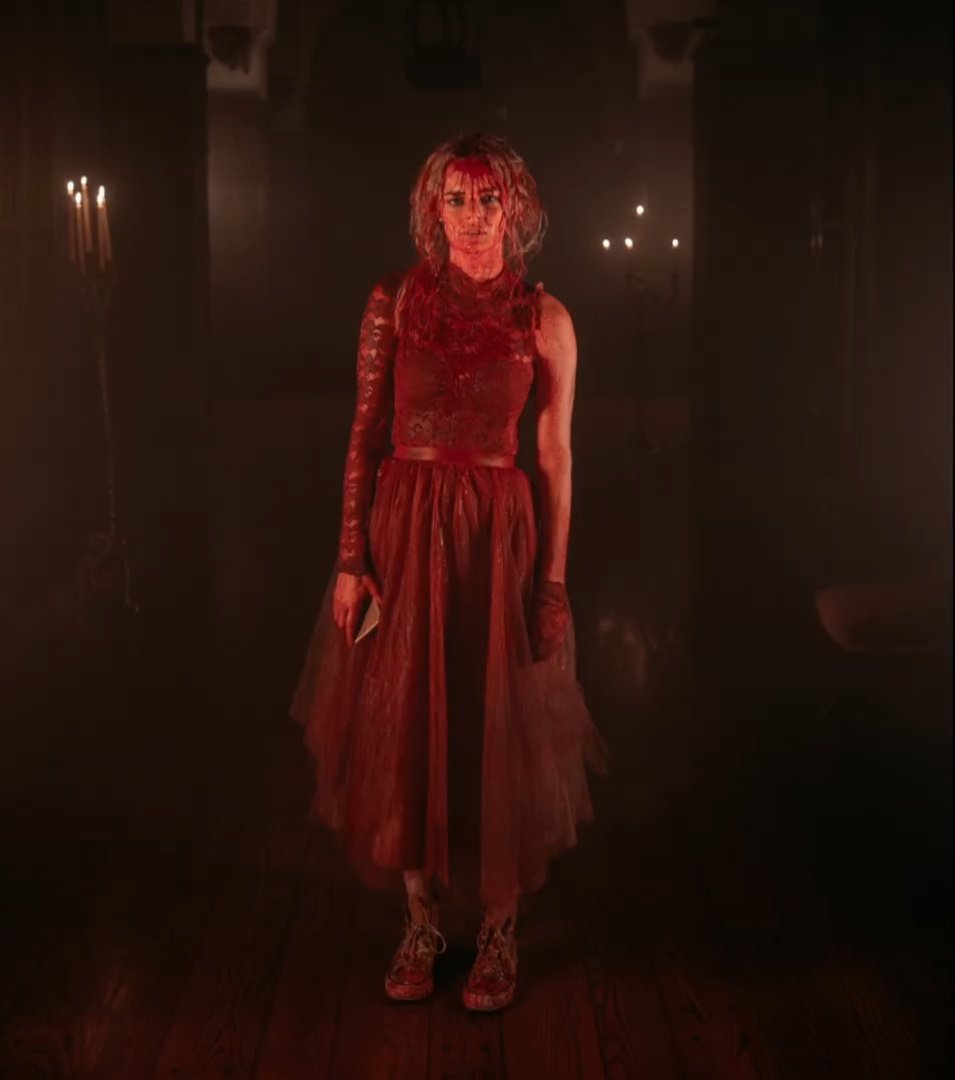 In the movie, Grace's outfit is a ripped, white and bloodied gown with a white veil and some converses. Here are some places where you can get the look.
Boohoo has got you covered with its lace-pleated midi dress for  £36. Pair it up with some yellow converses for £65  and a veil from your nearest costume shop and you're ready to scare everyone out too.
2.  Sally Hardesty in The Texas Chainsaw Massacre (1974)
The Texas Chainsaw Massacre film series has been around since the dawn of time and is an all-time Halloween comfort film with familiar horror characters like Leatherface. In this particular movie series, curiosity kills the cat as Sally goes to explore her grandfather's grave after local robberies.
From there on, things start going south for her and her friends as they have to wrangle their way around Leatherface and his cannibalistic family. Sally becomes the sole survivor of her group and manages to escape from a passing pickup truck as she's covered head to toe with blood.
Sally's outfit in the movie started off with a purple-rimmed tank top, some white flared pants and also sneakers before all that torture and torment. Urban Outfitters's Harper Layered tank top (  £11)  and Boohoo's petite button-high waist flare trousers (  £ 19.80) are similar to the iconic character's outfit.
3. Miss Audrey Caroline, Little Monsters
It's not Halloween if zombies are not involved and there has been no rule that you can't fight off zombies wearing a dress, especially a yellow one. Although a zombie film,  Little Monsters is all about love and falling for someone -just at the wrong time because well, zombies.
Miss Audrey Caroline who is a preschool teacher is devoted to protecting her class from man-eating zombies along with the man who has a crush on her, Dave. Fearless and with no mercy, we see Miss Caroline battling zombies to death all for children.
River Island's yellow lace mini dress £ 75 is more or less the exact same dress as Miss Caroline, just without the silkscreen embellishments. For a cheaper option, New look offers another pale yellow seersucker tie-sleeve mini dress for only £ 13.
4. Patrick Bateman, American Psycho 
The phrase never judge a book by its cover speaks volumes in American Psycho. The main protagonist of the show Patrick Bateman, is a handsome wealthy New York City investment banking executive who has a dark side to his handsome and charming looks. Well-dressed from the outside but on the inside, he is a psychopathic killer who delves more into his violent and hedonistic tendencies with each victim he gets his hands on.
A dark blue blazer set works well for this Halloween outfit, and Fashion Nova has a blue pencil pusher blazer pants set for £26. Tuck a blue essential cotton blend shirt ( £ 23) from Mango and a transparent raincoat from Aliexpress for only (£2.93 ) and you're good to go. Don't forget the other minor details which include a red tie and an axe too to complete the whole look.
5. Jennifer Check, Jennifer's body 
Jennifer's body is a national treasure in the movie industry and pop culture.  Also, what's not to like about it? It's all about a beautiful popular girl who gets possessed by a hungry demon and preys on men to satisfy her cravings, the plot is a cinematic experience. Jennifer's prom dress look used to be the height of Halloween fashion back in 2009 and since the trend of bringing back trends is coming back, why not bring this Halloween style along with it too.
The best option is a white lace strapless mini dress from Dollskill for £58, top the look off with a black waist cincher corset (£8.99) from Amazon, and a pair of polyester elbow-length gloves (£3.99) from Amazon and lastly a black bead tassel contrast lace choker for (£1.50)
Don't dial it down this Halloween, embrace your inner devil, and scare the crowds at Psychopath.