Joanne Toolan graduated in Fashion Journalism from the University of Sunderland just two and a half years ago. After a lot of hard work, Joanne is now working as a fashion assistant at You Magazine, Mail on Sunday, in London.
On Thursday, our fashion journalism students received a talk from Joanne on how to break into the industry, succeed on work placements and what it's like to work on London Fashion Week.
After completing placements at Look, Grazia, and Marie Claire before landing her dream job, Joanne Toolan gave our students an insightful talk on what to do when applying for work experience in the fashion journalism industry.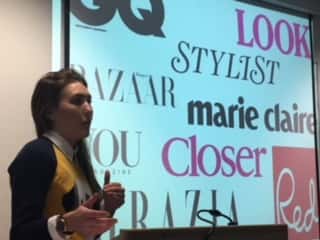 1. Save some of your student loan for travelling, hotels and expenses. Even getting a Christmas and summer job can make that extra bit of money to help you when you're on placement.
2. Keep your application short and sweet. Ensure that you get straight to the point and be professional. Phrase sentences correctly and be formal. No 'hey lovely' or kisses at the end of your name, you want to be taken seriously.
3. Convert your CV into a PDF so it can be accessed easily.
4. After you've secured your placement, you can look at house shares and hostels to save money on accommodation.
5. Say YES to everything when you're on the job. A can-do attitude and being proactive will pay off, and could lead to other placements and job interviews.
6. Have a good social media presence. Make your Instagram aesthetically pleasing and also tweet often, being good at social media is desirable to employers.
7. Be aware of "the black book." It does exist, and can seriously damage your career in journalism.
8. Make connections. If you recognise someone, be polite and tell them that you admire their work and what they do. It could lead to an opportunity and shows that you're a nice person too.
9. Interviews can lead to other interviews. Even if you don't get the job you wanted, you might get asked for an interview for another. Don't doubt yourself, you've got this.
10. No matter how tough, take all opportunities. You never know who you're going to meet.
Thank you to Joanne for giving us an insight into what life is like as a fashion assistant in London.
If you are interested in being a part of Fashion North and creating your own fashion magazine or website, click here to study fashion journalism with us!