Everyone has been helping raise awareness for world mental health month. And its not just online, it is now transitioning into the fashion industry too. Topshop and Topman have teamed up with CALM (Campaign Against Living Miserably) to bring you a varied collection of t-shirts, hoodies and sweatshirts in different colours, illustrations and slogans to help raise awareness around the stigma of mental health.
The Campaign Against Living Miserably (CALM) is leading a movement against suicide. They campaign with media partners, brands and ambassadors to help spread awareness of suicide and help challenge the stereotypes that younger people deal with while growing up.
The collection takes a novel look at the ways in which we can all support ourselves. It challenges the sense of normality that can often prevent people from seeking help, while encouraging positivity and change by using cultural elements of art, music, sport and comedy.
Here at Fashion North, we picked out some of the best pieces to share with you.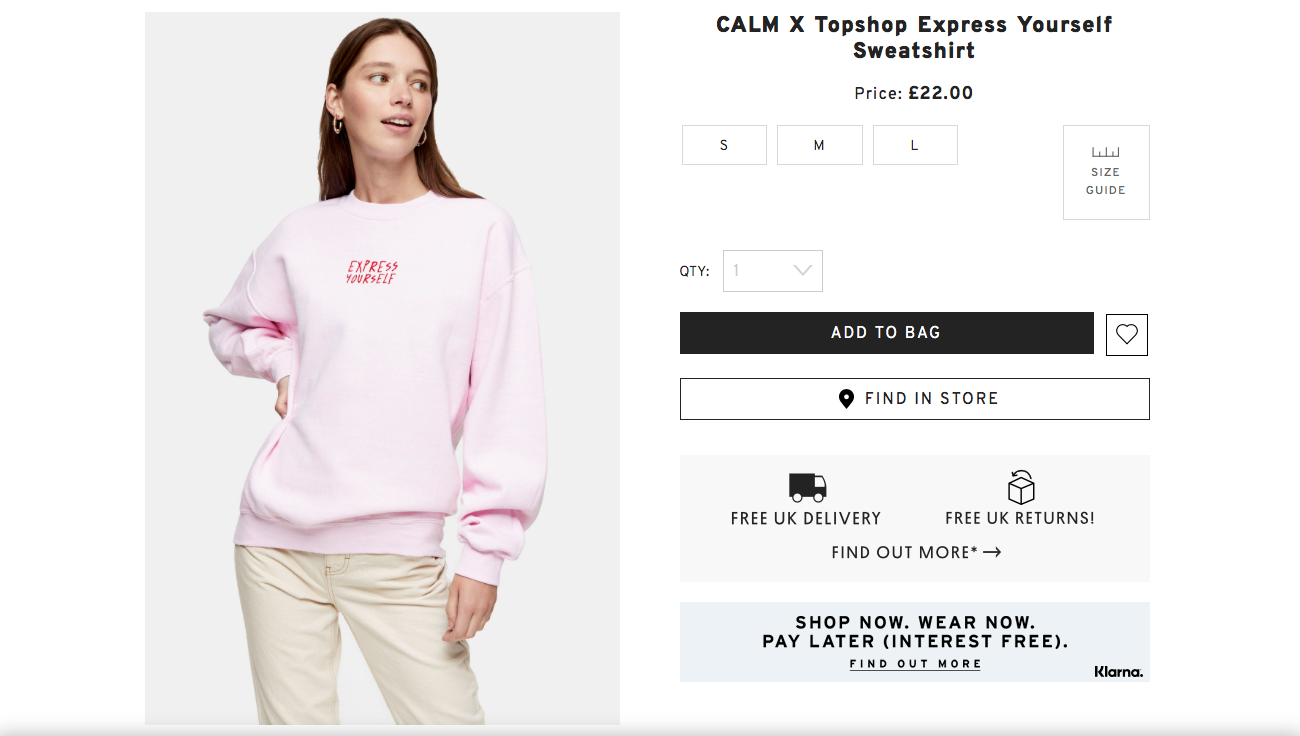 Express Yourself Sweatshirt | Available for £22 at Topshop
This pink sweatshirt with the red 'express yourself' motif compliment each other well, and the CALM woven label encourages you to feel confident in your own skin and create a conversation for others. Pair it with a pair of jeans and you're good to go.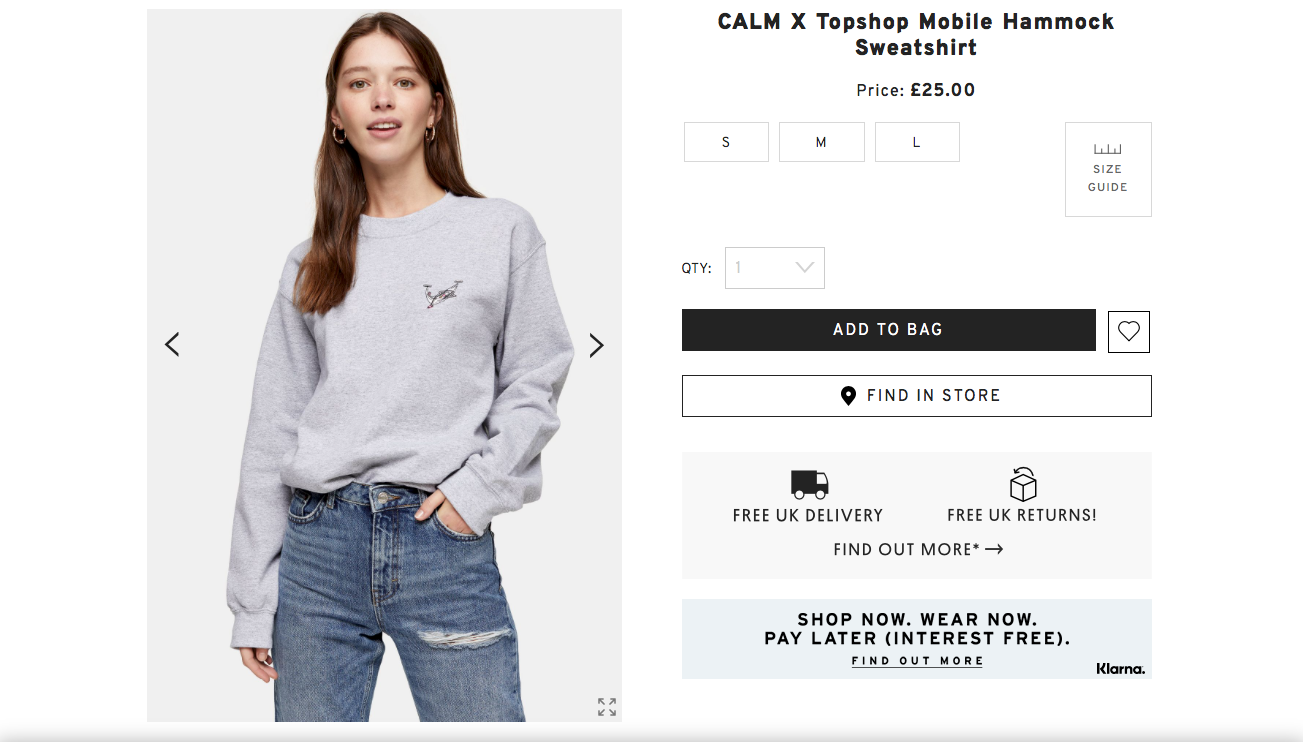 Mobile Hammock Sweatshirt | Available for £25 at Topshop
This is perfect for the upcoming winter when it gets that little bit colder and you need something quick to throw on when you have 9am university lectures. This grey sweatshirt symbolises the need to be taking more time out for ourselves. For example, the mobile hammock illustration represents the fact that everyone needs to turn off their phone every once in a while and pay attention to the world around them. This would go perfect with jeans for a casual everyday look.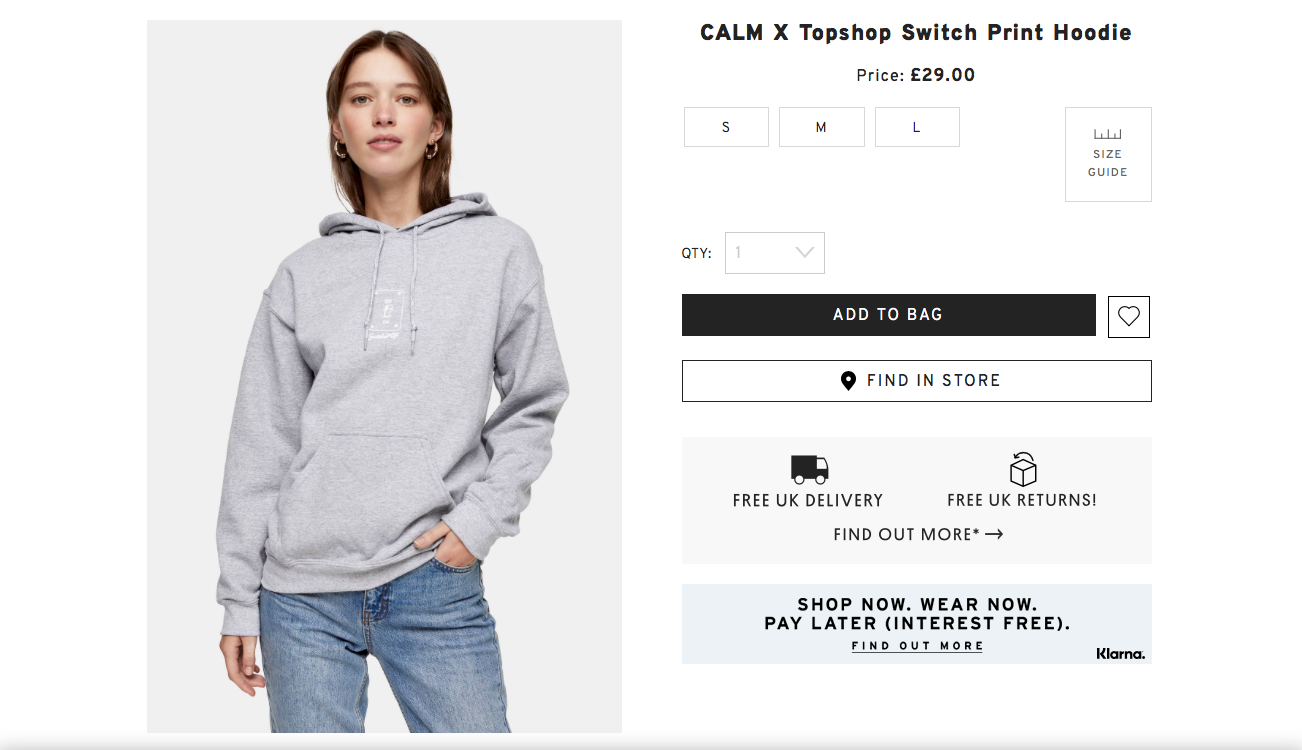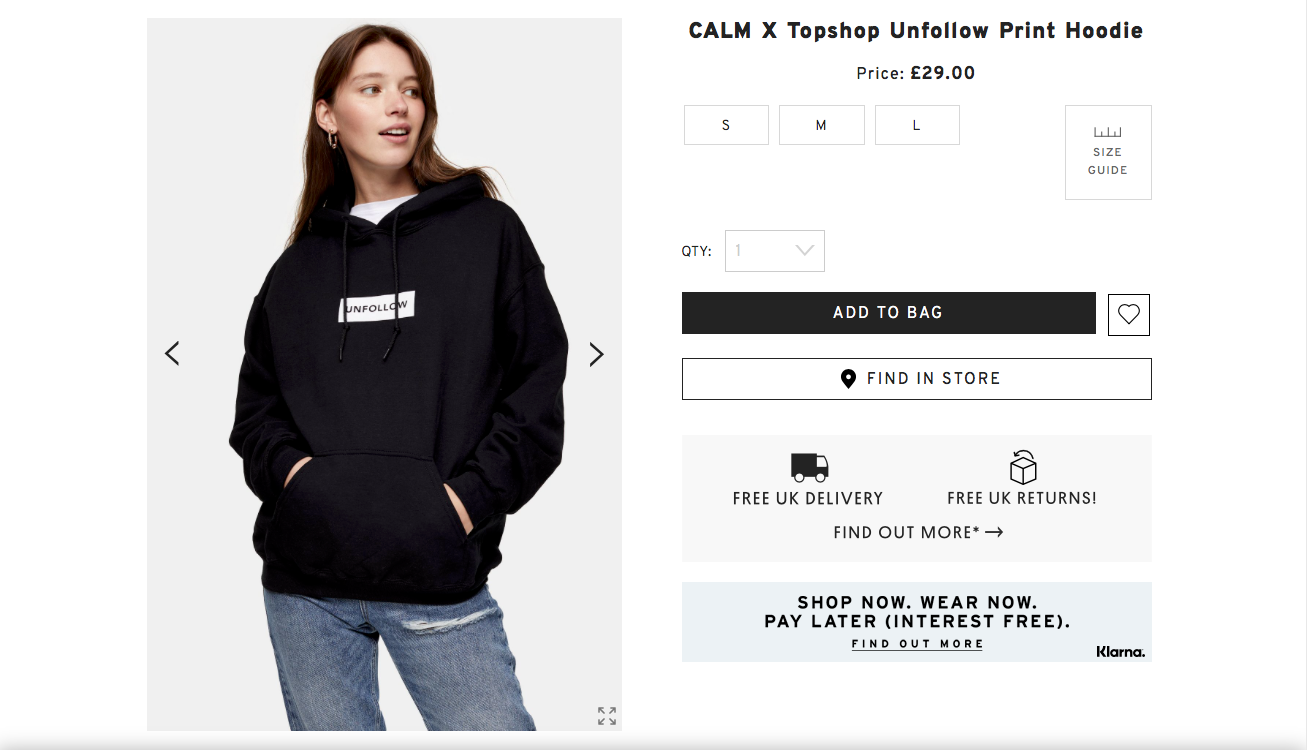 Unfollow print and Switch print hoodie | Available for £29 at Topshop (grey) & (black)
Hoodie season is coming up and it's time to layer up with these two hoodies. Each hoodie communicates a powerful message, for example, the unfollow motif symbolises that it is time to start unfollowing all of the negativity that we may have to deal with in our every day lives. Secondly, the novelty switch-off illustration represents the fact that it can sometimes become harder to switch our brains off when we are living such busy lives. It almost gives you a reminder that we all need some time out to take care of our own well being.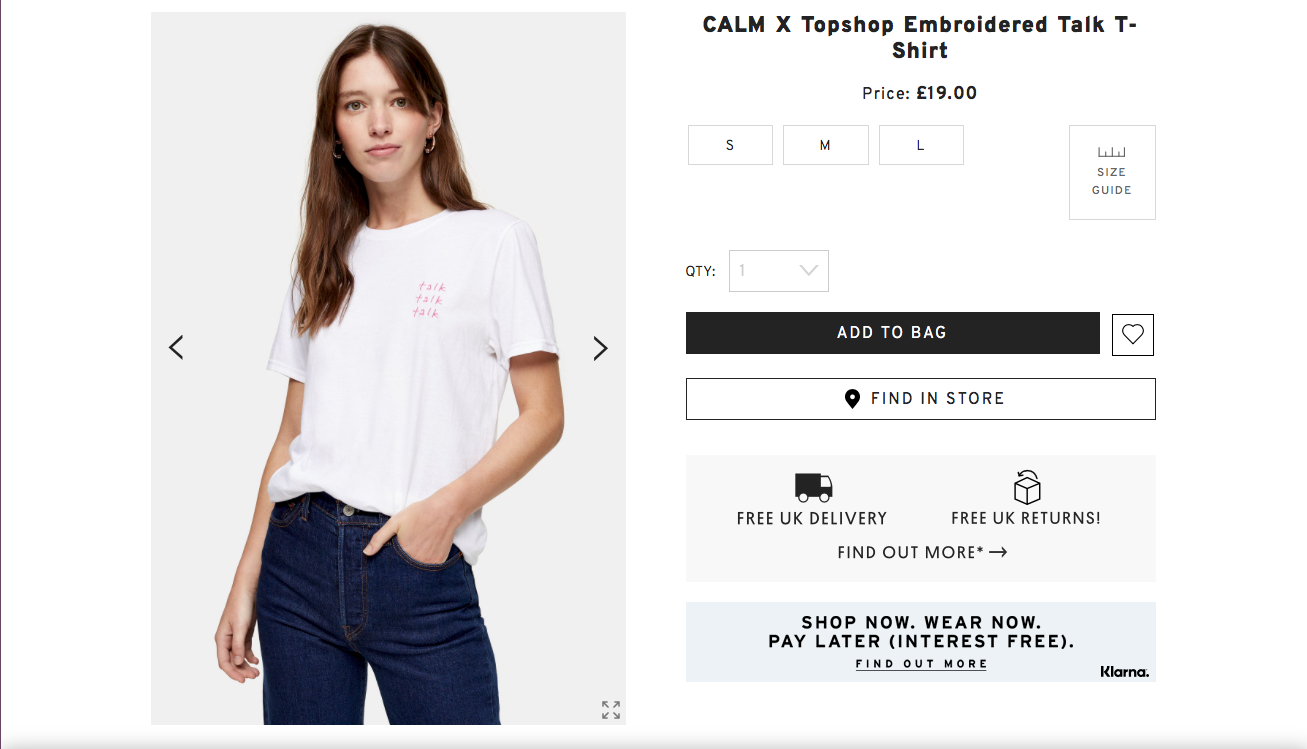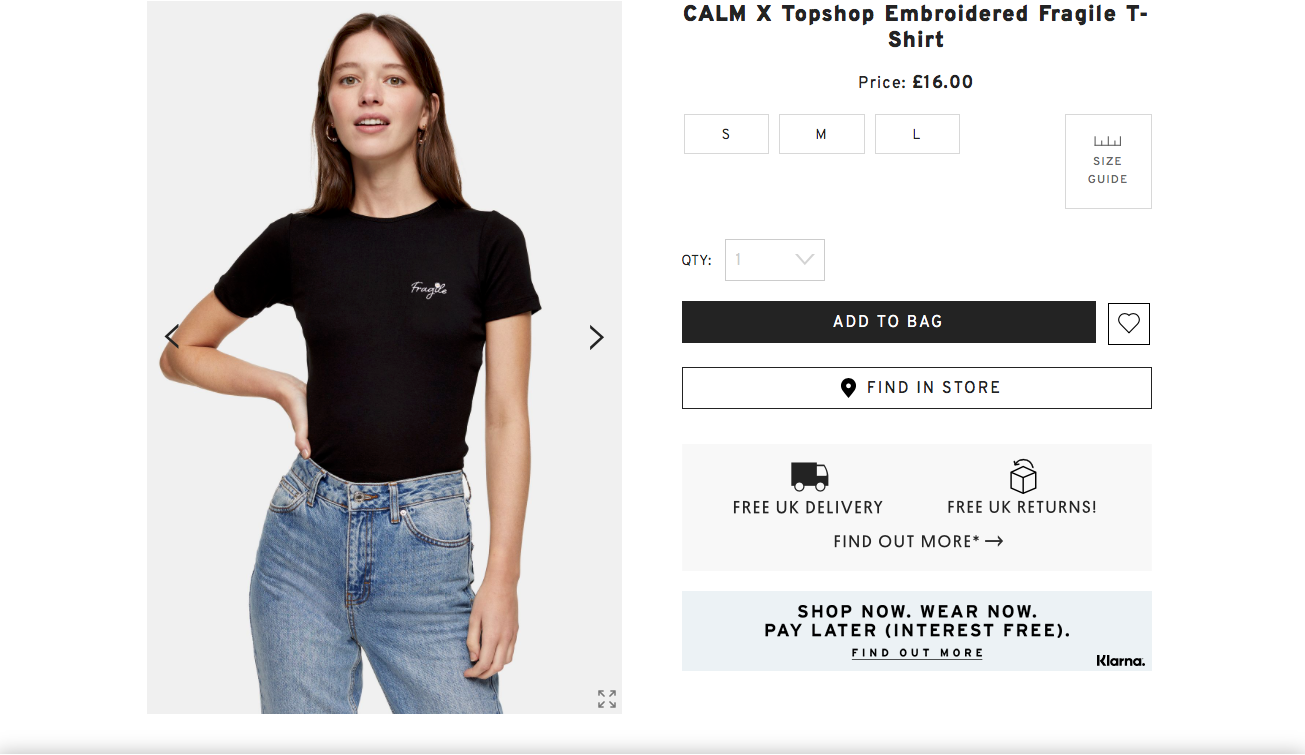 Talk Talk Talk T-shirt and fragile T-shirt| Available for £19 (white) & £16 (black) at Topshop
Part of the CALM x Topshop collection, this short sleeve fitted t-shirt needs to be in your wardrobe, detailed with an embroidery flower 'fragile' motif and woven patch. As part of the movement of mental health awareness month the subject is transitioning into the fashion industry and is taking over the high street to encourage people to seek any help that they may need. Perfect for your everyday wear and is an essential item you need in your life.
To shop the full collection click here. 
If you want to seek further advice and information head over to https://www.thecalmzone.net or contact them on 0800 58 58 58.  What are you waiting for? Treat yourself to the clothing and £5 from every garment sold go to fund CALMs life-saving suicide prevention helpline.
What are your top tips to maintaining a healthy mindset? Tweet us @Fashion_North and let us know.