We are used to seeing Doctor Who regenerating into men in long coats, sand shoes and bow ties. But the first female Time Lord was rocking an altogether more sexy look this week.
Jodie Whittaker, 35, who will take over the role on Christmas Day, attended the BFI London Film Festival for Journeyman proving that The Doctor can in fact look fabulous as she stepped out in this plunging colour block dress.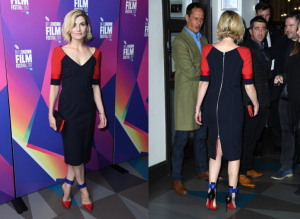 She paired the body-hugging dress, complete with a neck to knee zip at the back, with a pair of towering blue and red strap heels and a clutch bag.
We can't wait to see Jodie transform into the most stylish time traveller yet – at least the Tardis is big enough for a walk-in wardrobe!