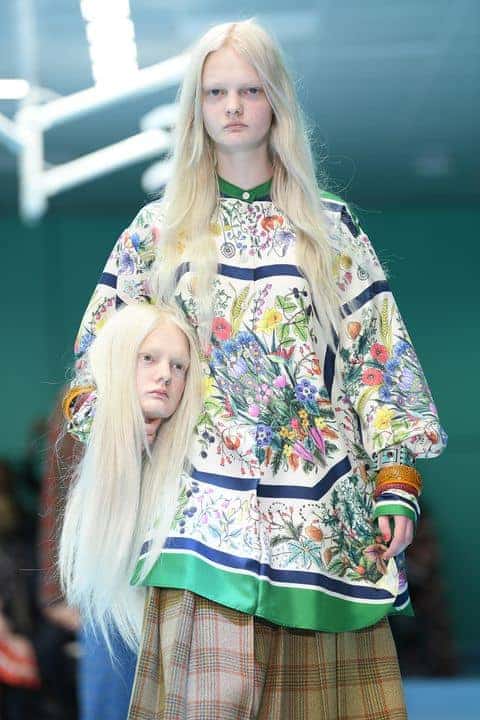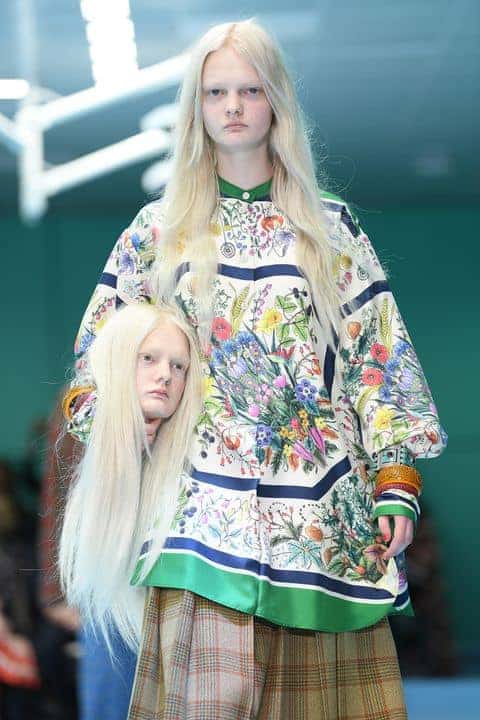 Severed heads, demonic horns, third eyes, balaclavas and dragons — nope, this isn't the start of some supernatural horror movie, it's none other than the Gucci Autumn/Winter Men's and Women's 18 collection.
"The hybrid is metaphorically praised as a figure that can overcome the dualism and dichotomy of identity" — a quote from the Cyborg Manifesto by feminist Donna J. Haraway — inspires this season's latest collection from Alessandro Michele, the creative director of Gucci, and features bomb clock invites, quarantine medical bags and models holding their own severed heads down the catwalk.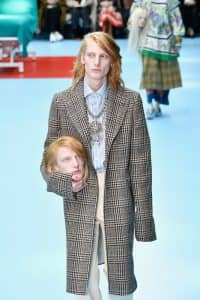 Set in a pristine operating theatre, with white chairs reminiscent of a doctor's waiting room, the concept is said to reflect the work of the designer — the act of cutting, splicing and reconstructing materials and fabrics to create a new personality and identity with them.
Never one to follow the crowd, the catwalk also saw snakes and baby dragons replace handbags — a nod to Asian architecture in the form of headwear — and a hint of Sega in the chunky sneakers criss-crossed with crystals.
One of the stand out pieces from the show is an ivory tulle zipped cape, layered over a jacquard silk dress with pleated details, finished with a Gucci name badge.
While the glasses worn by the models are a bit too Napoleon Dynamite with Frida Kahlo eyebrows, and the headscarves the men are wearing would be more at home on their grandmother popping to the shops, there's no denying the beauty of the floral patterns and multitude of diamonds and detail everywhere.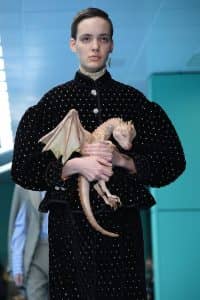 Gucci don't do half measures. 90s looks on one catwalk and they've gone for nearly every pattern going — dogtooth, tartan, pinstripe, feathers, glitter, check, sequins, classic shoujo manga on sweaters, you name it, it's there.
Combining the mythological with the downright delirious and wacky, Gucci's RTW AW18 collection is a gothic fantasist's dream come true, and has everyone watching it wanting a head of their own to flaunt around the high street. (Only me? Okay.)