Micheala tells us how she went from a MAC make-up artist to becoming her own boss.
Six years ago, 35-year-old Micheala Robinson of Winlaton, known as Kayla, became a make-up artist. You could say, she fell into her career by accident.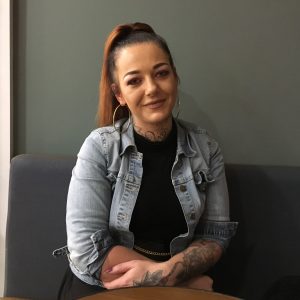 At the age of 23, Kayla had her beautiful daughter Tia. When Tia was small, Kayla decided to go to college to complete a beauty therapy course as she wanted to "better the lifestyle" for them both.
After her course, she described herself as a "fragrance girl" as she worked on a perfume counter in Debenhams in Newcastle for a few years. From that, she was spotted by a skincare company and began to work with them and progressed to be a manager, although she expressed a huge dislike towards it. Kayla said: "Hated it, absolutely hated it. I used to cry on the counter I just felt like with skincare a lot of the companies want you quite stripped back, they don't want you to express individuality."
At the time, her friend was working for Calvin Klein cosmetics that relaunched in the UK and although she had a high salary she just wasn't happy. She took a fall in wages to join her friend in the Calvin Klein cosmetics team. She decided just to give it a go, she explains how she didn't know a thing about make-up and didn't wear make-up herself until she was 25-years-old.
The Calvin Klein brand trained her to become a make-up artist, and she fell in love with the industry: "I absolutely loved it, from my first week I knew I'd made the right decision. I literally went from working on a skincare counter from being very plain looking, all suited and booted and then I rocked onto Calvin Klein cosmetics and it was like leather pants, wild coloured hair. I think I dyed my hair purple within the three days, the piercings I had! It was just – I could express myself more working for make-up than I could skincare."
After becoming an established make-up artist, she worked for MAC Cosmetics and the experience was like no other. She explains that it's not your standard make-up artistry:
"The men and the girls on that counter, the artists they have working for them are phenomenal, they're just nothing like I've ever seen before." She found it really daunting to begin with working for MAC as she still had little confidence in her make-up skills and doubting herself countless times:
"I had in my head that I can't do it, I can't do make-up and I can't do it", says Kayla. It was the support network around her that really helped motivate her and believe that she can do it. She speaks so highly of all the girls she worked with at MAC, she can't praise them enough for what they've done for her and she's made friends for life.
After working at MAC for three years Kayla explains that she had to leave MAC due to family reasons. Kayla has always worked full time from Tia being one and she felt that Tia couldn't remember her being there for her when she was little: "I couldn't physically be there for my child working at MAC and running my own business because I was doing both." It wasn't anything personal against MAC she just needed to leave so it would suit her family life better and she admits that leaving MAC has been the hardest decision of her career.
For a year, Kayla has been working and running her own business, she travels to client's homes as well as working in a salon called J & E Hair in Newcastle which is owned by her cousin and friend. She loves the atmosphere while working in the salon as there's so much going on and everyone just has a chat and a laugh with each other:
"I'll admit I'm not the strongest make-up artist going, however the way I am with my clients – I love the clients, I do – I absolutely love being around them", says Kayla.

Kayla has dipped into the editorial make-up with the North-East Times, through her friend Josephine, a girl she used to work with at MAC, asked Kayla if she wanted to join her on a fashion shoot as she knew that Kayla wanted to get into the editorial side. There was Kayla, Josephine and Lucy from MAC that went to the shoot. She said: "It was just great fun being on set and working with these absolute stunning models, it was really really good." She recently did another photoshoot for a bridal shop in Newcastle a few months ago that was shot in Newcastle Cathedral, it is yet to be published, but she explains that there were two fantastic photographers and models and the images that were produced were stunning.

"Make-up is just so big now, it's huge", says Kayla. Make-up trends change all the time and the 35-year-old is all for individuality in make-up, so she wouldn't like to see any current make-up trends vanish because "they help a person express who they are, what's for me isn't necessarily for someone else". Although she is an avid fan of powder contouring: "it literally takes five pounds off my face every morning! So, for me I hope contouring stays around forever."
The make-up artist says: "I don't believe in all of the banana powders, I would never buy it or use it. I think it starts to go a little bit OTT when you use so many products on your skin – I just don't believe in all of that, it's not for me."
MAC, Nars and Illamasqua are her favourite high-end brands and although she has many favourite products from MAC, the soft and gentle highlighter is her ultimate favourite as there aren't any other highlighters quite like it. For drugstore brands, NYX is a firm favourite along with Primark: "You can get eyeshadows for 60 pence and the pigmentation is unreal! It's crazy, they're better than Morphe palettes and some of the MAC shadows I've used". Kayla explains that if you look around, you can find some great dupes, however with skin she would always recommend going with a high-end brand.
Kayla says that she simply can't live without mascara as it really sets the face, if you don't have mascara on, your eyes can look lifeless and dull. So, Kayla finds herself repurchasing MAC In Extreme Dimension Lash Mascara again and again.
Kayla has recently got a tattoo going around her neck that reads "imperfectly perfect". She doesn't believe in perfection and that it's good to be different. She lives by the idea of positive thinking and you just need to keep going and have confidence in yourself. With it only being a year since becoming self-employed, Kayla set a real challenge for herself to have the confidence to run her own business. She truly believes that she's finally got the balance right between work and home life and feels genuinely happy and stress free for the first time in years.