Fashion lovers in the North East have been showing their charitable side. But, what have they done to help others? Fashion North Investigate.
Northern fashion followers have been leading the way in terms of charitable deeds across the UK in recent years and their help has been evident across both smaller and well-known non-profit organisations.
According to the UK Giving 2018 research conducted by the Charities Aid Foundation's (CAF) surveying 12,000 people, the amount of money donated to charity increased to £10.3 billion in 2017 but this is based on more money given by fewer people. The amount of people who either donated or sponsored in order to give to charities in 2017 decreased from results found in 2016.
However, this is not true for northern people whose individual charitable giving on a whole has grown to be above average in the last year.
Ben Russell, Director of Communications at Charities Aid Foundation said: "Britain is one of the most generous countries in the world and it's wonderful how people all across the country go out of their way to help others. We regularly finish in the top 10 of CAF's annual World Giving Index, which measures people's generosity in countries all over the world. We know that people in the North East are among the most generous in Britain. In 2017, 43 per cent donated money or sponsored someone in the past four weeks, well above the UK average of 37 per cent. It's fantastic that people across the North East have such a strong commitment to the causes that they care about."
Charity and vintage shops have been found to be the most used medium for getting second-hand clothes in research produced by Statista despite the popularity of apps such as Depop and Vinted for buying and selling unwanted clothing.
Charities are doing more and more to create a stronger link between fashion and charitability. They need the public to be interested in cooperating with them but for both parties to benefit from it too. Charities in the North East have made changes in order to try and encourage more giving.  
Smart Works, an award-winning UK charity, opened a service in Newcastle in April 2018. They offer dressing advice and an interview preparation service for local women to help them feel confident in their job interviews. Since they opened, they have supported over 150 women from across the North East and 62 per cent have got a job within one month of using the service.
In October this year, they set up a charity designer sale to raise money for their charity and they are continuing to come up with new ways to encourage giving in the North East alongside their networking events.
Michelle Robson, the manager at Smart Works, Newcastle, said: "I've seen an influx of support whether that's people donating their clothes to us so that we can give these to clients, donating their time so they can volunteer and deliver our service either as stylists or as coaches or also donating their time and money I think is the key thing there."
Watch the video below to learn more about the charity from an interview with Michelle at the recent event.
Actes Trust, a Middlesbrough-based charity helps support people across the North East with help in employment, money management, training, and life coaching. One of their new projects is their clothing bank 'Trending.' Similarly to Smart Works, this provides clothing for locals to wear in interviews and workwear but also helps people in crisis (homelessness or domestic violence). As of November 8, trending has supported over 867 people who have received 4,796 items of clothing.
Sandra Phillips, Chief Executive of Actes, said: "Since the project's inception in June 2016, we have maintained our stock by appealing to the public through social media, PR activity, through business networking groups, our own staff team and by engaging our partners in the VCSE sector, and this approach has proved successful with many people donating on a regular basis."
The donations to Actes has helped many local people feel more confident in interviews and get through hard financial times.
A female client of Trending who needed smart clothes for attending job interviews said: "Thanks to Trending Middlesbrough, I was able to have clothes that are suitable for job interviews. This helped me to feel more confident when attending the interviews and it meant I didn't have to worry about spending money I don't have."
Another beneficiary who has received clothing from Trending for herself and her family to ease financial pressure said: "Trending staff are super friendly and helpful and have done so much to help me and my family. Having twins is difficult but with the help we've received it has really eased the pressure."
It is not just the smaller charities who have seen an improvement in charity giving. The British Heart Foundation changed the way that they get their stock fundamentally around a year ago. Some charities put a bag through your door and set a collection date but they chose to stop doing that. Therefore, they had to find new ways of getting donations to their stores.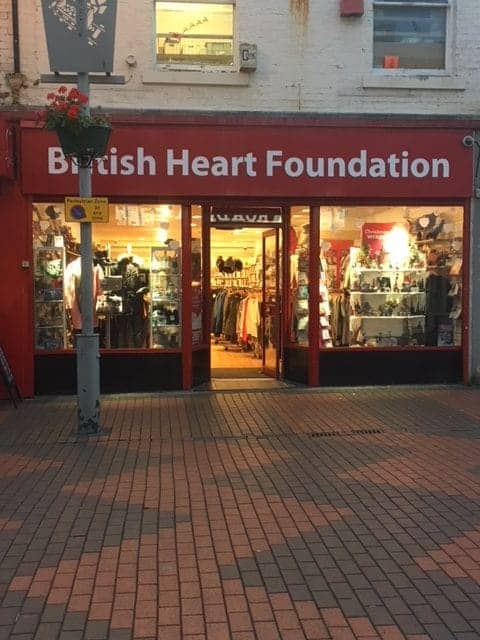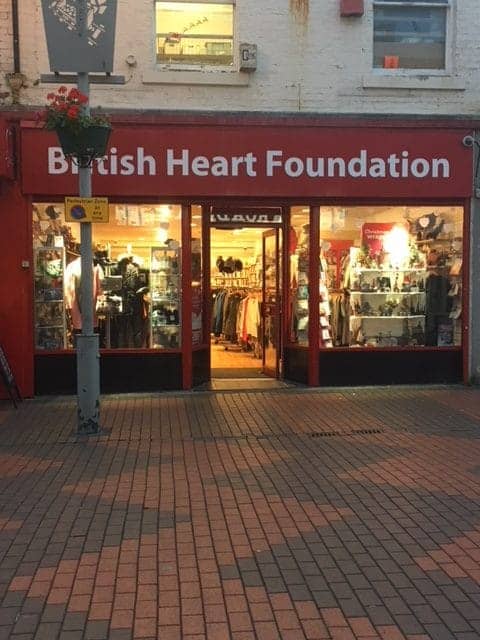 British Heart Foundation store on Sunderland High Street
Source: Faye Dixon
Jane Flannery, the regional director at British Heart Foundation, said: "Initially we saw a dip in our donations, but actually if I look at it now, the increase on donations in the previous year has been quite strong and that would be true of the North East as well."
So, it is clear that the North East has improved in charitability in terms of fashion but it could be said that women are more likely to support charities than men. In fact, this was a key finding in the UK Giving 2018 report.
Jane added: "When it comes to people coming in over the door I would say we see as many women as men. A lot of times it is men that drive up and off-load the car to us, so we probably see as much from men as we do from women. When we call to a house to collect, then you don't know because you're getting a mixture of the household products. So you get as much men's, kids', women's – it's a real mix of everybody in the household. It might be driven more by women but I wouldn't have any evidence of that."
However, it can be difficult to work out exactly where donations are coming from, especially when it comes to larger charities.
Sandra Phillips, Chief Executive of Actes, said: We have certainly seen more of a leaning towards donations from women, which is possibly due to women tending to update their wardrobes on a more regular basis. We would certainly welcome additional donations of men's, women's and children's clothing and footwear."
You can get involved with Smart Works here and donate to British Heart Foundation here.
You can donate to Trending by calling 01642 232872.