Love Island contestant Olivia Attwood divided the fashion crowd with this Zuhair Murad white lace jumpsuit at the ITV gala on Thursday night.
The flared lace jumpsuit revealed 26-year-old Olivia's  cream underwear and left little to the imagination.  Predictably, the Daily Star said "Olivia Attwood puts on a drool-worthy display in 100% see-through jumpsuit".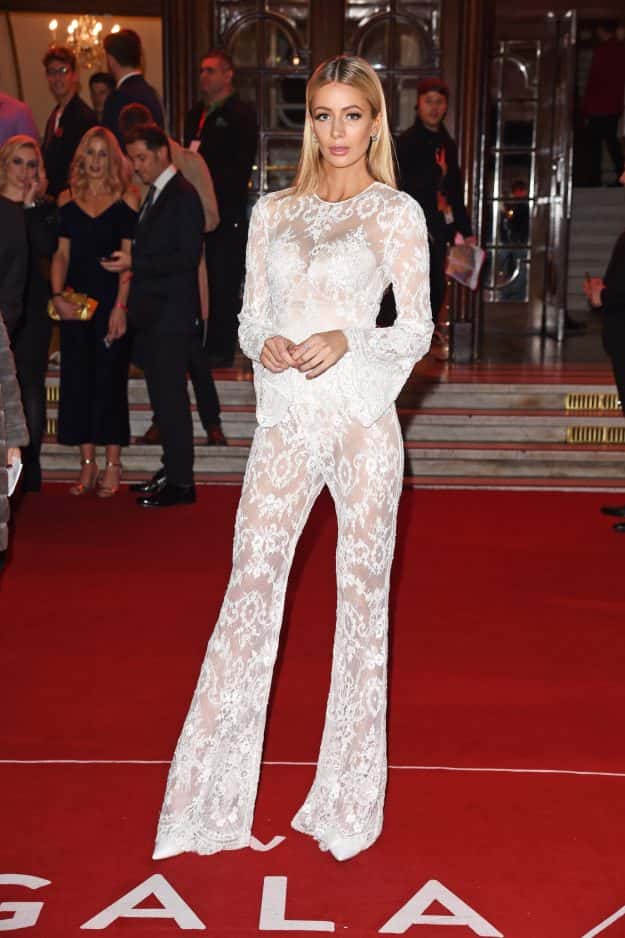 Other comments online from fans were also positive. One Twitter fan account @olivia-att-fan said: "Liv looks so classy tonight, I am in LOVE with this look".
Olivia Buckland (Love Island contestant 2016) also showed support for her namesake over social media with this tweet: "Sorry but I have to just draw the attention to how FLAMESSSSS @oliviajade-att looks tonight at ITV Gala. Go you absolute HUN".
Jennifer Lopez previously wore a similar lace jumpsuit in 2015, also by Zuhair Murad. However the one in question is the 'Dona' jumpsuit from the SS18 Bridal collection. Perhaps Olivia could keep this one stowed away for her own big day?
However I feel as though Olivia resembles a pair of your gran's net curtains! Not the greatest look. The all in one is just too much lace going on. As for the underwear being visible, it's a risky element- especially around the crotch area.
Net curtains aside, I must applaud Olivia for the confidence to walk down the red carpet in such a daring number. Her figure looks amazing also, and that slicked back hairstyle is ever so elegant.
What do you think of the jumpsuit? Tweet @Fashion_North