Spring is here, and summer is approaching. It's definitely time to brighten up our wardrobes and there's a new trend on the scene that will allow us to do just that.
Opal Essence is a mix of pink, blue and yellow tones to mimic the beautiful shimmering effect of an opal stone. It is perfect for Spring-Summer as the pastel colours emulate springtime and the flowers that bloom. It encapsulates femininity but it can be worn by all genders due to its contemporary look. Because this is a colour arrangement, this trend can be created with make-up looks, nail art, hair colour and fashion. It is not limited to one specific style and can be manipulated in many ways to suit the personal style of the wearer.
Opal Essence was first presented to the world on the Spring-Summer 2020 catwalk shows. Designers such as Chanel, Dior and Jacquemus showcased their own versions of this colour compromise in a variety of styles from oversized blazers to shining two-pieces. It is an inspiring style that can be used to its full extent or used in a minimal way.
Then, as trends always do, Opal Essence made its way to celebrities. Make-up artist Jo Baker gave actress Lucy Boynton – who is best known for her role as Mary Austin in Queen biopic Bohemian Rhapsody – an Opal Essence eye look using pastel and primary colours together to create the stunning look that is appropriate for day and night events.
Opal Essence also arrived at the catwalk in the form of a satin gown with a large bow detail, designed by Central Saint Martins student Florence Grellier and worn by '2002' pop singer Anne Marie who also had the hair colour to match. Movies such as Birds of Prey (2020) which stars Margot Robbie as Harley Quinn, already a huge style icon, helped to further popularise this trend as the vivid shades were incorporated into the majority of the costumes, expanding this trend into futuristic looks.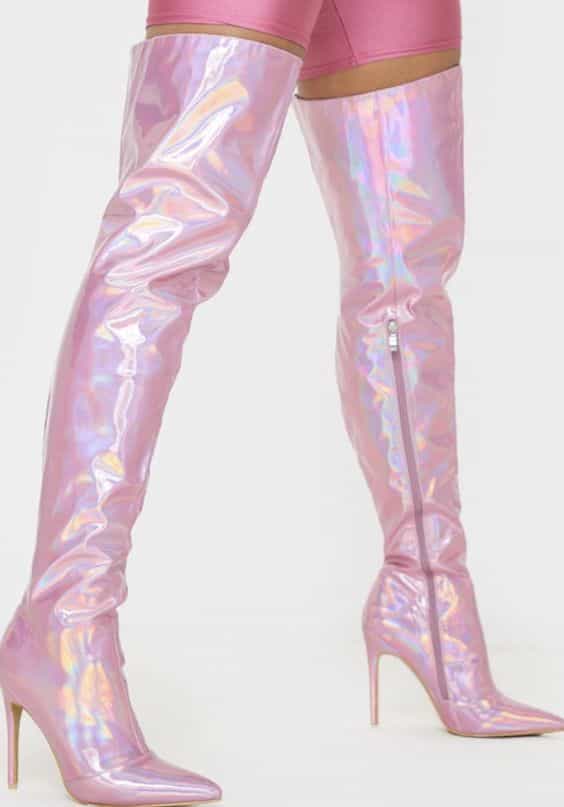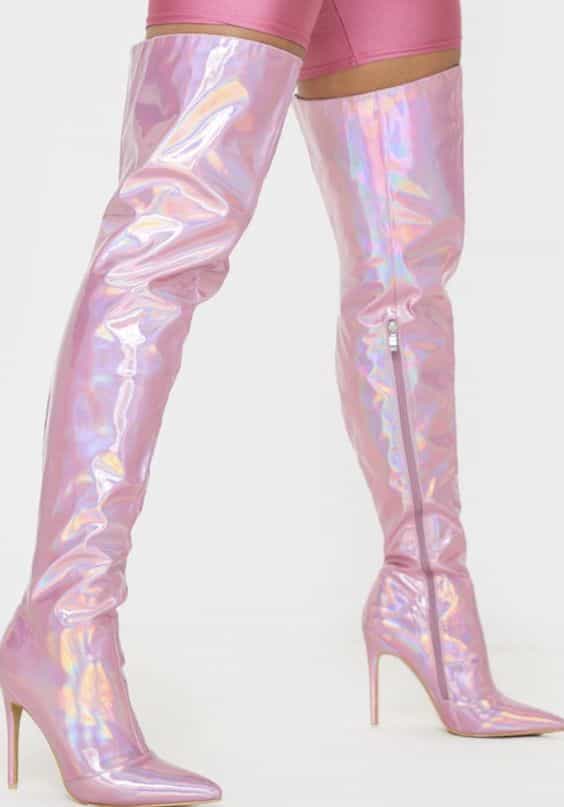 As always, the high street followed suit, releasing make-up and clothing that could be used to re-create this new trend on any one of us. Revolution have released a variety of bright coloured eye shadow palettes which you can buy in Superdrug stores or from their website. Pretty Little Thing released holographic boots using the Opal Essence colours, which are available now on their website.
It is now very easy to imitate this look, shown first on catwalks and then on celebrities by using these affordable products. It is an incredibly bold and versatile look that you can absolutely make your own and express your confidence. This look will certainly pick you out in the spotlight. Now is the time to come away from the neutral tones and stand out from the crowd in Opal Essence!
You can view my Opal Essence moodboard on Pinterest.