Miu Miu has always been known for its wonderfully quirky, cute vibe and this AW17 was no exception. Taking cute to the next level with a fabulous faux fur extravaganza, including the set; which included a deep lilac faux fur staircase and huge green fur gloves which undeniably resembled Sully from Monsters Inc. It truly was a Miu Miu paradise full of colour, heavy print and a variety of texture. Like the amazing sequinned dresses with shoulder pads, in the colours of the season Dusty Pink and Pantone Green.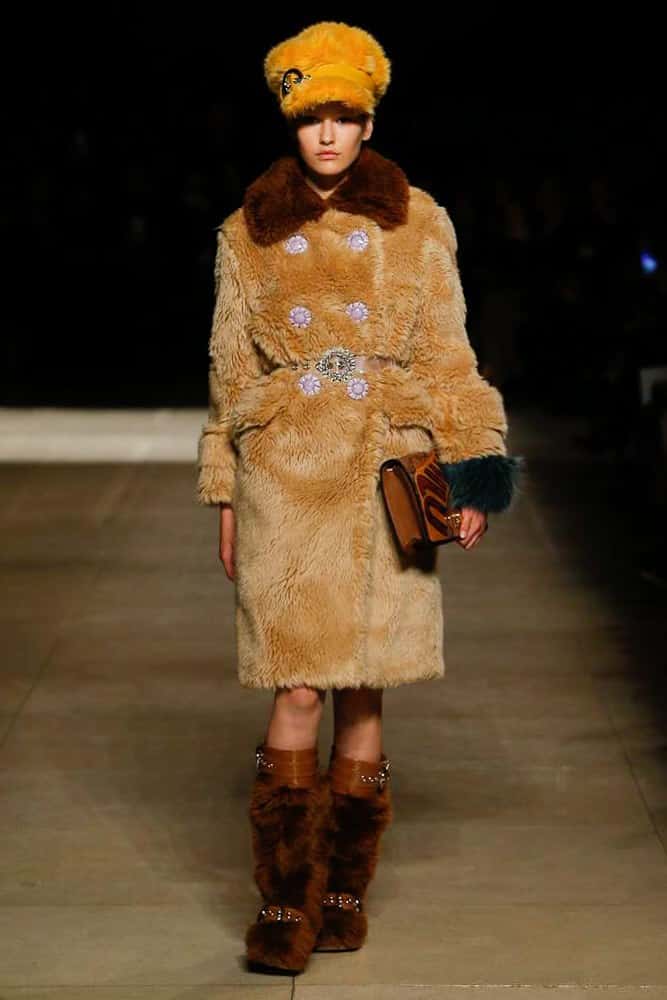 The whole show put out a high end thrift shop feel right down to the techno jazz music which was a perfect match.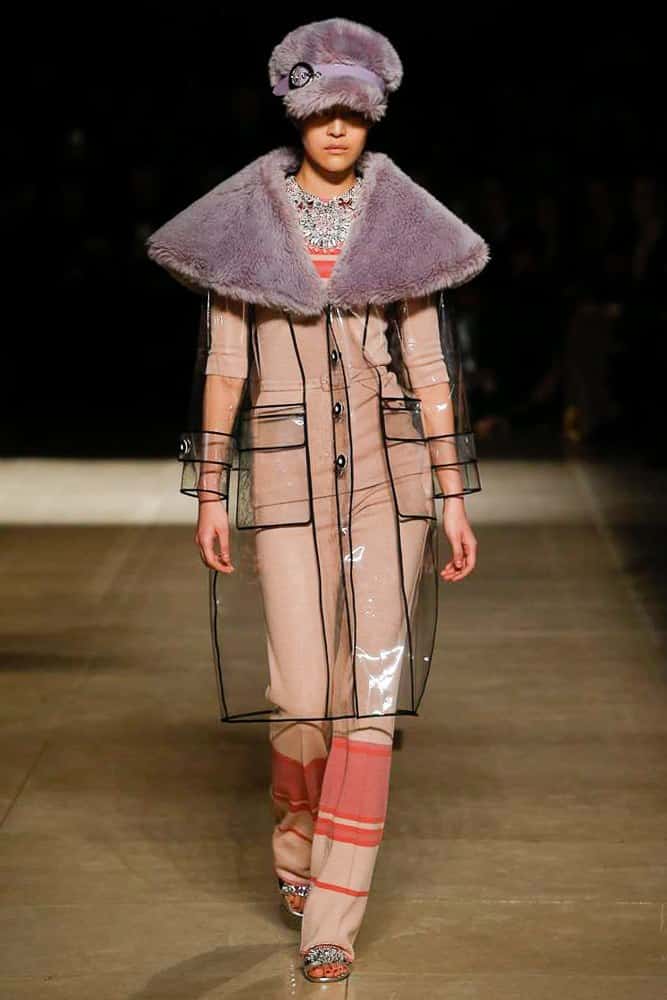 The silhouettes also gave off a retro inspired theme round neck, flared co-ordinates, pleated skirt and a classic halter neck. It was all very vintage right down to the accessories which included Miu Miu's signature winged sunglasses and ultra 60's beanie hats in a range of colours including Burnt Orange and Cranberry.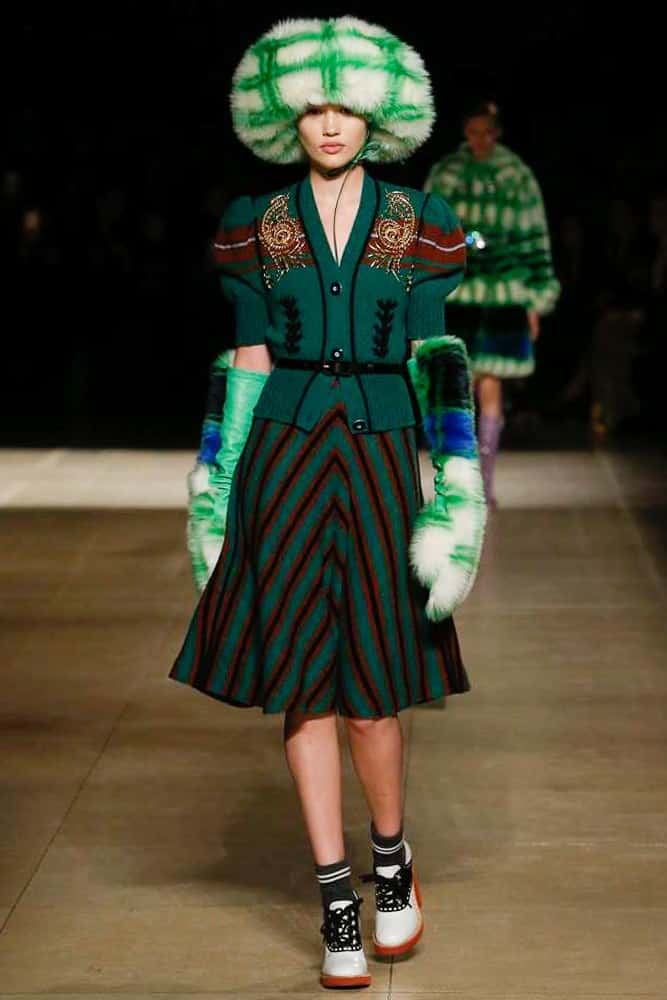 AW is coats – always. The show did not disappoint. Totally up there with "Coat Goals" all elegantly belted in soft fluffy material but punked up with large zebra and gingham patterns. Alternatively a more classic option were the 'singing in the rain' style, clear anoraks with fur shawls. Who knew it was possible to look adorable yet sophisticated.
The assortment of crazy patterns paired with skyscraper block heels and fur moon boots, held an air of innocence adopting the image of young girls dressing up in their mothers clothes- this theme mirrored also by the models lack of distinctive make up and the numerous pairs of chunky socks worn with lace ups sported by the models. Which included Kendall Jenner.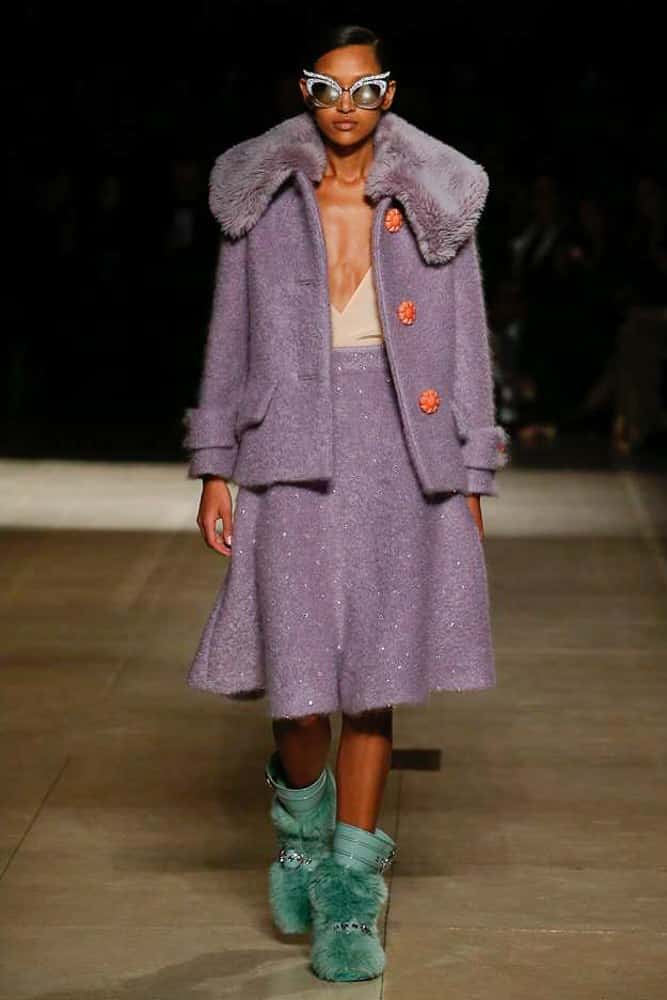 The Pyjama trend made an appearance too, but on another level in the form of loose, floral, silk trousers and silk nightgowns worn under heaviest printed jackets with fur collars. It had hints of a Serena Vander-Woodsen from Gossip Girl kind of combo.
As always the handbags were to die for and were just as eye-catching as the outfits  – Miu Miu has definitely proved that vivid colour and over the top pattern is not just a summer fling, it's here for the long term.