Whether you are going out for a romantic meal with your partner, having a day packed with activities or having a home-cooked meal in the comfort of your home, we at Fashion North have the ultimate guide to looking your best on February 14th, no matter what plans you have.
Finding the right outfit to stun the crowd is crucial. Everyone tends to stay close to home with a basic colour pallet. However, it's always nice to treat yourself with going out of your comfort zone and impressing the person you love.
The most popular colours that tend to stand out in shops this time of year are pinks and reds, depending on which colour matches to you and your personality, it's best to incorporate undertones of white to soften the look and make your outfit more elegant.
River Island is best for making a block colour dress look classic and effortless. Within their Limited Edition range they have a light pink frill hem bandeau bodycon dress, which complements your figure and will show off your fabulous curves.
As the dress is one solid colour, it's easier to tie in other colours into your outfit with accessories, having that slight pop of colour. Walking into the restaurant, all eyes turning your way, your partner will be lucky to be with a woman wearing a dress like that, and at only £70, you can spend the day to treat yourself!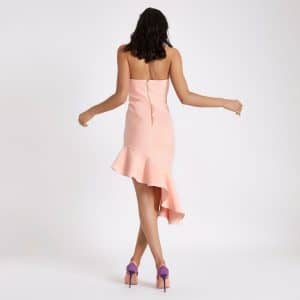 If you aren't the type of couple to go for candlelit dinners and you're more of a lunch and activity pair, then we have the outfit for you! You want something that you'll feel comfortable in, and something that isn't too 'out there' since it's still daytime. This Little Mistress Midi Tulle Prom Skirt from ASOS is perfect for a more relaxed date.
It's light and pretty and will go with majority of shirts/tops you choose to pair it. If you want to stay near the traditional colours of pink and red, then this outfit does the job of showing off how incorporating a lighter shade of pink makes it look classic and feminine. Not only is it perfect for a fun filled date, but you could also dress it up if you choose to go out later in the evening and only costing just £42, you can't really go wrong!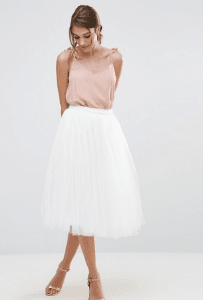 If you don't want to spend a fortune on going out and dressing up, and decide that this year you'd rather stay home, put on a movie and cuddle up with your loved one, then I have two perfect outfits for you! You might be the person that would make a small amount of effort in staying with the valentine's day themed colours, and if you are, then throwing on a lovely pink sweater is the perfect choice for you. Missguided has a fun Love Jumper with Tassels selling for a reasonable £25. You can't go wrong with a comfy, playful sweater that expresses exactly how you are feeling, now can you!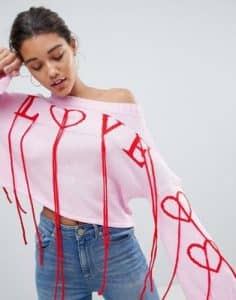 Now if you really want to go for complete comfort in the space of your humble home, then loungewear is your calling. Just because it's loungewear doesn't mean you can't wear something pretty and better yet, PINK! If you want something with splashes of colour or anything with hearts plastered all over your pants then ASOS is the place for you. Ranging from sexy night slips to sweat and jogger sets, you can't go wrong with having your perfect night ending with comfy, warm clothes; there's nothing better.
Words by Emily Berry