She's worth £77.3 million, £15.5 million more than supermodel Kate Moss, has 3.8 million Instagram followers, and is our latest style crush.
But who is Fan Bingbing, spotted on the front row at Shanghai Fashion Week this week?
The Business of Fashion website says: "With her jet-black hair and doll-like features, Fan has also been widely admired by her fans and the fashion media for her red carpet and personal style, which wavers between avant-garde and classically sweet and elegant. She has also appeared on the cover of Vogue China, shot by photographer Patrick Demarchelier."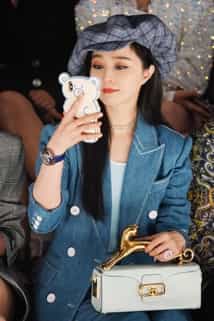 Fan, 39, was born into a creative and expressive family, with a pop singer father and actress/dancer mother.
She joined the Shanghai Theatre Academy and then went onto being the supporting role of Jin Suo in the blockbuster hit "Princess Pearl" and its sequel, garnering her critical praise for her role. 
After turning heads at the 2010 Cannes Film Festival, Fan Bingbing gained a huge following and became the face of Louis Vuitton China in 2013.
Fan has only just recently returned to the public eye after a tax evasion scandal in 2018, but has returned with $70 Million Streaming Series- "Win the World" (full story here)
On the second day of Shanghai's recent Fashion Week, Fan Bingbing was seen in this gorgeous, yet elegant blue oversized blazer and trouser combo, matched with an oversized tartan beret and a Lanvin box bag. And a cute teddy bear phone case too!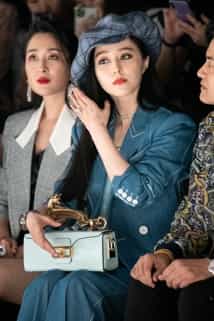 Are you crushing on Fan Bingbing? Let us know on Twitter! @Fashion_North