Stranger Things has returned for its second season and we are so excited.
Twitter has gone into meltdown with people desperately trying to binge-watch all nine episodes on the day of release.
There were some very distinctive 1980s looks last year among the leading ladies – especially worn by Barb.
We can't wait to see what Millie Bobby Brown, Natalia Dyer and new-comer Sadie Sink are wearing this time round.
Trends from the 80s returned with Stranger Things. At Fashion North, we will show you how you can get the look of your favourite stars…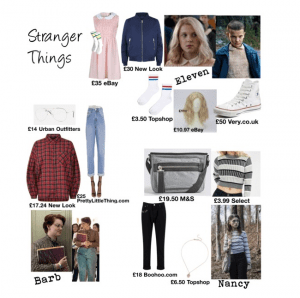 https://www.polyvore.com/cgi/set?id=230146793
Recreating these outfits would be perfect for Halloween Costumes this year. If you give it a go, send us your pictures on Twitter @Fashion_North.
If dressing-up isn't your style, maybe it would be in the upside down.
Check out Topshop's Stranger Things collection here.