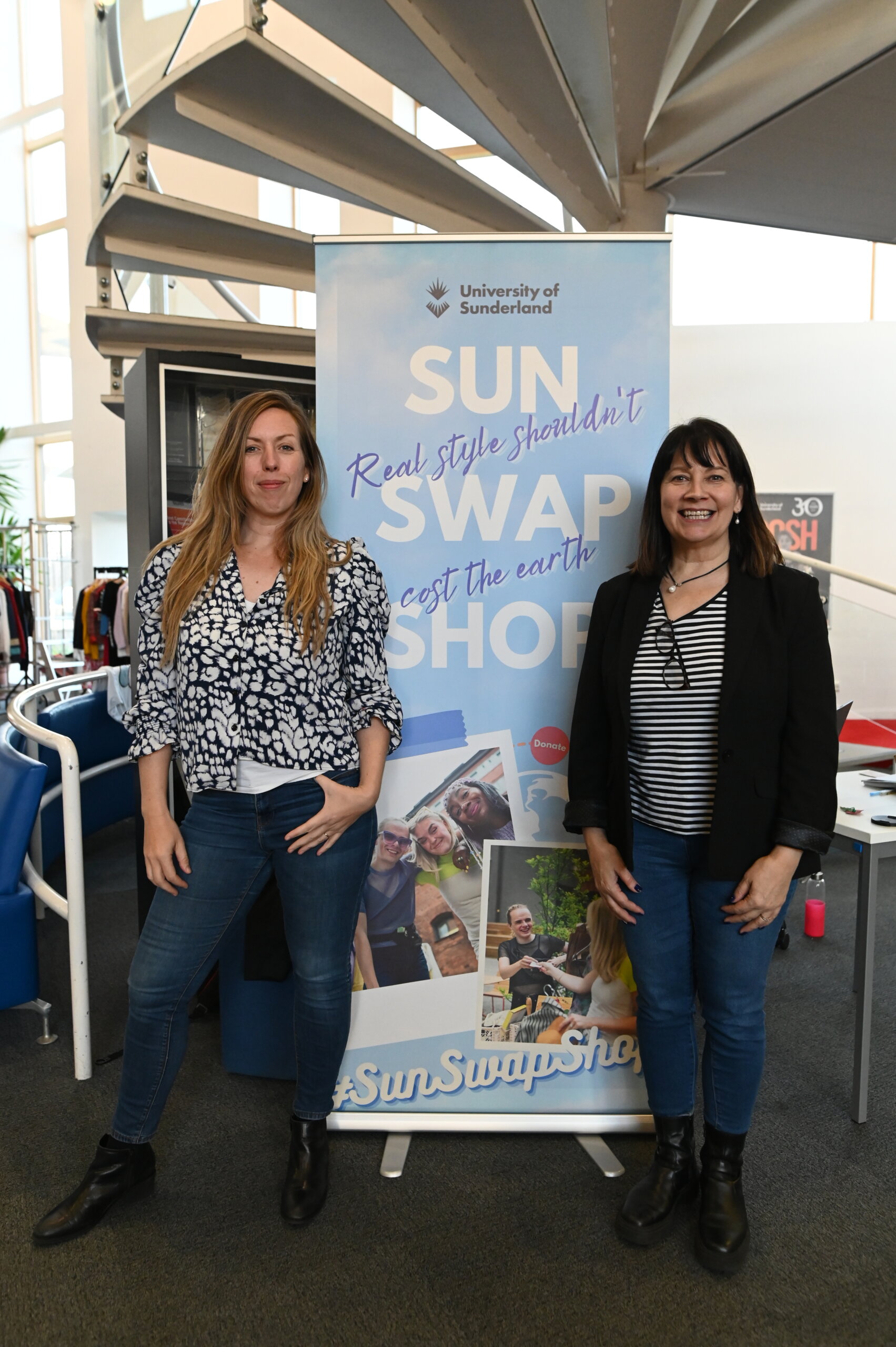 Liz Lamb, Programme Leader BA (Hons) Fashion Journalism (left) and Dr Barbara Sadler, Programme Leader BA (Hons) Film & Media (right) who organised Sun Swap Shop
The University of Sunderland has hosted its first 'Sun Swap Shop' in a bid to reduce the number of clothes ending up in landfill and to help students with the cost of living crisis.
Students in the Faculty of Creative Industries, based at St Peter's Campus, were invited to donate fashion items of any size, gender, or style, and exchange them for stylish choices brought in by other students.
The event is the brainchild of Dr Barbara Sadler, Programme Leader in Film and Media. She said: "We are so focused on consumption, and actually there is too much landfill. We waste too much money; it's more important now with the cost of living crisis, that we learn how to make the most of what we've got, and actually what we've finished with, might be absolute gold to someone else who is looking for that exact same thing that we have had use out of.
"I'm very, very aware of the fact that we are a throwaway society, and I don't really like that, I've never liked it. So last year at one of the conferences we were at talking about sustainability, the idea popped through from that. Then I saw that it had happened at other places, and I just thought it's perfect here because of  fashion journalism at the university and the interest in the environment and saving the planet generally."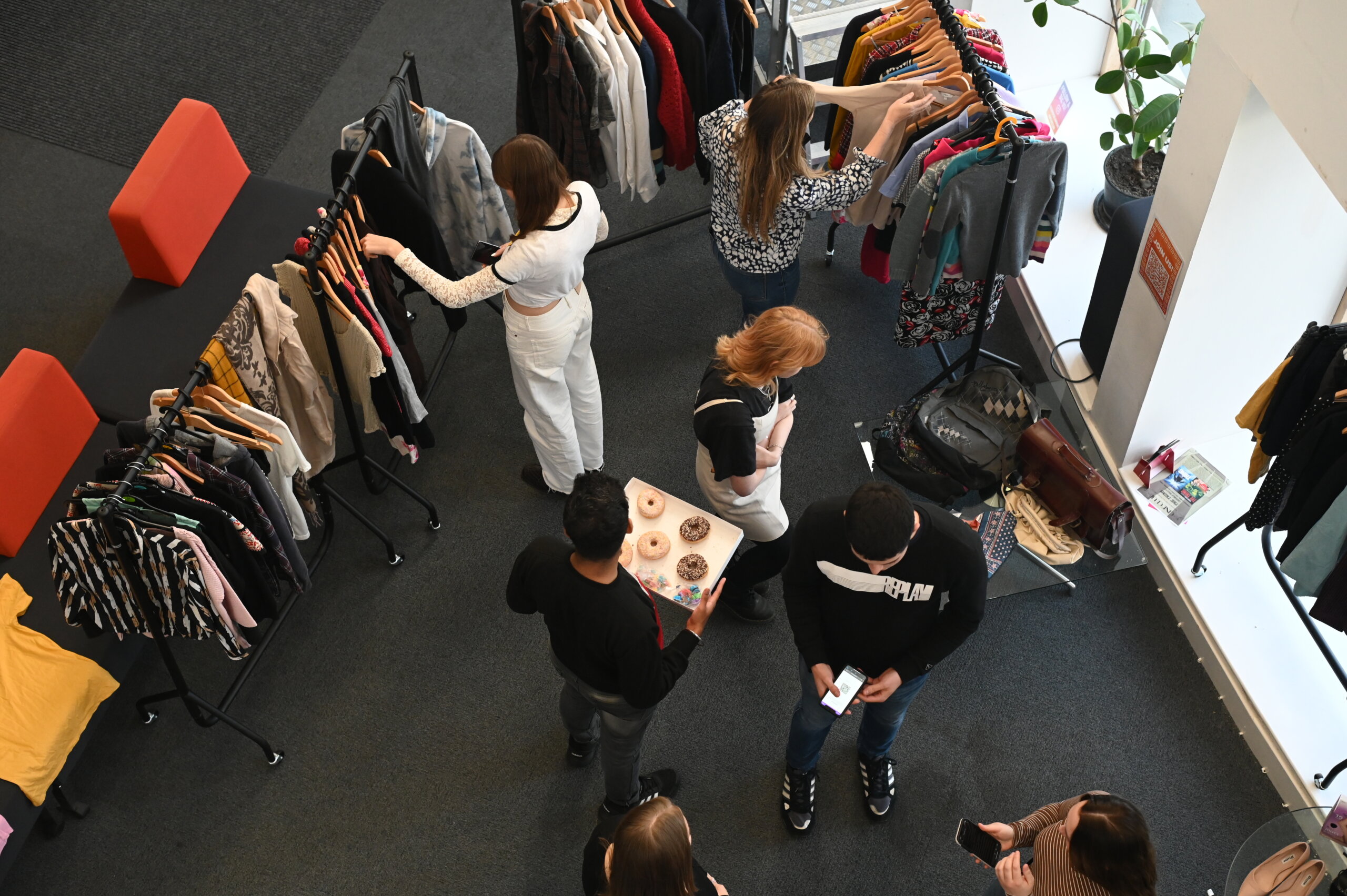 Today's event is hopefully the first of many, with plans to expand the swap shop, doing it numerous times a year with specific themes, such as clothes and accessories for party season and summer outfits.
Liz Lamb, Programme Leader in BA (Hons) Fashion Journalism, said: "When Barbara asked me to get involved, I jumped at the chance, and lots of the fashion students were keen to get involved.
"Not only is the initiative helping with sustainability, but fashion students were able to report on the event, cover it on our social media channels, style outfits, and help a good cause in the process. Students on the Film & Media programme also helped set up the event, took donations, and filmed and photographed the event. We are both delighted at how Sun Swap Shop turned out and already have plans to make the next one bigger and better."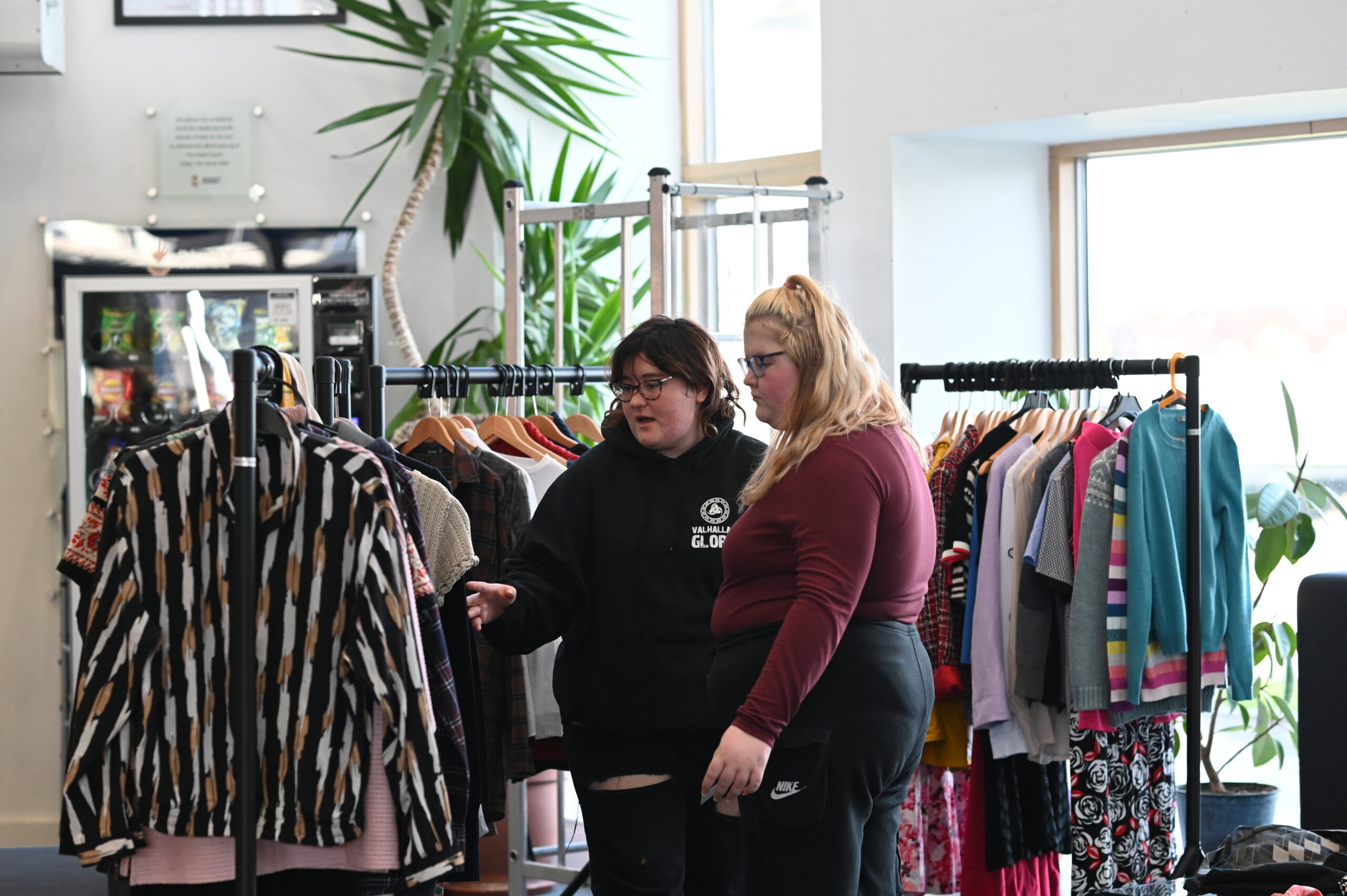 Here are the Fashion North team's top picks from today's Sun Swap Shop.
Holly Miller (Deputy Editor) – Black and white polka dot long-sleeved top from Urban Outfitters.
pic: Holly Miller
Beth Morrell (Agony Aunt) – White Hot Wheels jumper with detailing on front and back.
pic: Holly Miller
Bethany Jones (Beauty Editor) – Black faux leather skirt with zip detailing from Oasis.
pic: Holly Miller
The swap shop is a great way to spruce up your wardrobe, benefiting both you and the environment. So if you have any unwanted clothing or accessories that you would like to exchange for some pre-loved clothes, then keep an eye out on our social media for the next event.
The event was photographed by Film & Media student Khong Weng Chee, who runs his own business, Khongz Productions. Follow him on Instagram here . All photographs in this piece are by Khong, unless otherwise stated.
To see more coverage of the event, go to our Instagram or Tik Tok: @Fashion_North.