If Christmas isn't all about indulgence and extravagance, then you are probably doing it wrong. The festive season is almost synonymous with spoiling yourself, whether with alcohol, food, presents, time with loved ones or binge-watching Christmas films.
But this overindulgence can come at a price and, we don't mean a few extra inches on your waist or eating into your overdraft. The holidays can have a price on our planet and the environment around us, especially as it is the time of year when we are at a merriest and careless. With brands like Oscar De Le Renta revealing they no longer use fur (shoutout to Billie Eilish who gave them an ultimatum on the issue when they wanted to dress her for the Met Gala. Here at Fashion North, we have compiled a list of simple swaps you can make this festive season that will make your celebrations just a bit more climate-conscious without you or your bank account noticing.
In the spirit of Oscar De Le Renta, swap fur for faux or vintage, re-worked options. We are not imploring you to throw out any form of fur you already own but if you are buying a fur product for yourself or as a gift for someone else this Christmas, opt for faux fur instead. Or you can buy a vintage or re-worked version as this is also a sustainable option that reduces waste. Check out your local vintage and second-hand stores for these or resale websites such as Vestiaire Collective.
Elle recently announced that they will also be going fur-free, the first major fashion magazine to make such a claim. Controversially, swap Vogue for Elle, which not only has more sustainably-minded morals but arguably has a wider range of content and more undiscovered but talented stars gracing its pages.
When it comes to the month-long feast we indulge in for December, try swapping your usual supermarket for farmers markets and local greengrocers. The produce you will find at nearby independent stores, such as Thorburn fruit and Veg in Sunderland City Centre. Alternative stores in South Shields is a great, local, family-run business. Vegan stores might not be for everyone but you can still choose to support small businesses. Simply buying your produce local is often a cheaper alternative that offers a more unique range of products. Furthermore, these smaller stores use less packaging and, their products are typically farmed with more sustainable methods.
Furthermore, swapping small meat products for vegetarian or vegan options can also make a difference without those consuming is likely to notice. We understand most people (even some vegetarians) can't do their Christmas dinner without a turkey and, we aren't suggesting you do. However, smaller meat-based side dishes such as stuffing or the pigs in blankets can be made vegetarian and just as yummy. For an even more subtle swap, you could use plant-based milk and creams in recipes for Yorkshire puddings or drizzle over Christmas pudding.
Sparkly, colourful wrapping paper never fails to look beautiful under the tree, however these papers cannot be recycled and can create mountains of waste each festive season. If you aren't ready to give up the festive gift wrap, search out a recycled or locally produced version to replace it. But for those of us less attached to it, try wrapping your presents in parcel paper and using ribbon or twine to secure them. The paper can be recycled and, the ribbon and twine can be reused in a multitude of ways.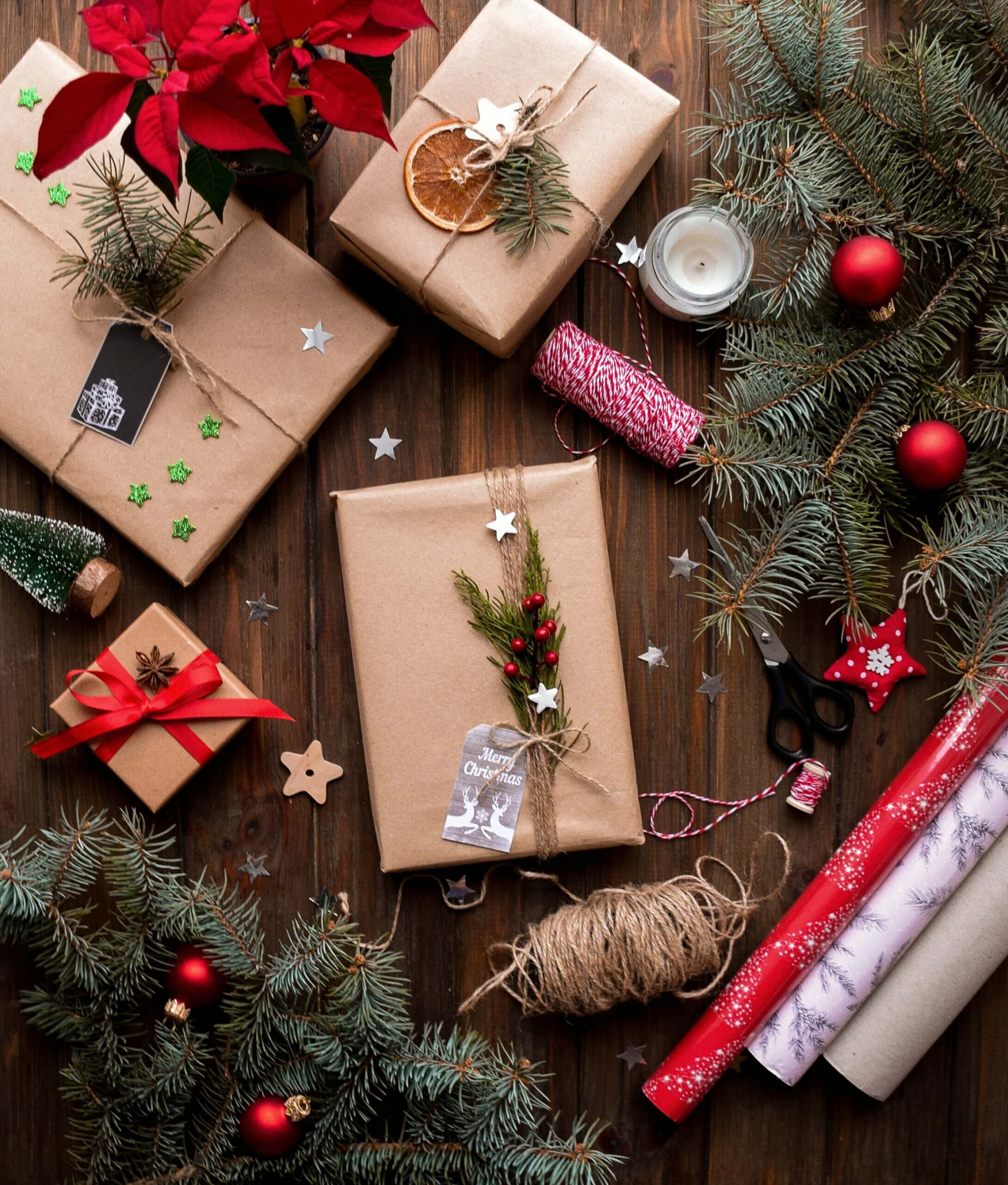 Image credit: Unsplash
Christmas wouldn't be Christmas without the decorations, however, many use electricity and lithium batteries which are thrown away when they have run out. Where you can, opt for candles (not in place of the tree lights) made from beeswax, like the ones sold by Northumberland Honey, or other sustainable products. Try to use rechargeable batteries instead of traditional ones and we recommend buying good quality decorations that will last many years, as opposed to being a one-season wonder.
Finally, it's no secret that the festive season means party season, which we admit we often rush out to buy dresses for in abundance and often not from the most sustainable stores. But Christmas parties are the perfect event to try renting outfits for or sharing with friends to boost the number of dresses at your disposal. The latter option requires a friend with a similar style and size to you but renting is just as accessible and can open up more options. Try websites such as Hire street or my Wardrobe HQ for more designer options.
Have any more sustainable tips or swaps? Tweet us @Fashion_North.