Picking an accessory can be a tough decision, and we can have too many choices to choose from. However, here at Fashion North, our new Fashion Journalism students have set themselves a challenge to create three different looks each, to show you how you can repurpose your old scarf. From tartan print, wool, and sheer scarves, their looks include tops, dresses, and layering pieces to make any outfit a statement. Why not try a new look and repurpose an old scarf into your new everyday look or to feature on a sophisticated night out with the girls.
Without further ado let the style challenge commence!
Kieran and Kate – First Look
For my first look, I collaborated with Kate, using both our scarves to create an asymmetrical mini-dress. I used my scarf as the base dress in a tube style to give it more coverage on the top half. We used Kates's scarf to create a one-shoulder strap. The material was transparent therefore it would be perfect to pair with a bodysuit or two-piece underneath.
For this, I did a joined look with Kieran. We made our scarves into an asymmetrical dress. We used one scarf to create the majority of the length of the dress and then used the other scarf to give it more detailing and because the first scarf was very see-through.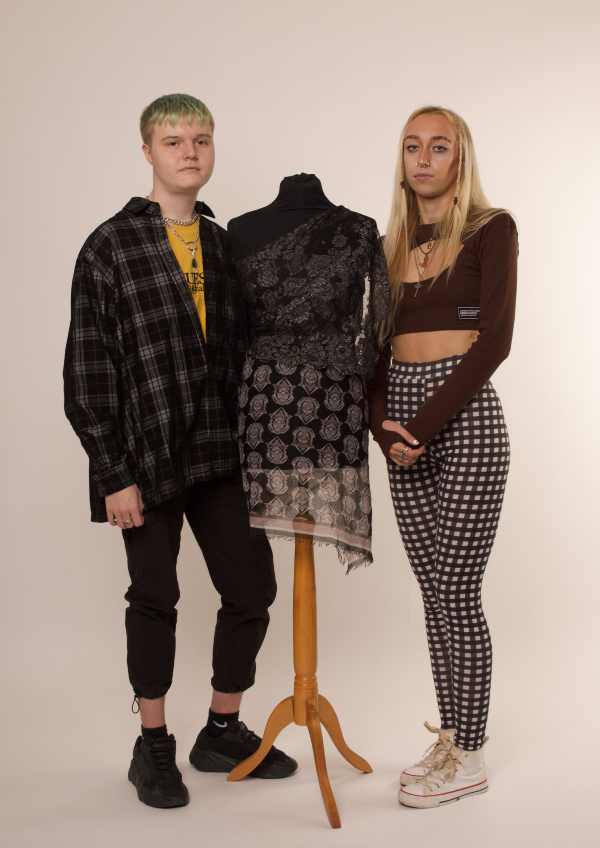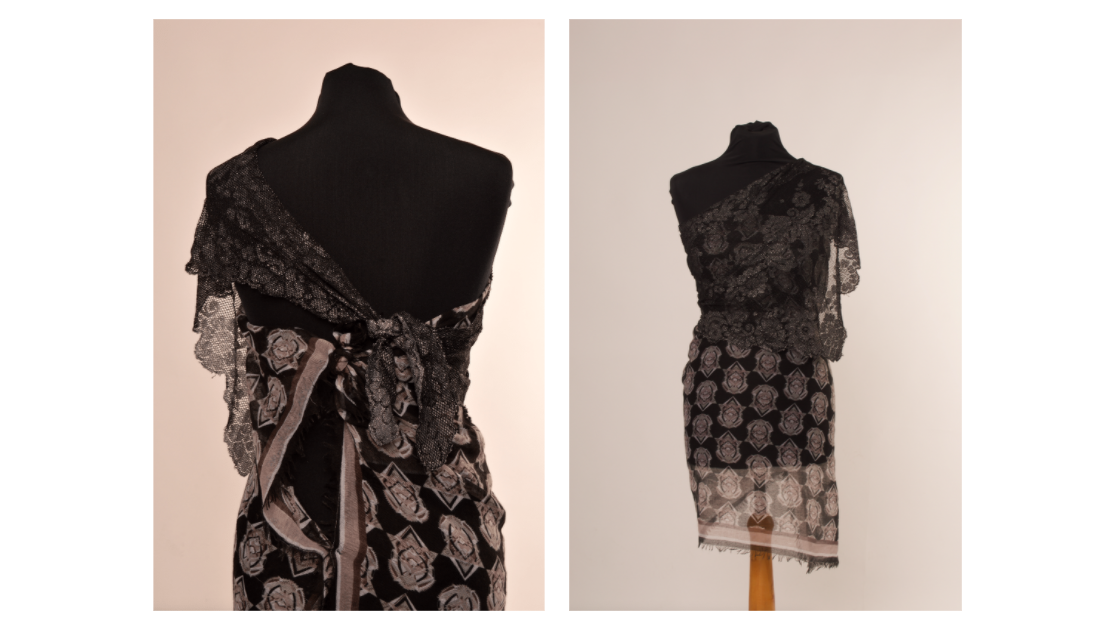 Photo credit: Fashion North
Poppy – First Look
For look one, I created a crop top inspired by a few I already own. I used a leopard print sheer chiffon scarf to achieve the design. I wrapped the scarf around the upper bodice of the mannequin, tying it at the centre and, bringing the remainder of the material up and around the neck. Black jeans would complete the look, perfect for a night out or even as a beach coverup with it being sheer.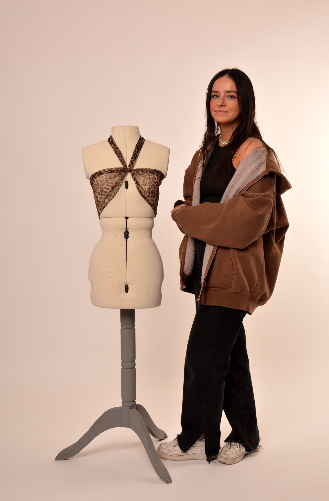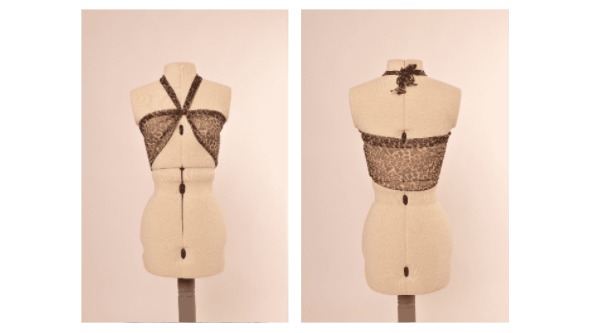 Photo credit: Fashion North
Holly – First Look
The first way in which I styled my scarf was by making a top. The tartan pattern makes it a statement piece that would pair perfectly with trousers or jeans. Although the style is quite simple at the front, I crossed the material at the back to add a more fun element to the piece. I believe this look could be used for numerous occasions, as you could style it for both a day or evening look.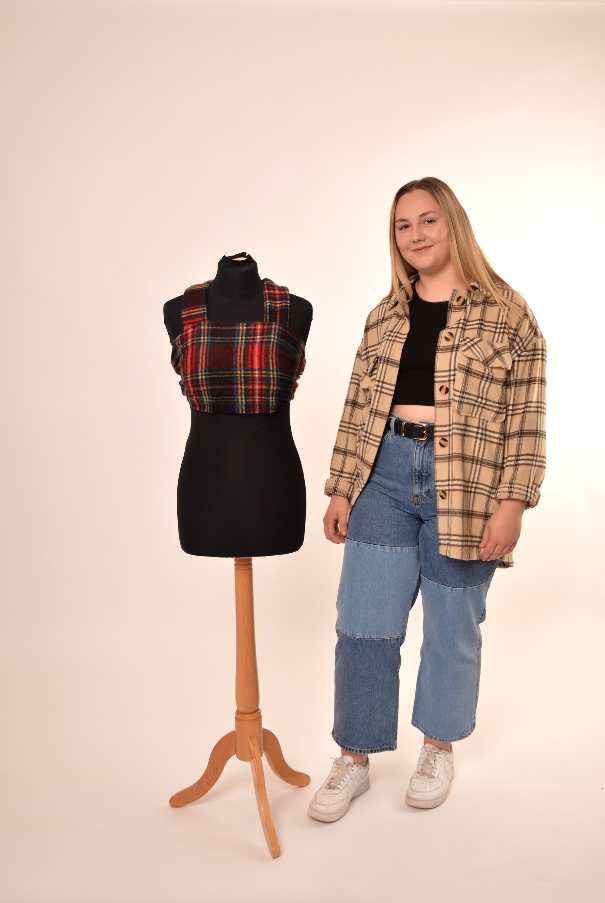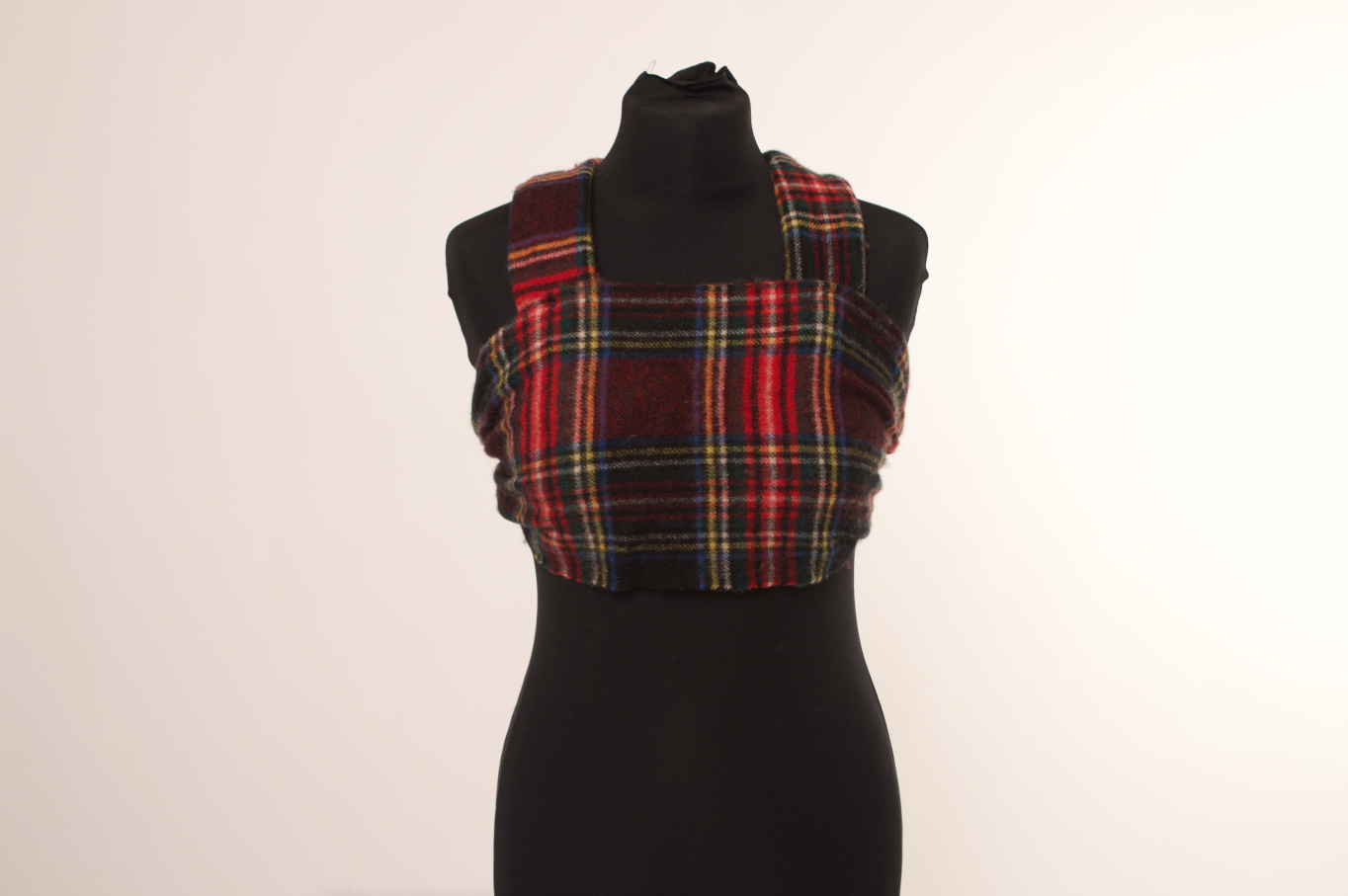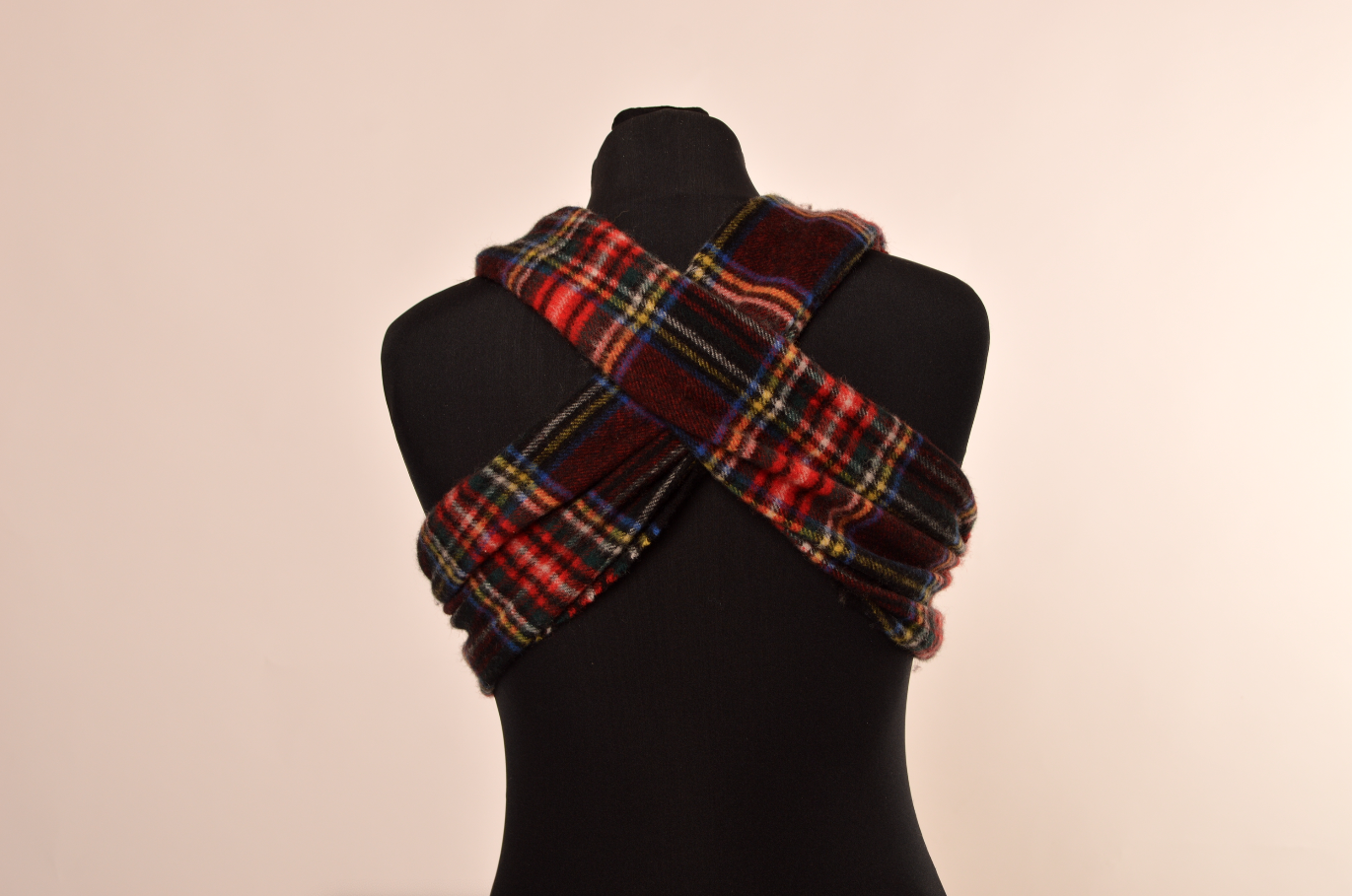 Photo credit: Fashion North
Beth – First Look
For my first look, I tried to create a simple top that could be worn for any occasion. The top I ended up creating matched the description I originally wanted and, by using a teal scarf, I ended up with the result I wanted. I feel it's a very summer top and the colour helped with this factor because it could be worn anywhere. By incorporating the tassels on the side, added extra detail; so it didn't look boring. As the scarf wrapped around the neck, it meant there was extra detail. This would look great with a black pair of smart trousers or even black shorts and a statement pair of sunglasses.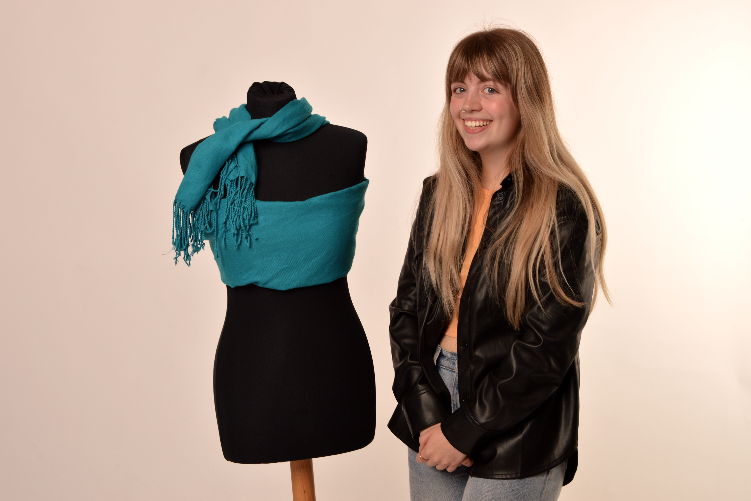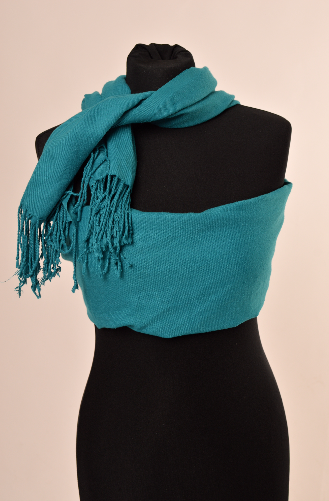 Photo credit: Fashion North
Kieran – Second Look
For this look, I wrapped the scarf around the hips, tying it at the side to create a beach cover-up style skirt, the sarong was turned more to the front to cover up behind more.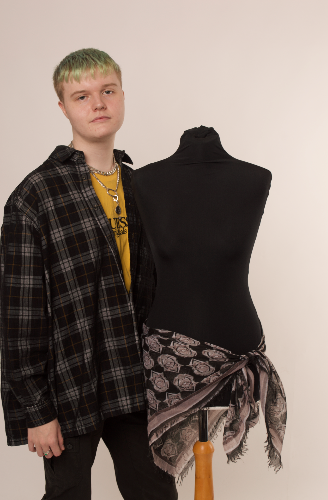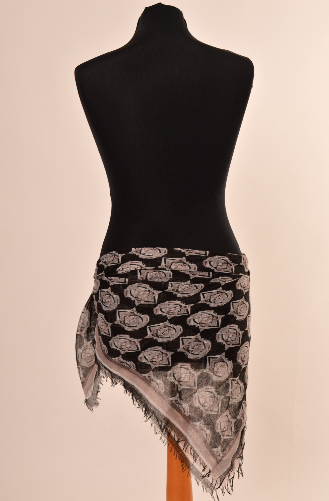 Photo credit: Fashion North
Kate – Second Look
I went for more of an accessory than an item of clothing with this design. I wrapped the scarf around a bun to show you can also use scarves as a hair accessory. Wrapping a scarf around your bun can make a plain look more exciting.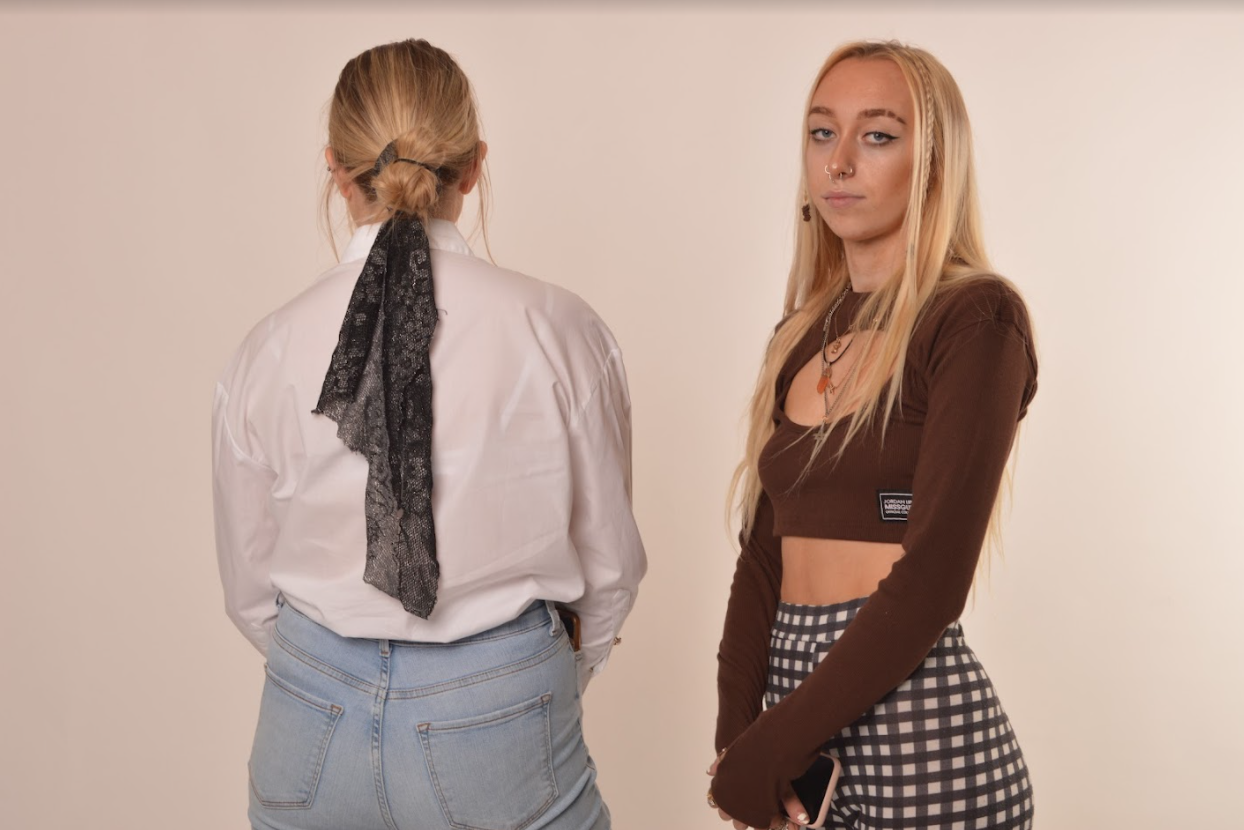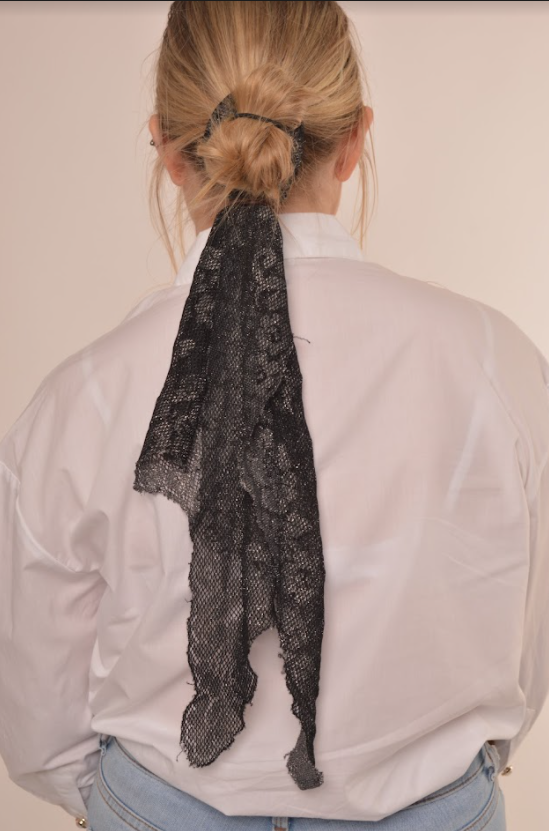 Photo credit: Fashion North
Poppy – Second Look
For my second look, I used the same sheer scarf to create a sarong which ties at the hip into a bow. Again, this can be used as a beach coverup and is perfect for a beach party paired with a simple black bikini to tie the look together.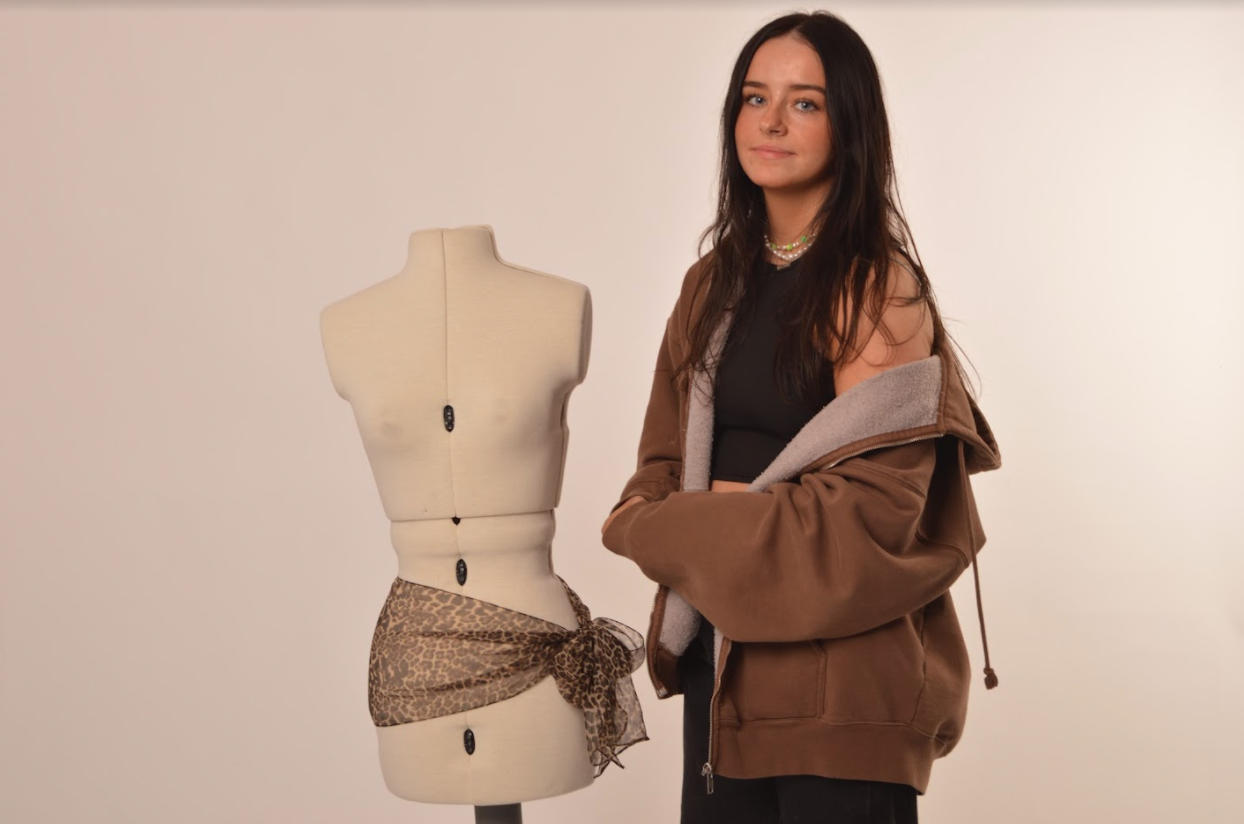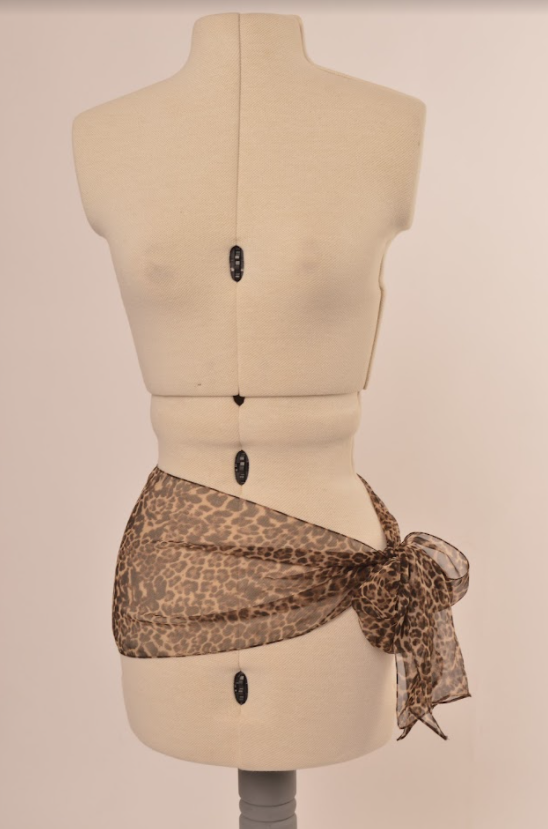 Photo credit: Fashion North
Holly – Second Look

The second look I created could be considered an accessory that you could add to a simple outfit to add an exciting aspect. I made this style by bringing the scarf over the shoulders from the back but making sure to keep; the material draping. I then cinched the scarf in at the waist to ensure it was more fitted to the front of the body. This could be styled over a white shirt alongside a belt at the waist. The draping material at the back creates a classier style, however, this is a piece; that could be styled in many different ways.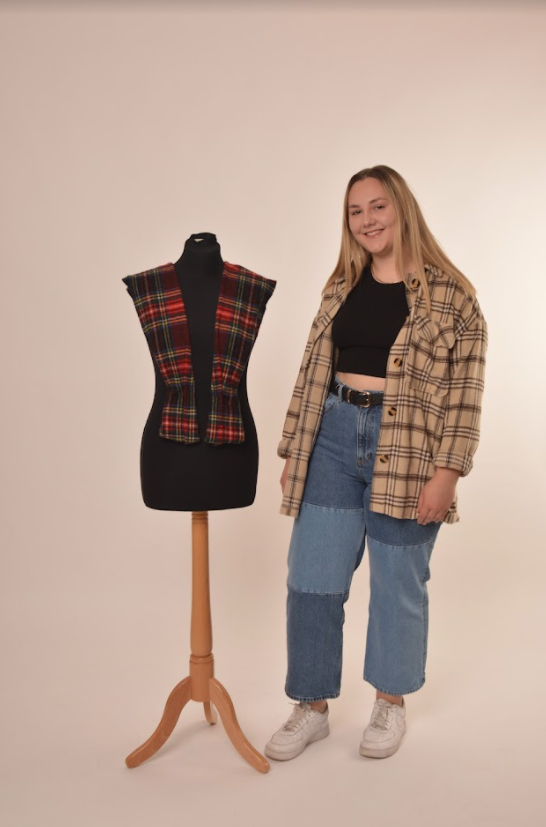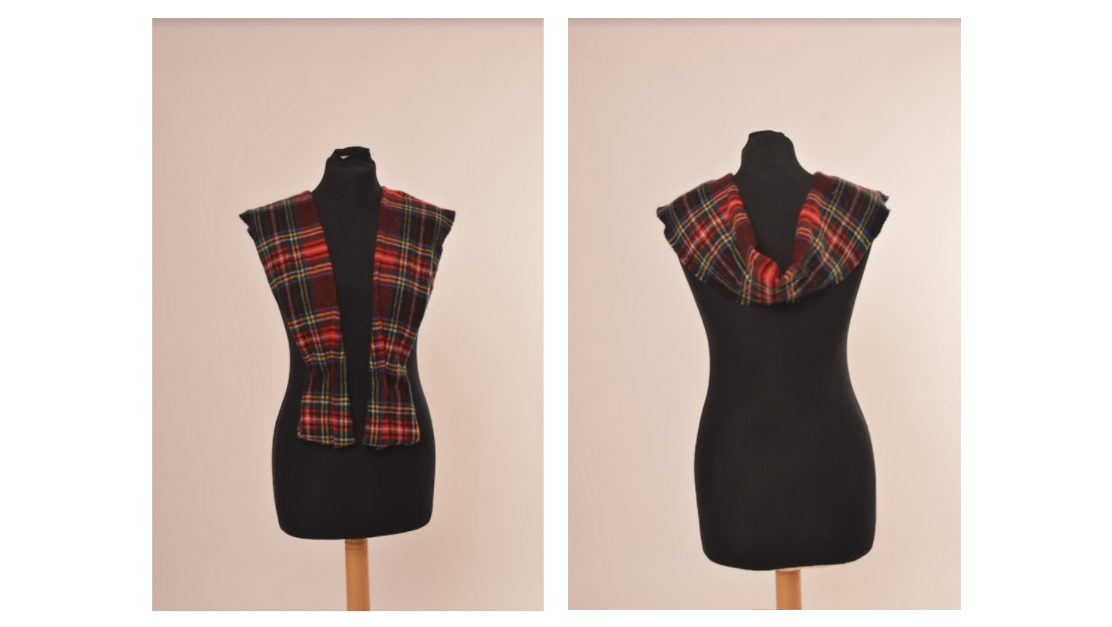 Photo credit: Fashion North
Beth – Second Look

The second look I wanted a bit of change and, as the scarf I was using was very long I decided to make a dress. The scarf made a perfect, smart dress. I felt like this dress gave me very Margot Robbie inspired vibes, so I tried to make it as figure-hugging as possible to make it less like a scarf to a dress you would want to wear. What I feel makes this dress more unique is the open back and the fact it's only on one shoulder. By incorporating the tassels, it just added that extra detail to the scarf. By wearing your hair up with this dress and a pair of heels, you would be ready to go for cocktails and, no one would even know it was a scarf.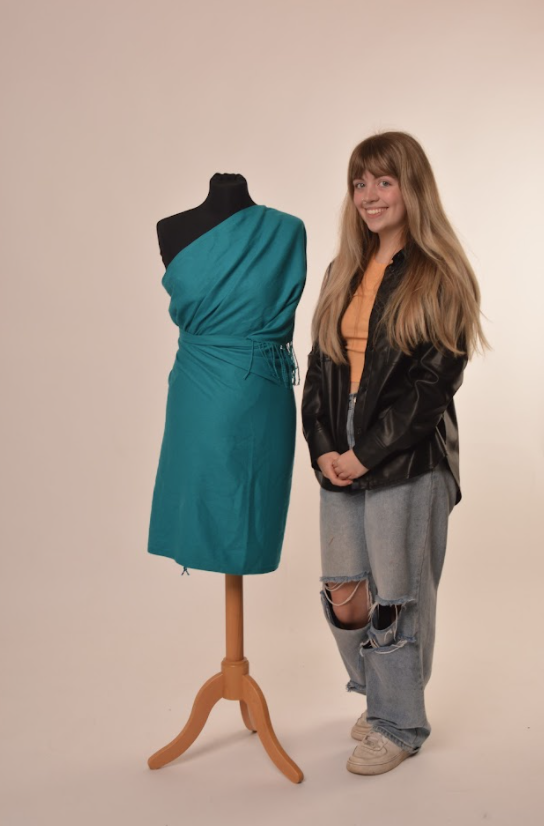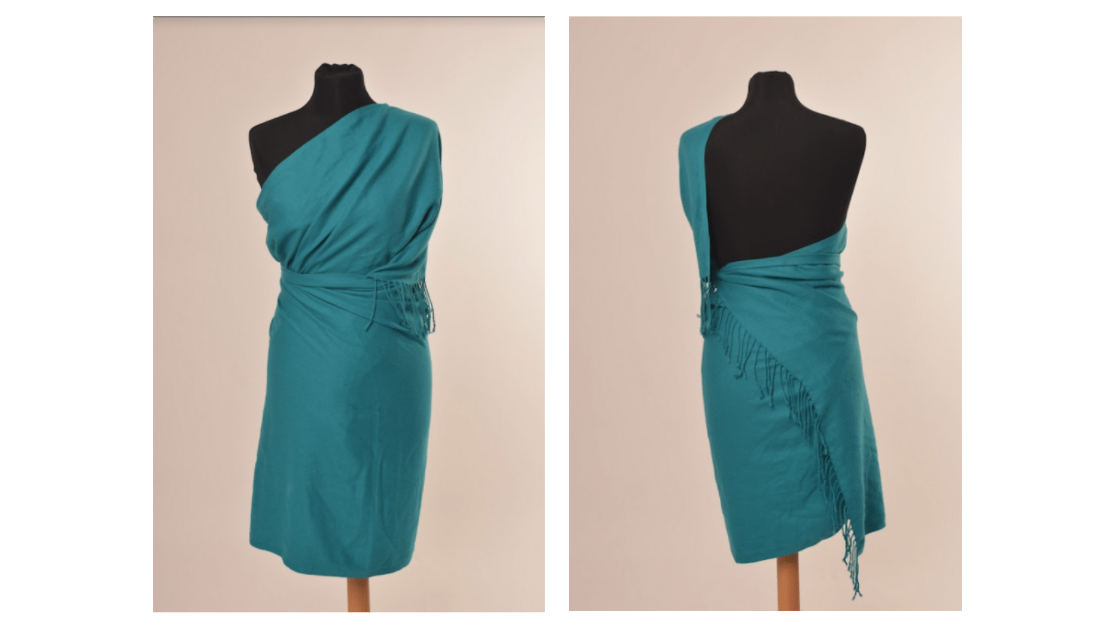 Photo credit: Fashion North
Kieran – Third Look
My third look is a tube top. I wrapped it around from the front into a cross at the back, tying it at the neck to create a choker effect.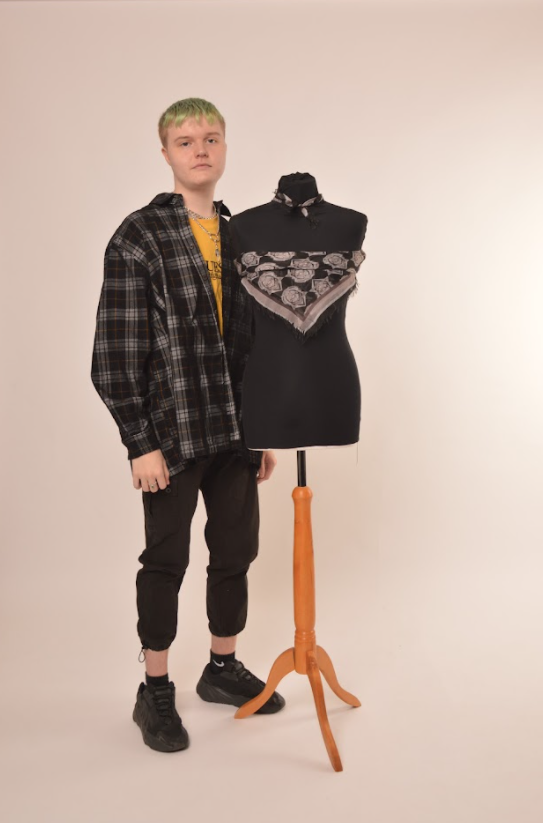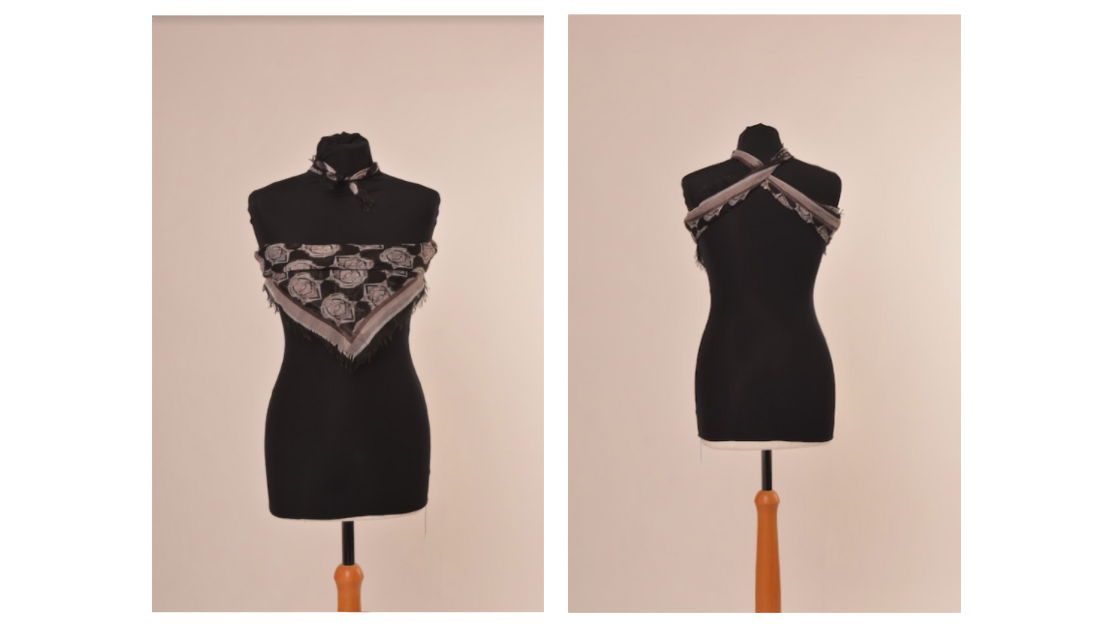 Photo credit: Fashion North

Kate – Third Look
This look was something you could casually throw on over a dress if it's cold or if the dress is a bit plain and you want it to stand out more. I simply just wrapped the scarf around the shoulders and pinned it into place.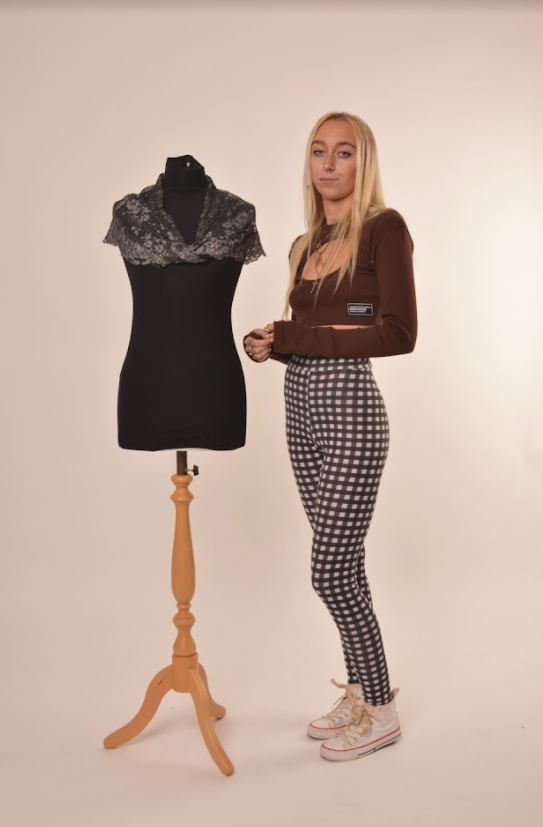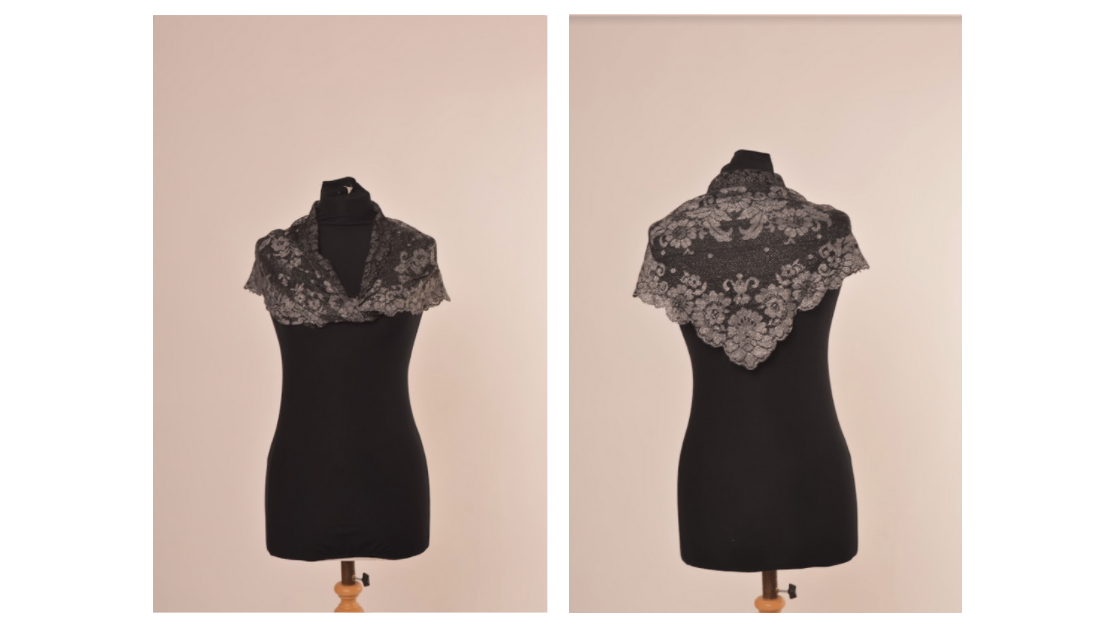 Photo credit: Fashion North
Poppy – Third Look
I went in a different direction for my third look as I stayed away from creating an item of clothing and instead styled a scarf that would complement a simple outfit. I wrapped the scarf around the neck a couple of times and tied it into an off centre bow rather; than it just hanging down; I wanted to create something different. My vision for this as an outfit would be paired with a long black trench coat or a tailored suit to add a pop of colour and pattern.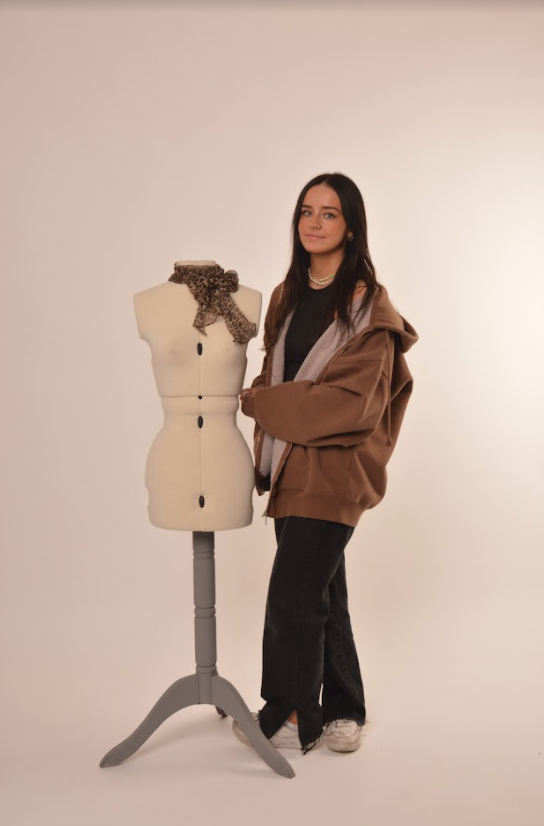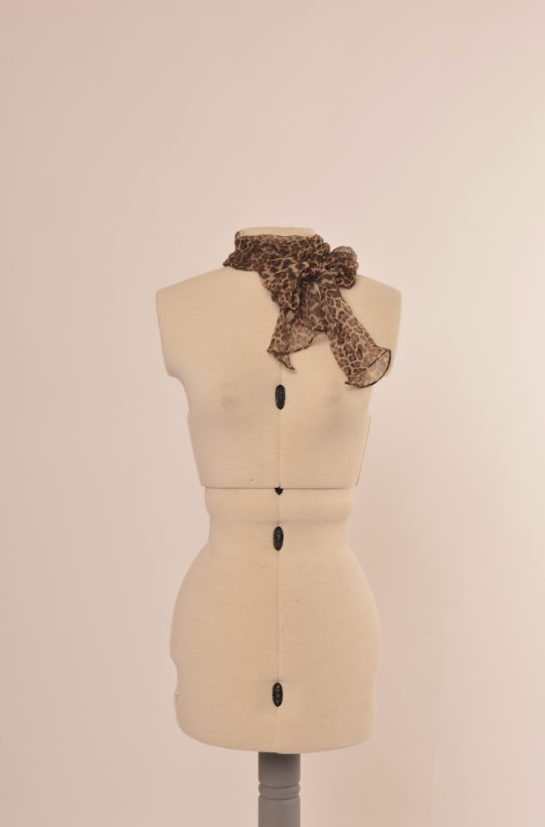 Photo credit: Fashion North
Holly – Third Look
The final look I designed with the scarf was another top. I created this by twisting the material at the centre of the scarf and holding this at the centre of the chest. I then pulled the rest of the material; back and pinned it at the top, which created a cascading effect for the back. Due to the detailing at the back, I feel that this look would be more suited for an occasion such as a party and, could be styled with a skirt and heels to complete the outfit.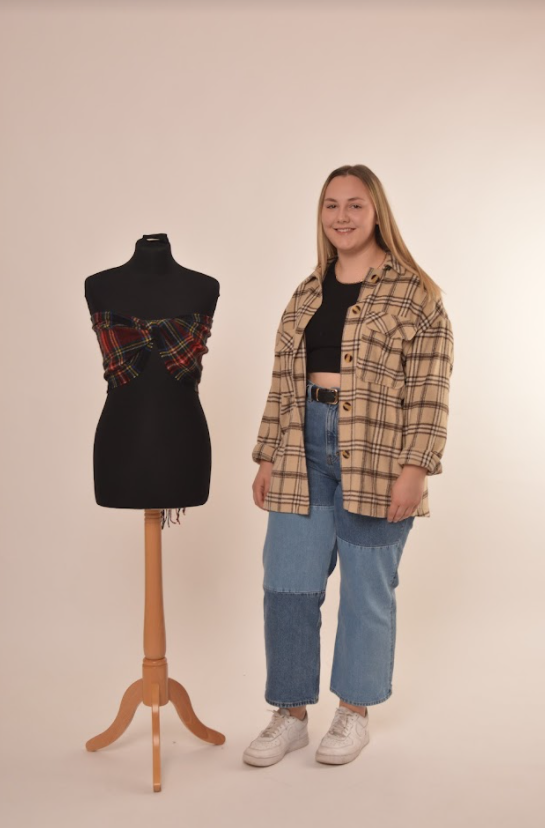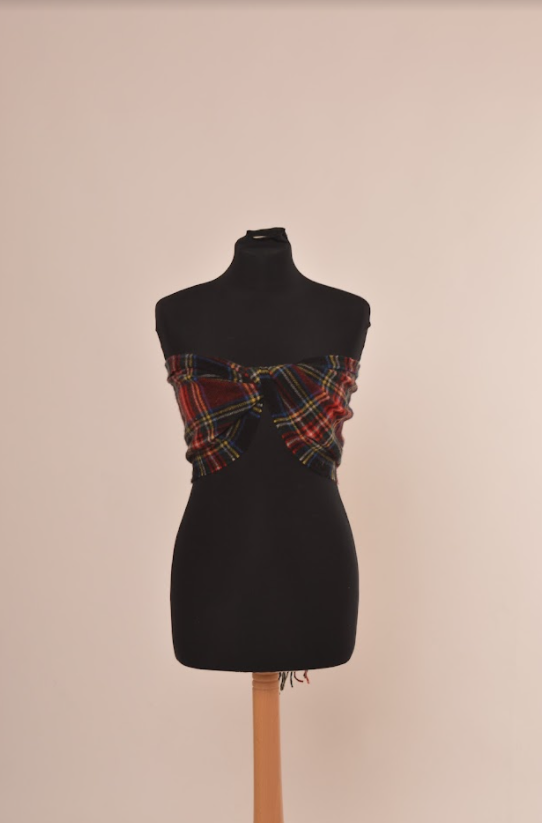 Photo credit: Fashion North
Beth – Third Look
This looks a lot simpler than the last two looks however, it might be the most eye-catching. This 2000s inspired mini skirt is so effortless yet a statement, and, as this scarf is a very thick material it provides that extra protection. This look would be perfect at the beach with a bikini underneath and a pair of flip-flops. The scarf is ruched at the side to give it that extra edge and give it more of a low-cut look. The colour helped with this by giving it that summer vibe. Scarfs don't have to just be for the winter, and this look is a perfect example of that.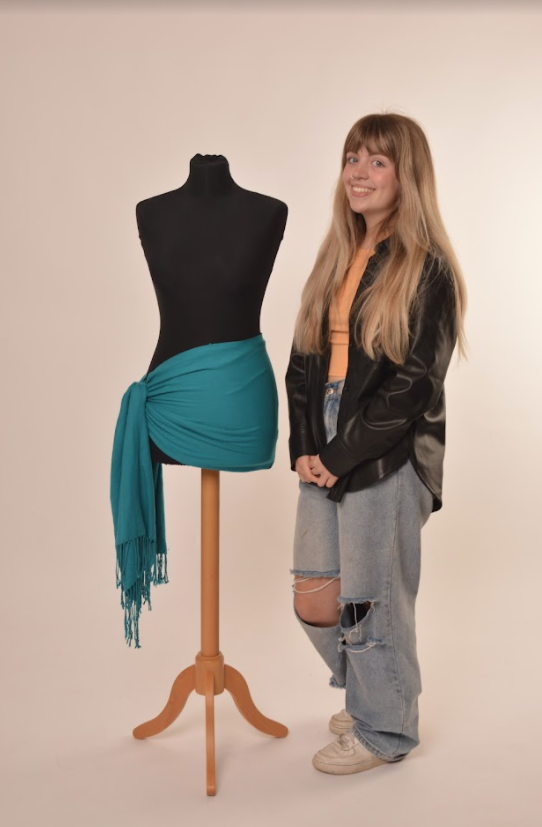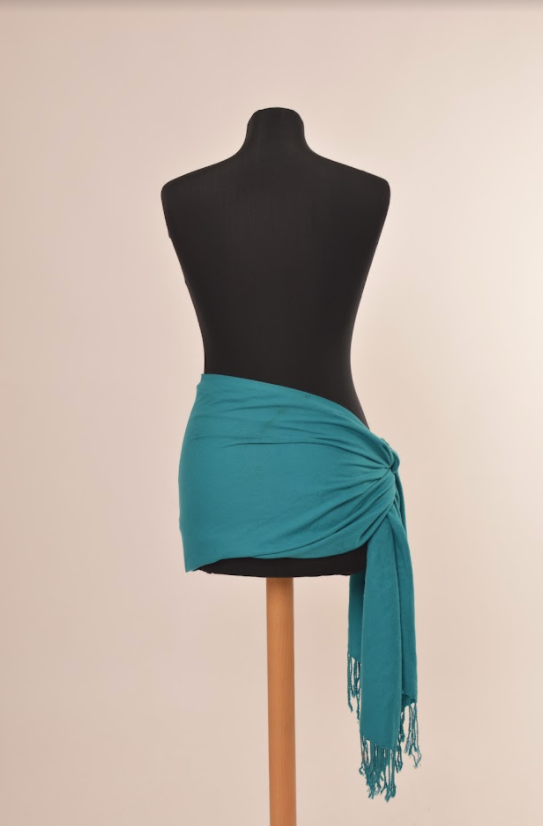 Photo credit: Fashion North
What was your favourite look? Tweet us @Fashion_North.