Watch out 2019 the Utility Trend is coming for you. From the catwalks to the stores, to the streets it is impossible not to get involved.
The trends are rapidly appearing this spring/summer; multiple crazes have already dropped, and statements have been made across the fashion industry. A global struggle we all face is fashionable vs practical, we rarely come across chic clothes that offer us the pockets we ever so desire. We need clothes that are functional that allows us to do everything we do in a day. It's 2019 and women are multi-taskers; from completing tasks in the house to being successful in the business world, it's essential we have clothes that help us do it all.
Originating in 1941, the Utility Trend was inspired by the governments Utility Clothing Scheme to minimalize the production of clothing during this era as there was a shortage of materials. Women all across England began to make clothing out of their husbands' old military wear. Having made an appearance over recent years being first identified in 2014 it is no surprise that the trend is back and taking 2019 by storm.
View this post on Instagram
The Utility Trend made another return on the catwalks as fashion house's showcased their designs for spring 2019. Fendi, Givenchy and Isabel Marant were a few of many who made room on their runways to rebirth this fashion-forward trend. The designs created offer empowerment with a side of femininity with a colour scheme of neutral tones and khaki green which has since left the catwalk and is now available for us to buy on the high street.
Not only are we inspired by what we see on the catwalk we're always following our favourite celebrities and bloggers to see if they are up to date with the latest trends. After the series of fashion weeks around the world, we're always keeping a close eye on social media sites to see if celebs and influencers are wearing the trends we spied on the runway.
Below we see Jordyn Woods wearing a creme boilersuit, which she has paired with a leopard print jacket and chunky white trainers both of which are part of popular trends this season. Jordyn's boilersuit resembles the Isabel Marant design which was presented on her catwalk show.
View this post on Instagram
Fashion blogger, Kayleigh Johnson, is seen wearing a tan mini skirt with a black buckle belt and large patch pockets; pairing this with a plain white tank top and a simple gold chain. Kayleigh is demonstrating how to incorporate a small amount of the utility trend into every day fashion.
View this post on Instagram
Here at Fashion North we are totally onboard with The Utility Trend and can't wait to incorporate it into our wardrobes. Here are our top three picks from the high street: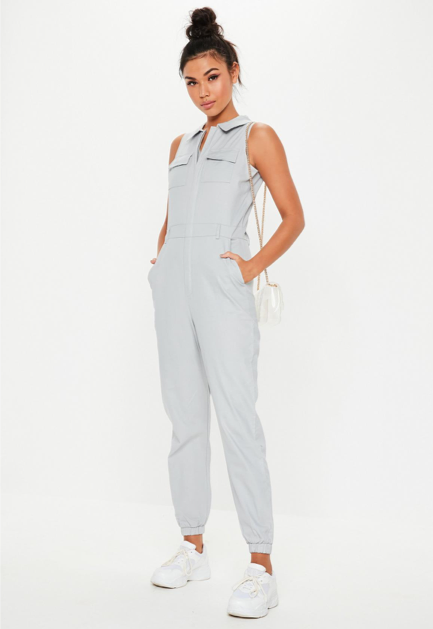 Grey sleeveless utility jumpsuit- £35 from MissGuided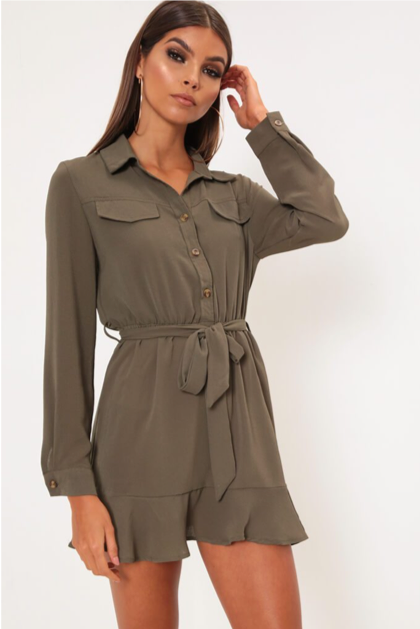 Khaki Utility Button Front Shirt Dress- £17.50 from I Saw It First
Stone Popper Front Cuffed Utility Trousers- £20 from I saw It First
Let us know if you have fallen in love with the Utility Trend or if you have incorporated it into your wardrobe. Tweet us at some pictures @Fashion_North.