Ever since the fabulous 80s era, the neon trend has tried on many occasions to become a staple piece in our wardrobes. Finally, in the season of 'Spring/Summer 2019', we can't escape it. Even though we love the other popular trends from the 80s – such as shoulder pads and power suits – let's just say we're glad the neon craze is the one being brought back.
View this post on Instagram
With the help of A-list celebrities such as Kim Kardashian, Blake Lively and Jennifer Lopez, the colour spectrum on the red carpet has become slightly brighter. We know that this trend is going to stick around for a while as it can be incorporated into any theme, event or dress-code.
View this post on Instagram
View this post on Instagram
Wanting to highlight your wardrobe in time for spring weather? Here are a few retailers offering bright and vivid neon pieces. From brands such as Balenciaga, Off-White and Versace, to cheaper alternatives such as Missguided and PrettyLittleThing, they offer a wide range of statement neon details.
The neon trend really came into play during fashion week. On the catwalks in major cities such as New York, London and Paris, designers were showcasing their vibrant SS19 creations. Many designers have attempted to think outside the box and add their own twist to the theme.
The Versace Spring 2019 Ready-To-Wear collection, which debuted at Milan Fashion Week, featured some beautiful neon looks. American model, Anok Yai, walked the runway wearing an intense tangerine orange loose-fitted dress, paired with a pair of bright strappy heels. Even neon accessories are becoming more fashionable, as seen at the Versace show through neon-tinted sunglasses and mini bags.
As many designers have proved, neon can work in any situation. Whether it's for a red carpet, a festival or just a simple night out for a drink or two. There is no denying that this trend is more common among teenage girls and younger women. At major festivals across the UK, such as Leeds Festival, Creamfields and TRNSMT, neon has been taken to a whole other level. Online retailers such as Missguided are extremely popular for their selection of neon clothes, from bumbags and sunglasses to t-shirt dresses and rugby shirts.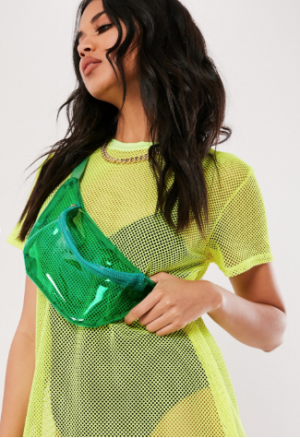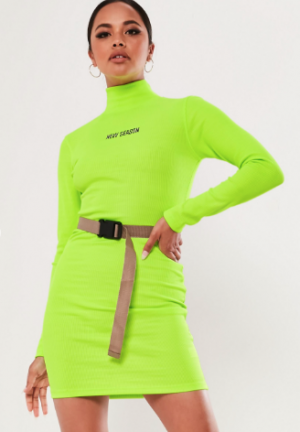 Credit: Missguided neon dress search results
As we are heading into the summer season, more and more celebrities and online retailers are collaborating with brands to bring their creative ideas to life. One of the most popular collaborations at the minute is the Missguided X Playboy collection, which has quickly sold out on multiple occasions.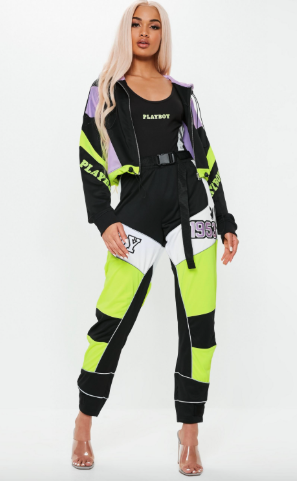 Credit: Missguided Playboy collab
Even celebrities such as Billie Eilish have fallen in love with the neon craze. Billie has developed her own brand and recently collaborated with Takashi Murakami, a Japanese contemporary artist who has worked with the likes of Vans and Louis Vuitton. Artists such as Takashi inspire the fashion lovers of the world to bring a bit of colour back into their street style.
View this post on Instagram
We hope that this trend is finally here to stay.
Let us know what your opinions are on neon fashion on Twitter @FashionNorth. Below you can see our mood board representing the trend.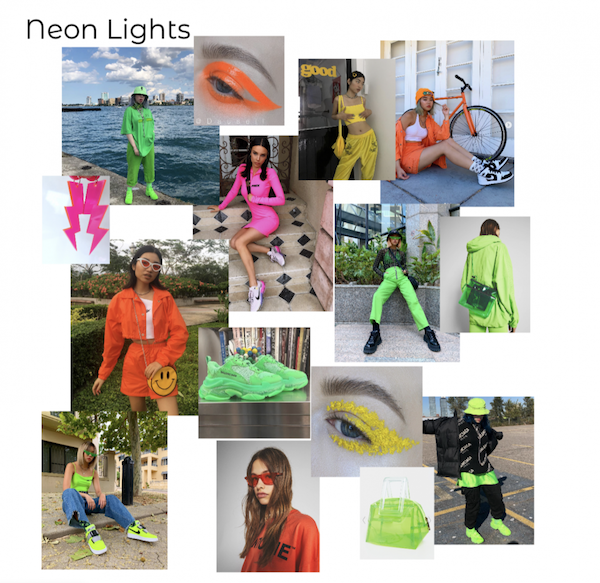 Images – Instagram (@wherearetheavocados, @genelleseldon, @oanhdaqueen, @alvssa_, @noblystreet, @dausell), Etsy, PrettyLittleThing, Bershka.