As the year comes to an end, we take a look back at the weird, wacky and wonderful fashion we have seen.
This year has brought us some much-loved trends and some that we never want to see again.
Spring/Summer brought us stripes — bigger and bolder than ever before. After making a statement on the catwalks of Marc Jacobs and Topshop Unique, striped clothing could be seen all over the high-street. We've been loving figure-flattering vertical stripes.
Embroidery was another highlight of the summer. Florals were a key pattern. Whether it was on jeans, jackets, bags, or even shoes, this trend really glammed up our wardrobes.
Statement sleeves made a comeback and we loved it. Fashion went 'Yeezy' and became comfortable and modern but not very practical with sleeves long enough to cover your hands.
Slogan tees are a trend that keeps returning. The slogans of 2017 have been more meaningful and followed on from last year's trend. They have reflected feminism, and have been worn and loved by many influential women. We just have to be careful because some of this year's bold slogans have caused offence.
Khaki coloured clothing was in almost every high street shop this year and camo has also become more popular. However, as winter approaches, camo has taken a step back and tartan is taking over. It's the battle of the patterns.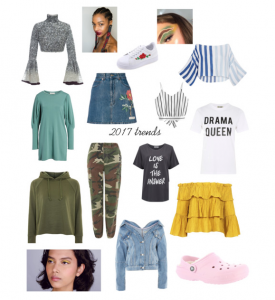 The worst trend this year has to be the eyebrow manipulation. There have been barbed wire, feather, wavy, plaited and even crown shapes and they just keep on coming. You would have to be brave to pull off a look like this and make it look good.
Mustard is a colour that has dominated the autumn and winter months this year. It looks great on clothing when paired with the right accessories but people have been rocking mustard eyeshadow and it just doesn't work. We hope this doesn't continue into 2018.
Lollipop lips may be the weirdest beauty trend this year. They first appeared at London Fashion Week by MAC Cosmetics where the models' lips looked like they were really sore. Instagram was then bombarded with women showing different interpretations of the look. It is just not attractive.
Like slogan tees, double denim will just keep on coming back, and the thought of it can make people cringe. There are some that can pull this 90s look off, but more often, this trend is a flop.
We recreated the Christopher Kane crocs this year when "the worlds ugliest shoe" returned. Crocs make even the most beautiful of outfits look dreadful, and we never want this trend to hit the catwalks again.
What has been your favourite and most hated trend this year? Tweet us at @fashion_north.