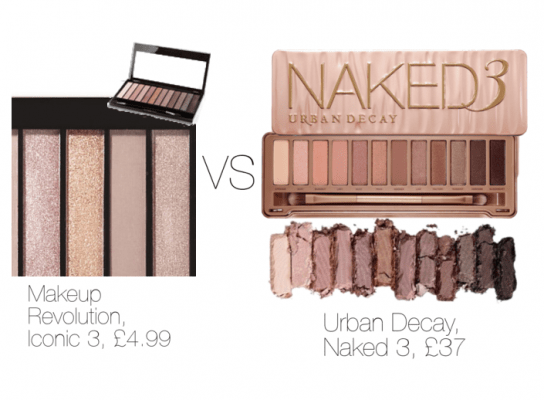 Find yourself wanting to expand your makeup collection without breaking the bank? Make-Up Revolution's Iconic 3 eyeshadow palette is the perfect dupe to Urban Decay's Naked 3; which has been a favourite among make-up artists and bloggers over the last year.
The Makeup Revolution palette contains 12 shades at a bargain price of just £4.99! The eyeshadow shades range from light pale pinks, shimmering golds and to dark plums; with a mix of pearl, shimmer and matte shades to suit any makeup look.
All shades are highly pigmented with good colour pay-off when applied. The eye shadows blend beautifully, but I did have to use a primer as a base. One thing that really stood out compared to the Urban Decay Naked 3 was that there was very minimal fall out compared to Urban Decay Naked 3, which makes this palette a winner.
Overall Verdict: At the price of £4.00 this palette is a steal compared to Naked 3's price tag of £37.00.