On 2 December 2020, non-essential retail stores in England were allowed to open their doors to the public for the first time in four weeks following a second national lockdown. However, the country has been operating under lockdown ruling since 23 March 2020.
Covid 19 has seen a huge effect on men's formalwear. According to data analysts at Kantar, men's formalwear had seen the biggest decrease in sales with the UK fashion industry in the 12 weeks to 28 June 2020. Spending was down in this sector by 89 per cent as a result of a 'diminished need to wear a suit to the office'.
17 per cent of male respondents to Kantars' survey said they enjoyed not having to dress nicely as they are encouraged to stay at home and not seeing people in real life. 12 per cent of men also said they do not try to look nice for online meetings and a further 12 percent considered wearing pyjamas all day as a viable option.
In this time we have already witnessed the downfall of high-street stores such as Debenhams and the iconic Arcadia group, including Burton, who both offer fitted men's formalwear.
Moss Bros, the men's suit and formalwear specialist announced shortly before their re-opening that they would be presenting 'A Notch Up From Casual' collection 'for days that could go anywhere (or only as far as your laptop)'. On LinkedIn, Robbi Hicks, head of visual merchandising and instore experience at Moss Bros, said: "We know our experience is in tailoring, over 165 years of it as it goes. However, while everyone is working from home and spending countless hours on Zoom, we have utilised our styling experience and made the stores far more relaxed and relevant."
He added: "It's not quite casual, it's a notch up from that. Weddings, proms, ascot will all be back, and we have you covered for that as we always have done, but for now let's keep it stylishly laid back."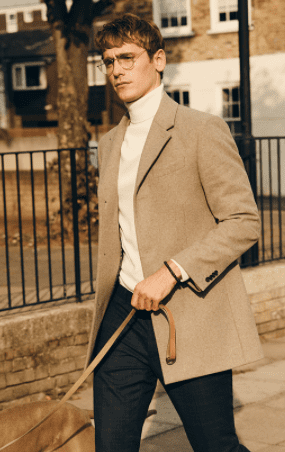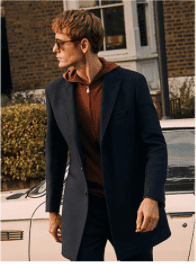 Images: Moss Bros 'A Notch Up From Casual' collection
Back in 2018, pre-coronavirus, The Independent published that only one in ten employees wore a suit to work. The report stated that seven out of 10 dress casually for work because it 'makes them feel more comfortable' and '43 per cent of workers believe the business suit no longer had a place in the office'.
Jerusha Peart, buying assistant at Stitch Fix, said: "The demand for men's formal and work wear is something that had already been less demanded prior to COVID-19, due to a shift in male shopping patterns and a more relaxed approach to office & workwear."
She added: "However, I think the bigger struggle has been that because of the pandemic events aren't happening either. Weddings, funerals and other formal events have been restricted along with most office staff now operating from home, so people aren't really finding as much of a use for formal attire at the moment.
"You'll notice that since going into the first UK lockdown, a lot of brands have established 'work from home' wardrobes are the new normal and have adapted accordingly, so it's quite clear what the consumer currently needs."
View this post on Instagram
Instagram: Master Debonair, menswear retailer, chose to push their casual collections during 2020 lockdowns 
So, what does the 'new formal' look like?
Hannah Craggs, senior editor at Trend Forecaster, said: "As the global pandemic continues to sow seeds of uncertainty for brands and consumers alike, men's clothing is seeing a huge shift.  With a new focus on design details that help to inject a sense of safety, comfort and normalcy into everyday life are key."
She said: "Key themes to be aware of are that overall attitudes to dressing smartly have drastically changed short term and will have long term consequences as the influence of sportswear and loungewear puts comfort and ease front and centre.
"Comfort and fabric performance will be key across this category, with details such as drawstring and elasticated waistbands as well as elements of denim and workwear styling influencing design. New suit silhouettes will become less structured with reduced padding enabling a softer, easy to wear styles and relaxed feel.
"Hybrid styling will also emerge as an important direction with shapes such as the Harrington and chore jackets finding their place amongst traditionally formal mixes, giving cash conscious consumers more multi occasion wear. Finally cuts that truly consider ease of movement and that have lightness and drape continues to uptrend as consumers look to explore more home based lifestyles and new methods of socially distanced commuting."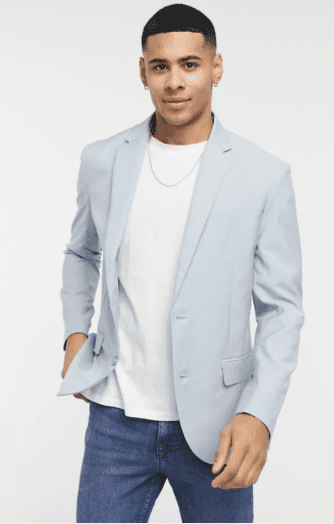 Image: Pale blue suit jacket styled on ASOS for New Look
WGSN have also highlighted that 'the leisure suit' and 'the smart co-ord set' are going to be centre of attention and a key menswear trend for A/W 21/22. The experts have suggested the space between smart and casual is 'often indistinguishable' and that lockdowns have prompted designers and brands to aim for 'the consumer who wants the best of both worlds'.
Pamela Golbin, fashion curator and historian, told WWD: "Fashion isn't about a formula but does react to the needs of a given period." So, although 2020 may mark the end of the suit as it is familiar to us we are able to observe how men's formalwear will adapt to the current global climate.
What do you think the future looks like for men's formalwear? Let us know on Twitter @Fashion_North!