As a huge fan of The Rocky Horror Picture Show, I had to make a big effort when I found out that the live show was coming to the Sunderland Empire from January 28 this year.
I decided to dress up, choosing the character of Columbia to base my look on due to her flamboyant and fun style; gold glitter hat, jacket and shorts was the look I went for.
As the Christmas period has long gone, it was a perfect opportunity for me to rack the sales for glittery clothing! It was then when I found my sparkly shorts in Debenhams (QUIZ) reduced in the sale!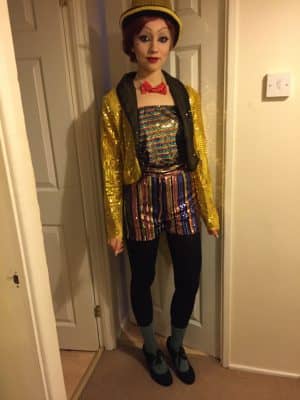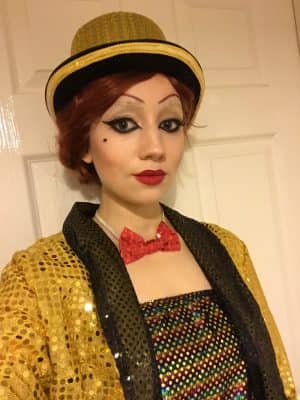 However, I decided to order a jacket, top and wig on the internet as these items were just too hard to track down. So, I decided to make a BIG effort with my make-up.
As the make-up look of this character is quite dramatic, I blocked my eyebrows out using an ordinary pritt stick layered over the top, so I could conceal over them flawlessly!
After applying a coating of foundation, I looked slightly scary, since I had no eyebrows! However, I drew thin, dramatic maroon eyebrows on my face using a lipstick (L'oreal matte- 347). I added a thick black cat eye using a liquid eyeliner (Topshop- Magic Liner) which gave me a precise shape.
Finally, to add finishing touches I added a strong blush and a red lip. However, the look was not truly complete before adding a beauty spot on my cheek with an eyeliner.
Yes, this took a while to create this make-up look and to look for a costume, however it was definitely worth it! As a lot of other people made the effort and dressed for the occasion, the experience of the show was great when everybody joined in to dance to the Time Warp.