No matter how famous you are, everyone is partial to the occasional wardrobe malfunction. 
Earlier this week, Kim Kardashian had a wardrobe malfunction of her own and of course, it was visible to the whole world. 
View this post on Instagram

Unbeknown to Kim, one of her hair extensions had fallen out of her hair and onto the floor, whilst she was taking pictures of her outfit. She then posted the image on her Instagram page, which caused a flood of comments to come in, across all social media platforms, about her mishap, including some from her younger sister, Khloé.
So that Kim doesn't feel alone in her misfortune, we've rounded up our top five celebrity wardrobe malfunctions to share with you – enjoy!
Lateysha Grace – Celebrity Big Brother's Bit on the Side
We had to kickstart this list with one of the most iconic live television moments, probably ever. 
Lateysha Grace – who first became famous when she appeared on the Welsh reality TV show 'The Valleys' – had an extremely unfortunate wardrobe malfunction during her elimination interview on 'Celebrity Big Brother's Bit on the Side'. 
During a demonstration of how to do the perfect twerk, poor Lateysha's dress split right down the back, exposing her bare bum to not just the live audience, but also everyone watching at home. The clip now has over 38 million views on the Big Brother YouTube channel.
Madonna – 2015 BRIT Awards
Another iconic live television moment was brought to us by music icon, Madonna.
She had a major mishap during her performance at the 2015 BRIT Awards, which was caused by her backing dancers (whom we imagine were all fired immediately after). 
The plan was to discretely untie her cape and have the dancers pull it off in a quick flourish. However, the knot on the cape had been tied too tight, meaning that Madonna wasn't able to undo it, which then lead to her being pulled down the stairs backwards. We bet that hurt!
Cameron Diaz – Charlie's Angels 2 premiere
We bet Cameron Diaz really wishes she had a fashion guardian angel when she attended the Charlie's Angels 2 premiere.
The American actress – who is famous for her roles in films such as the Shrek franchise, The Holiday and My Sister's Keeper – had a huge fashion blunder right before she was due to walk the red carpet at the premiere for Charlie's Angels 2: Full Throttle, with her co-stars Drew Barrymore and Lucy Liu.
We'll never know what gorgeous pair of heels Cameron was due to wear that night, as they broke right before her appearance. Instead of being a diva and holding the premiere up until she received a new pair of shoes, she chose to walk the red carpet barefoot, which we imagine was a lot more comfortable for her anyway!
Priscila Perez – Maria Lafuente's 'Scha Collection Cibeles' fashion show
There's nothing like a good old wardrobe malfunction whilst you're in the middle of walking down the runway.
Model Priscila Perez, fell victim to an extremely high pair of heels when she modelled for Spanish stylist, Maria Lafuente, for her Scha Collection Cibeles fashion show.
Priscila managed to stay upright whilst walking down towards the end of the runway, however, upon her return to the backstage area, her ankles decided that they couldn't cope with the height of the heels anymore and soon gave way, causing Priscila to wobble all over the place before eventually falling down. We really feel for her – how embarrassing!
Chrissy Teigen – 2016 American Music Awards
If you can't bare all during a red carpet event, then when can you?
American model, TV personality and author, Chrissy Teigen – who is also the wife of singer John Legend – unexpectedly exposed a part of her that no one expected to see, whilst on the red carpet at the 2016 American Music Awards.
Her black gown, which was designed by Yousef Akbar, featured extremely high splits down the side, which were supposed to be held together by fashionable gold safety pins. However, the slits weren't quite held together tight enough and Chrissy's nether regions were on show for everyone to see. She later joked about her wardrobe malfunction on Instagram, even crediting the centre where she receives her laser hair removal treatments!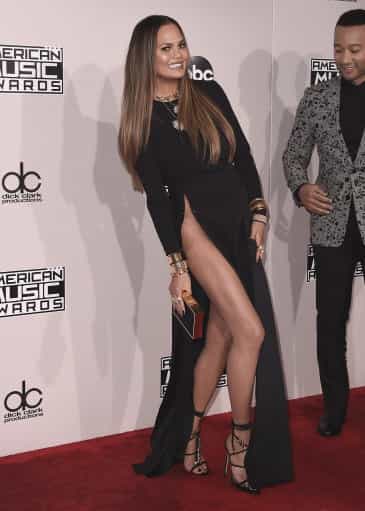 Chrissy Teigen at the 2016 American Music Awards
Which celebrity wardrobe malfunction do you think is the most memorable? Let us know on Twitter @Fashion_North!