Everyone – and I mean everyone – knows the Addams family: equally as odd as they are enticing.
With the release of Netflix's 'Wednesday', a more modern take on Wednesday Addams, legendary daughter in the Addams family, the show has blown up online. The hashtag '#wednesdayaddams' on TikTok has received 13.9 billion views; the show has really stirred up a social media frenzy!
However, let's talk about fashion – that's what we're raving about here at Fashion North. Jenna Ortega, who plays Wednesday, has well and truly put herself on the map, and her portrayal of Wednesday Addams has now gotten her labelled as a fashion icon.
It's become a popular TikTok trend for people to dress up as Wednesday and recreate the exemplary dance scene from episode four,which shows Jenna Ortega dressed in a lacy black collared midi dress strutting her stuff. It's weird and wonderful, much like Wednesday herself.
Undoubtedly, gothic fashion has an extensive impact on the fashion industry, and is a well known subculture. Within the huge gothic culture, there are so many different types of fashion, such as 'cyber goth', 'pastel goth', and 'traditional goth'.The fact that the realm of gothic fashion is so substantial already makes it a massive sector within fashion.
Gothic fashion stereotypically consists of darker coloured clothes and makeup, which is demonstrated hugely throughout Wednesday Addams' character. Although gothic fashion is ever-growing in popularity, that wasn't always the case.
Unfortunately, gothic fashion was once seen as straying away from the norm, but in a more open minded society, and thanks to pop culture, the popularity is rising profusely. Jenna Ortega's portrayal of Wednesday Addams reflects a more traditional goth style, which is largely inspired by the clothing of victorian mourning.
The elegance in gothic fashion has been beautifully captured throughout the season, and represented in a more positive way. A rather memorable quote from the series reflects Wednesday Addams aesthetic as a whole, when her mother Morticia Addams (played by Catherine Zeta-Jones) states "please excuse Wednesday, she's allergic to colour." The focus on Wednesday's tastes for fashion throughout the show consistently reflects gothic fashion, and remains a big theme within the show as a whole.
Creating a Netflix adaptation on a character with an already enormous cult following was an outstanding move from Netflix, the show strays away and separates Wednesday Addams from the Addams family and revitalises the classic character in a modernised way whilst still staying true to the original gothic aesthetic. The use of characters such as Wednesday helps create a more open minded interpretation to gothic fashion and no doubt has a fantastically positive impact on the way people see the gothic community, and the alternative fashion community as a whole.
As expected, Wednesday's style has taken the world by storm. More and more people are moving over to the 'dark side' of fashion and wearing gothic clothes, and we're totally here for it.
In fact, Google Trends show the heightening in popularity of searches for 'goth fashion' as of recent, with the number of searches skyrocketing since the release of 'Wednesday.' Google Trends also show that the search for 'Wednesday Addams dress' has reached an extremely high point within the past month.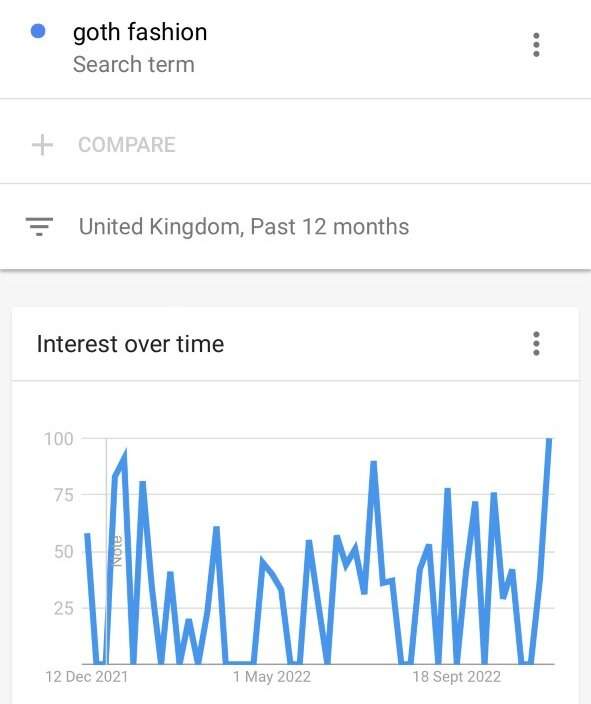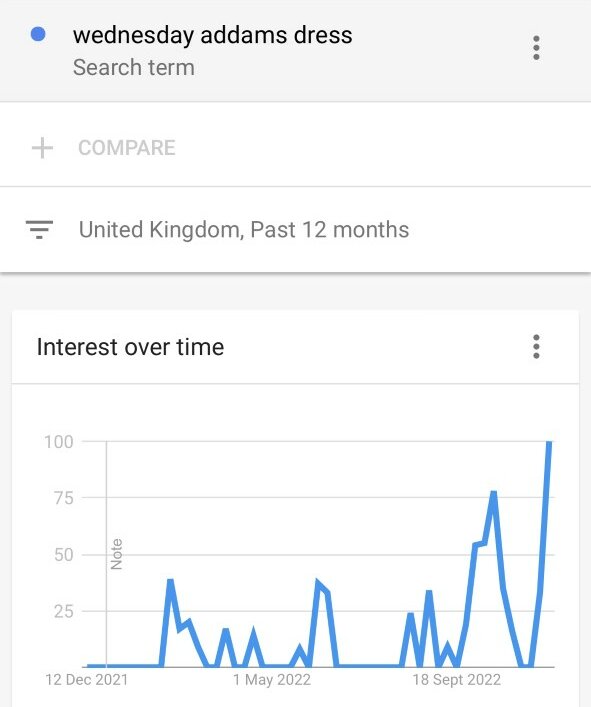 Google Trends searches for 'Goth fashion' and 'Wednesday Addams dress' for the past 12 months
Leanne Smith (@leateesmith on Instagram), a 30 year old alternative fashion blogger, stated: "Wednesday has always been a bit of an icon within the alternative community, and with her updated fashion forward wardrobe, I think this is only going to make her even more iconic."
Media has always had a huge influence on fashion, with movies, tv shows and music hugely influencing the way we dress. Leanne told us: "My style has always been influenced by my interests, music tastes and films i've watched. It's definitely grown with me and I've adapted it as I've gotten older, but most of my icons are musicians and actresses or characters."
Leanne is popular on her social media for her quintessential alternative style, and we're beyond obsessed with it.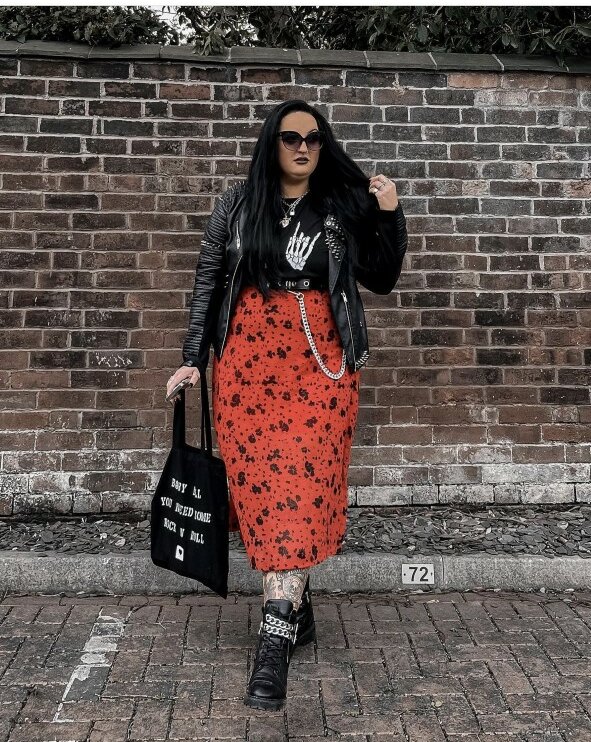 Leanne Smith (@leateesmith on Instagram)
Moreover, Leanne explained that she's thrilled with the inclusion of alternative fashion within the mainstream media, stating "I'm really happy that we're starting to see more alternative styled characters in films and TV series. It's something that's been missing for a while and I find myself only ever finding the villains outfit choice relatable."
The use of alternative fashion within Wednesday to reflect a well-loved and classic character helps to emulate a more positive approach to alternative fashion, something which is absolutely needed within the fashion industry.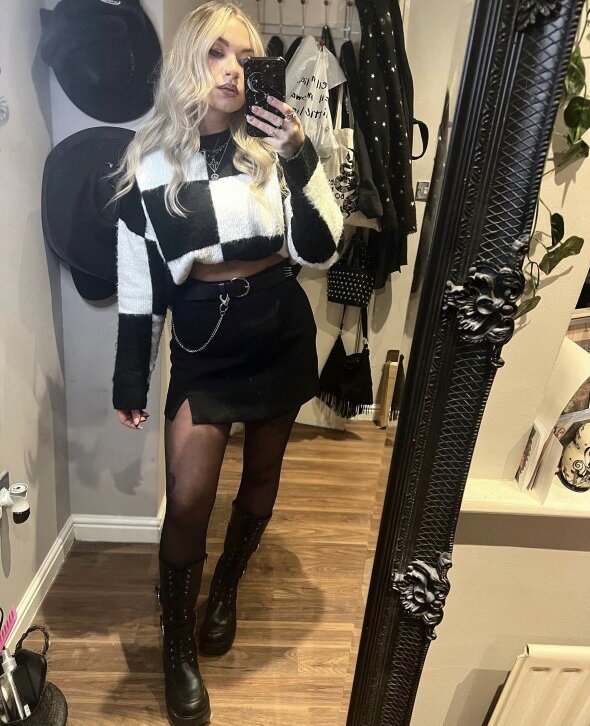 Erin Halliday (@erin_halliday on Instagram)
Another Instagram user we have fashion envy over is 28 year old Erin Halliday (@erin_halliday on Instagram); We're in love with all of her looks. Erin expressed: "I think there has been a lot more people turning to the gothic aesthetic in the last 12 months, with the influence of celebrities who have been tuning it more into their everyday style (such as Kourtney Kardashian and Demi Lovato) so I think the release of Wednesday will definitely see a lot more people and probably more teenage age groups experimenting with gothic fashion, seeing as the show is shown on Netflix."
Erin also added: "I personally have always had a more gothic sense of style, but I am loving seeing everyone embracing it and showing off their Wednesday looks. It's definitely becoming more of a cult look amongst young people."
As previously mentioned, we know that pop culture hugely influences fashion trends, so it's absolutely no shock that 'Wednesday' has had a monumental impact as of late! "There is definitely more of a gothic trend at the moment where people don't fit in any gothic subculture but are more influenced by tv shows, films and social media – which is probably the biggest influence! When a new TikTok trend comes along, you definitely get a lot more peoples attention – and everyone wants to join in. I've already seen this a lot with the release of the series." Erin explained.
Whilst Wednesday Addams was once seen as just a staple Halloween costume, the new series has brought a contemporary and unique edge to an already unforgettable character.
Are you inspired by Jenna Ortega's portrayal of Wednesday Addams? We'd love to hear your thoughts, let us know on our Twitter @fashion_north or our Instagram @fashion_north.