FINANCIAL FASHION: BANKER STRIPES
This office staple just got a major fashion update and it's not just for men anymore. The 80s and 90s trend of banker stripes hit the runway in New York and London, and will be a key trend this spring and summer. Alterations have been made to the traditional style, such as a thinner, more subtle stripe, and designers have even added flourished details such as frills, belts and geometric patterns. But a modern touch to an old classic doesn't mean it's any harder to wear. The pattern can be worn with solid colour, or worn with other prints for a bolder look. The great thing about bankers stripes is that you no longer have to reach into your wardrobe and pick out that plain white dress shirt anymore. Those blue and white pin stripes will look just as smart and totally on trend, whether you're in the office or out to lunch with your best girlfriends.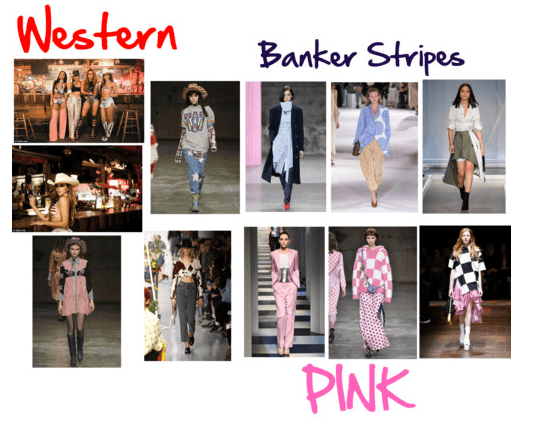 WELCOME TO THE WILD WILD WEST
Yee Ha! Not only has the old west been inspiring designers on the runway but it's been inspiring celebrities as well. Little Mix dressed as cowgirls for their new music video, No More Sad Songs, putting their own twist on the trend. Designers such as Ashley Williams and Henry Holland also took Texas themes into recent runway designs and with all the cowgirl inspiration hitting people's radars it's going to be a hard trend to avoid this spring and summer. But the glorious thing about western couture is that you probably already have half the things you need in your wardrobe to become a country queen. Denim and plaid are key parts of this look – and I don't know anyone who doesn't own both of these fabrics! Then if you really want to embrace your inner cowgirl, all you need is a cowboy hat and a pair of snakeskin boots.
PINK, PINK AND MORE PINK
Pink was an up-and-coming colour throughout autumn and it's finally established itself as this season's colour. It's everywhere and it's one of the easiest colours to wear. Pink has been hitting the catwalk in every shade, from pastel to hot, and you can wear it as a subtle hint of colour or the main eye-catching piece. So whether you love pink or hate it, there is a way to wear it. If you love it you can go all out, like Oscar De La Renta and have an all pink power suit, or you can have a single piece and accessorise around it like Marques'Almeida – wearing a pink skirt with a statement jumper or top, the outfit is easy and effortless but still high fashion. The best thing about a colour trend is the ability to mix and match, like pairing a pink skirt with a banker stripe shirt gives you a two in one trend and will leave you looking on fleek! What more could you ask for this spring?
Tweet us your favourite trend @fashion_north!