We may have seen the worst of storm Ciara and Dennis but the bad weather is far from over.
There's nothing we hate more here at Fashion North than wind and rain but as it seems to be on the cards for the next few days there's no escaping it.
Heading out in a storm is never fun, especially when you reach your destination and your hair has been restyled by the wind, but not to worry as Fashion North have 5 quick and easy hairstyles that will see you through sun, snow, wind or rain.
French Braids
This style is perfect for the wind and rain as once they are in they will not budge and the next day you have wavy hair. It may look complicated but once you get the hang of it this style can be done in about 10 minutes. To achieve this look, start by parting your hair down the middle and splitting the hair into two even sections.
Focusing on one side at a time take a small section of hair at the top of your head and start braiding it normally.
Carrying on braiding your hair normally but each time you take the outside strand into the middle add a small section of hair each time.
Keep going until all your hair is in the braid and then finish the style off how you would a normal three strand braid.
2. Space buns
We've all seen this style done at a festival but what's to say it can't be the perfect hairstyle for a storm as well?
To complete this look section your hair into two even sections. As with the previous style work on one section at a time.
Take the first section of hair and tie it as you would if you were doing pig tails.
Then twist the hair and wrap it around the bobble.
Secure the bun with a bobble and then add bobby pins to get the desired shape of the bun.
Repeat these steps on the other section of the hair making sure they are both even.
3. A ponytail
This hairstyle is a classic and can be done in seconds. Simply tip your head upside down, gather all your hair and tie with a bobble. You can add some variety to this look by channelling your inner Ariana Grande and keeping the ponytail sleek and tight, you could even wrap a piece of hair round the bobble. If you prefer a messier pony, pull out any shorter sections of hair and voila, you're good to go! Why not add a scrunchie or even a hair band to complete the look?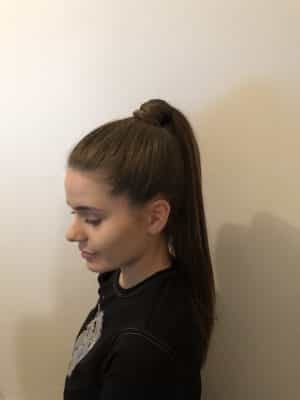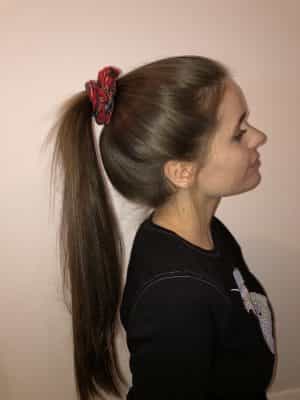 4. Milk maid braids
To achieve this look again section your hair into two even halves with a middle parting.
Take the first section of hair and braid it in a simple three strand braid, splitting your hair into three sections taking the outside section into the middle, alternating each time which outside stand goes into the middle.
Once you have two braids take one and bring it over the top of your head, securing it into place with some bobby pins.
You then want to take the other braid and do the same so both braids are secured on the top of your head.
This hairstyle is ideal for windy conditions as the braids won't move from your head, so you can look cute and battle the storm at the same time.
5. Messy bun
Again, this hairstyle is a classic and is one of the easiest to do. Start by putting your hair into a messy ponytail (see steps above) and then take the ponytail and twist the hair around the bobble, like you did with the space buns. Secure the hair with a bobble and add in bobby pins to create the shape of your bun and the look is complete.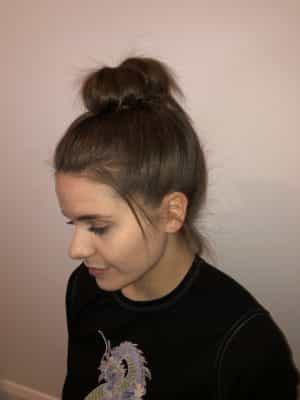 Tweet us @fashion_north pictures of you trying these styles.