As the saying goes, 'the way into a woman's heart is through her stomach,' so we've put together the must-have gift guide to fulfil your foodie partner's needs this Valentine's Day.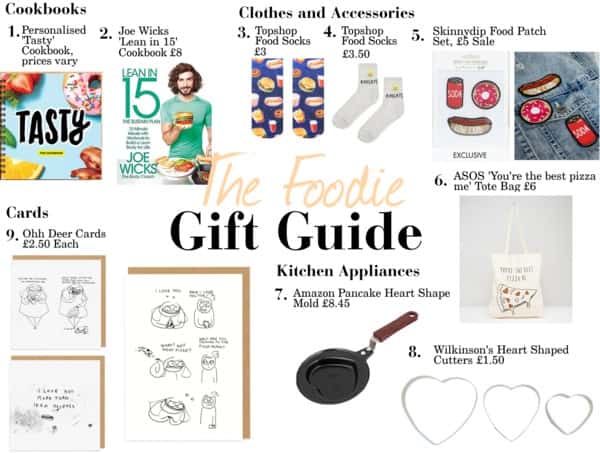 1. 'Tasty' Cookbook
If you're a member of Facebook, then there's no doubt you've come across one of Tasty's quick and easy how-to recipe videos. Gone are the days of scrolling down their video page looking for the chicken fajita recipe you or your partner saw a few evenings ago, you can now buy their cookbook and personalise the recipes inside to fit your partner's needs. Get it here.
2. Joe Wicks 'Lean in 15'
Is your partner a fitness foodie? Then stop your hunt and bag Joe Wick's 'Lean in 15' Meal plans. His recipes are anything but boring and it is a perfect book to surprise your Valentine with, you even have a choice of three books, 'Sustain Plan', 'Shape Plan' and 'Shift Plan', so which will best suit your foodie lover? Buy it here.
3&4. Topshop Food Socks
Does your foodie partner always complain of cold feet? With these socks you're hitting two birds with one stone, just sayin'. Shop them here and here.
5. Skinnydip Food Patch Set
We all know how badges and patches have become a real 'thing' in the denim world recently, so this food set will make your partner feel right on trend. And, bonus, they're doing it by wearing one of their greatest passions – food. Get these quick as they're on sale now!
6. ASOS Tote Bag
What unique way could you express your feelings this Valentine's Day to that special someone (who happens to love pizza?) Our answer: a food pun splashed across a tote bag. Perfect, get it here for only £6. 
7&8. Heart Shaped Kitchen Appliances
Valentine's Day means heart shaped everything, and yes, that includes your morning pancakes. Wake your partner up this Valentine's Day with their favourite breakfast, and using these heart shaped cookie cutters there's your excuse for eating dessert for breakfast. Buy the pancake mould here and the heart cutters here.
9. Food Pun Cards
And finally, you can't do Valentine's Day without a card – fact. But even if you and your partner aren't the gushy romantic type, but you both bond over food, then there's nothing better than Ohh Deer's food pun cards to still get your feelings across in a humorous way. Take a look at them here, here and here.