Kim Jones revealed his deeply personal debut Fendi Couture collection to the world this Wednesday in Paris, the show marks the first women's and couture collection designed by Kim Jones, who was named artistic director for women's wear and couture at Fendi last September. The appointment marks Jones's first official job designing women's wear after becoming the creative director for Dior men's in 2018 after working at Louis Vuitton for seven years.
This Fendi show is also the first spring couture show presented by the Italian fashion house, as it typically only presents its couture collections for fall/winter.
Jones' designed the collection in collaboration with Silvia Venturini Fendi, the long serving main creative figure behind the fashion house and the lead designer for Fendi's accessories and men's collections.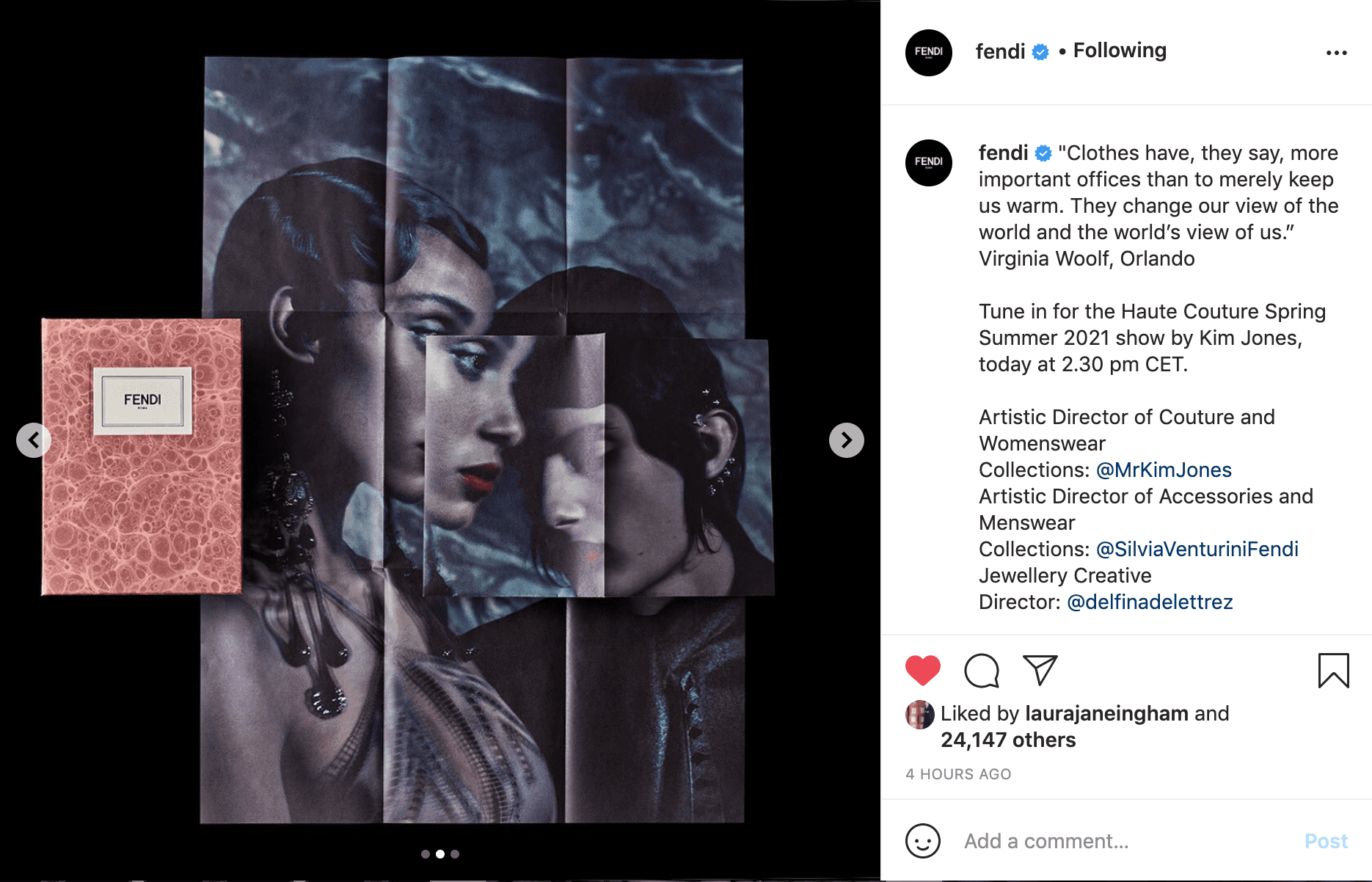 Jones' Fendi debut was in homage to "strong women, intelligent women, who know what they're doing in their lives" with his inspiration coming from the pioneering Bloomsbury Group. The show came alongside a literary exhibition showing the parallels between the Bloomsbury Group and Fendi's Rome HQ which channelled Italian Classicism.
The casting was major; Jones was joined by his female fan base, from Bella Hadid and Cara Delevingne to Naomi Campbell, who came together to support their friends career defining show.
Jones said before the show: "Fendi is all about family … I am surrounded by strong, powerful women who I love and respect, and want to bring their energy into what I do." He describes his own role at Fendi as "guest starring".
Kate Moss who consulted on the accessories was joined by her daughter Lila along with Adwoa Aboah, all muses behind Jones' Fendi vison. The Fendi family walked the Fendi maze between a grid of interlocking Fs before standing in their individual glass units.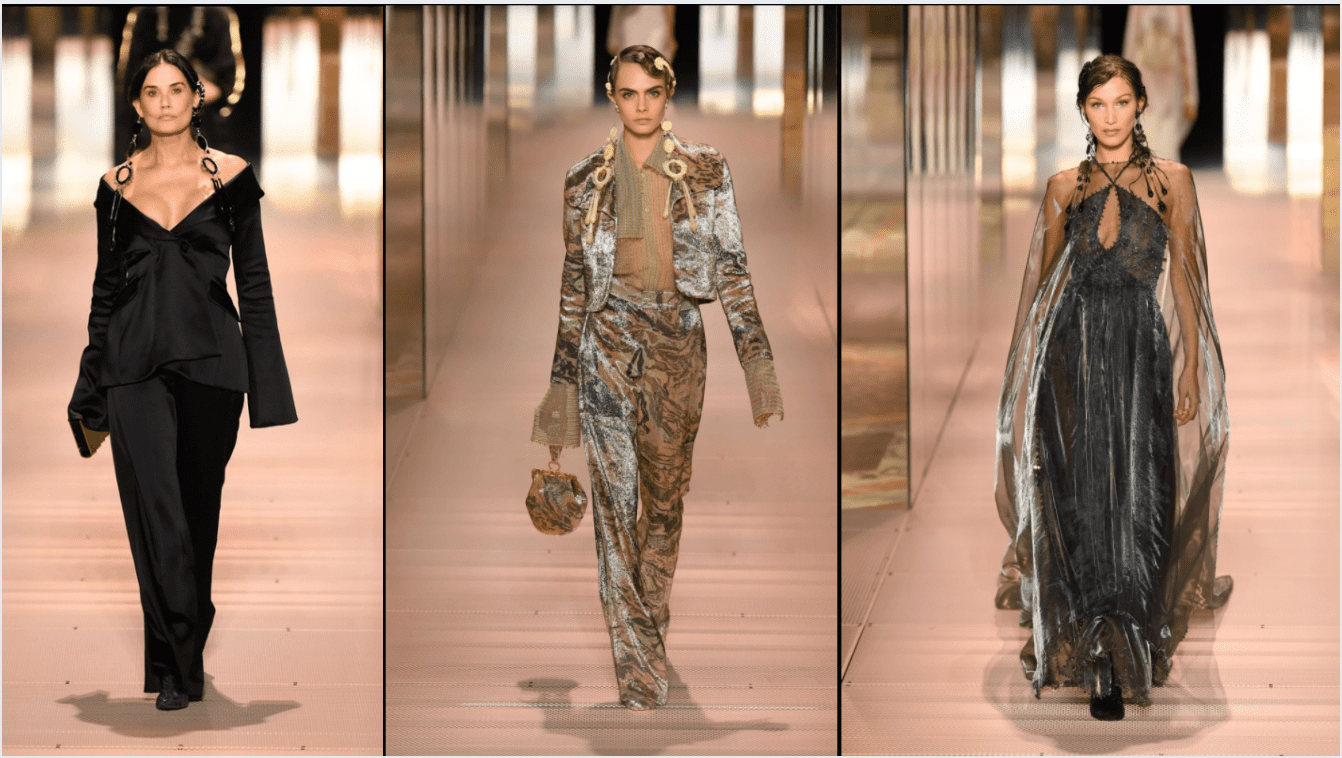 To round off the Fendi family was Demi Moore, the 58-year-old actor opened the star-stunned debut collection in a silky black trouser suit showing off her spectacular statement earrings. Followed by Cara Delevingne wearing a green velvet two-piece with enormous matching earrings, showing the sharp contrast between the feminine gowns worn my other models.
Bella Hadid was dressed in a sheer black gown with a metallic overlay, the halter neck gown flowed in a cape with flowed down the runway.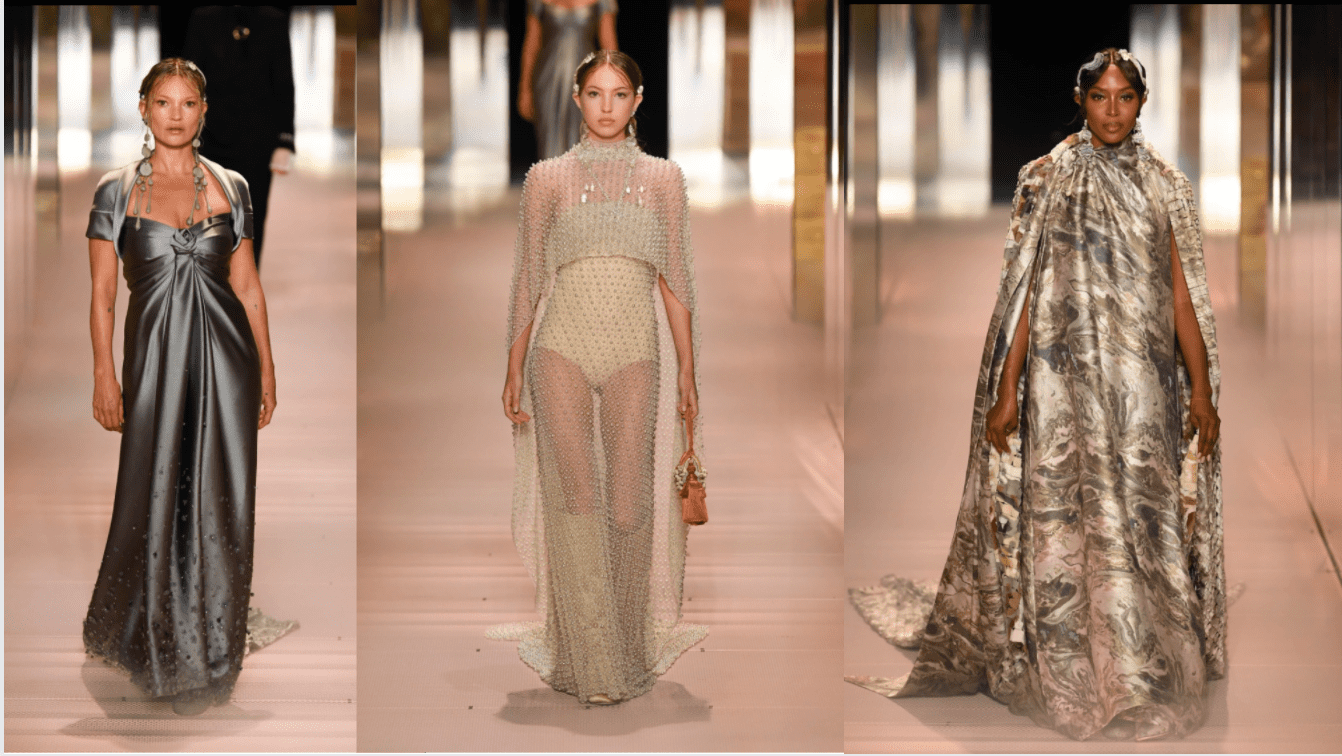 Kate Moss walked the runway in a plunging silver satin gown with embellishments on the hem and her daughter, Lila wore a silver double layered beaded dress. Naomi Campbell closed the show in a marble-printed gown with a trailing cape of patchwork fur.
The collection was  dramatic and exaggerated, everything expected of a couture collection, the long earrings paired with long train gowns and pearl-beaded mesh give us regal and historical references as well as old-age glamour.